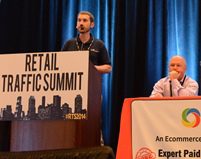 While they often cause anxiety for many ecommerce retailers, Comparison Shopping Engines are a targeted way for ecommerce retailers to find and attract qualified buyers to their site. The Comparison Shopping Engines (CSE) sessions at the Retail Traffic Summit had some of the best attendee ratings of the entire show.

In these sessions, Mike Ewasyshyn, ROI Revolution's Product Feed Team Lead, and Michael Lambert, founder of MerchantAdvantage, shared everything retailers need to know about CSEs, but were too overwhelmed to ask. Jam-packed with the nitty-gritty of CSE marketing, these product feed experts shared tons of tips for our attendees.
The 15 minute power-session on CSEs focused on ways to increase profitability and efficiently grow your online presence with these 15 tips:
Write Better Product Titles
Increase Description Lengths
Tag your Destination URLs
Choose Your Categories Wisely
Exclude Affiliate Traffic from Google & Bing Ads
Include Your Logo
Send High Quality Images
Design a Bidding Strategy
Use Zero Bids in Shopzilla
Pay Attention to Below Rate Card Bids in PriceGrabber
Create Benchmark Reports
Don't Let Your Feeds Expire
Be Patient with New Feeds
Don't Set it & Forget it
Pay Attention to Data Quality Warnings
Over the last few months Mike has shared his CSE experience with audiences on our monthly Retailer Web Clinics. Watch these replays to learn more about how to implement his tips for a profitable CSE strategy.