From the completely unexpected impacts of the coronavirus on ecommerce to the twists and turns of Amazon Prime Day 2020, 2020 introduced a mix of obstacles and opportunities for all brands and retailers. With all of the ups & downs, 2020's holiday ecommerce shopping landscape was like no other.
We keep this blog post updated with all of the latest holiday ecommerce updates as they come in. Keep it bookmarked as your go-to resource for 2020 holiday ecommerce news!
January 5 update
Post-holiday shopping season 2020 stats (part 2)
December 31 update
Post-holiday shopping season 2020 stats
According to data from Mastercard SpendingPulse, ecommerce made up 19.7% of overall retail sales this holiday season, a jump from 13.4% last year. The home improvement category saw the biggest year-over-year increase in ecommerce at 79.7%, while department stores saw a modest 3.3%. Overall, furniture saw the largest jump in retail sales (including ecommerce and in-store) at 16.2%, while luxury items saw the biggest decline at 21.1%.
With consumers spending more conservatively this shopping season due to the pandemic, total retail sales for Black Friday were down year-over-year. Also in light of the fact that brands and retailers were offering special holiday sales throughout the shopping season and starting as early as October, there were fewer last-minute shoppers this year.
Black Friday was still the biggest shopping day this holiday season, followed by Small Business Saturday and December 12, which was around the time when many retailers were offering their last pre-Christmas shipping dates.
Total ecommerce sales from October 11-December 24 were up 49% year-over-year, with total retail sales up a modest 3%.
December 28 update
Post-holiday returns expected to surge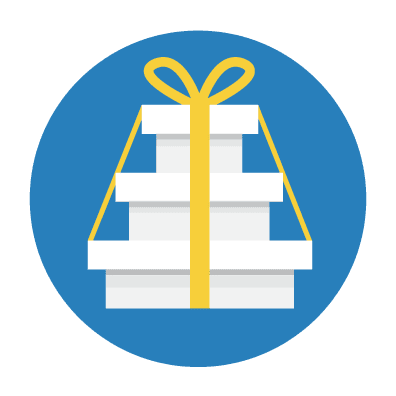 With online purchases hitting record highs this holiday season (+32% YoY from November 1-December 24), post-holiday returns are also expected to see a sharp increase. Consumers are expected to return $1.1 billion worth of goods received during the holiday period – about twice as many items as they returned last year.
Consumers are now able to return Amazon packages at Kohl's, Whole Foods, and UPS stores, which cuts down shipping costs and allows shoppers to get refunds more quickly. However, in light of the pandemic, many consumers are still wary about shopping in-store. With carriers like UPS and FedEx already placing strain due to such increased demand, consumers returning items that they bought online may have to wait up to two weeks to receive a refund.
December 17 update: ROI clients see record-breaking Cyber 5 (part 3)
Walmart Advertising revenue increases 127% for home appliances brand
One of our clients in the home appliances industry was looking to increase their Cyber 5 revenue through Walmart Advertising. By shifting their focus and ad spend to more seasonal products during peak seasonality and increasing ad spend month-over-month, the brand's Walmart ads saw a 127% ad revenue increase and 108% increase in ROAS over Cyber 5 compared to the previous week.
69% revenue increase for luxury goods brand
One of our clients in the luxury goods industry was looking to achieve year-over-year Cyber 5 growth while maintaining return. At the same time, they were facing slightly weakened inventory and traditional product categories a bit weaker and shifted focus to new product categories and brand segmentation. The ROI team's plan was to push additional product categories (fashion in particular), modify account structure to accommodate branded breakouts, and schedule budget updates to maximize coverage and improve efficiency. As a result, the brand saw a 69% increase in revenue, 32% increase in clicks, 42% increase in transactions, and 11% lift in conversion rate!
December 14 update: ROI clients see record-breaking Cyber 5 (part 2)
Black Friday revenue climbs 154% for retail brand
One of our clients in the retail industry who sells a highly competitive seasonal product was looking to achieve record-breaking Black Friday and Cyber Monday revenue at a profitable cost of sale. With plenty of inventory and the opportunity to delve into display and YouTube to draw awareness for their product, the client was still uncertain about how buyer interest would look due to the tumultuous nature of 2020. The ROI team used seasonal audiences within Google Ads, ad scheduling to push during promotion days, and separate campaigns in Shopping and Search for the client's product to more easily evaluate and optimize. As a result, the brand saw Black Friday revenue climb 154% year-over-year, with Cyber Monday revenue increasing 83% overall Cyber 5 revenue increasing 97%.
Car parts brand drives >1000% ROI over Cyber 5 2020
One of our clients in the car parts industry was looking to drive year-over-year revenue growth at a 1000% ROI over Cyber 5 2020. The brand was facing inventory issues due to the pandemic and had to pause on some products and keywords on top of concerns related to MAP pricing and similar brand promotions across competitors. Due to the way sales are applied on the website, the brand was also unable to call out terms like "Sale" or "Special Offer" in Shopping. The ROI team's game plan was to set aggressive budgets & targets during Cyber 5 to capture high intent traffic, drive Cyber 5 sale awareness by utilizing all features of search (text ads, extensions, etc.), and monitor performance throughout the days to ensure high impression share and uncapped budgets. Automation was also applied across the entire Google account to max performance. The brand deployed competitive deal promotions both before & after Cyber 5 and as a result saw strong momentum entering Black Friday among all active channels. Despite supply chain concerns, the ROI team was able to allocate budget to strong performers that were in stock and not see a significant negative impact. The brand saw very strong Cyber 5 performance with 15% YoY revenue growth and finished above their 1000% return target with a 24% increase in ROI YoY, all while operating within set budgets.
Major apparel brand sees 207% Cyber Week revenue increase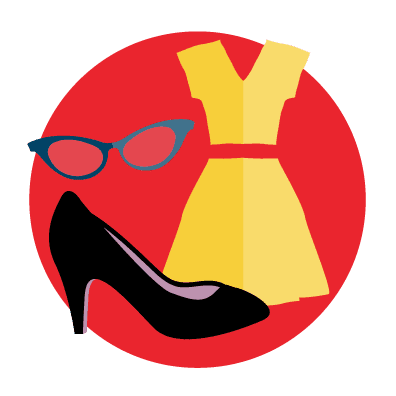 One of our clients in the apparel & footwear industry saw a 207% YoY revenue increase over Cyber Week 2020. By scaling their spend and prospecting budget on paid social channels to support upcoming promotions, the brand was able to launch a successful cross-channel pre-holiday campaign to drive traffic to the site in the weeks leading up to Cyber Week.
Find more ROI client Cyber 5 success stories here!
December 10 update: ROI clients see record-breaking Cyber 5 (part 1)
291% Cyber 5 revenue growth at 881% ROAS for home goods brand
One of our clients in the home goods industry has seen new momentum and online traffic increases in 2020 due to COVID-19 and was hoping to capitalize on this over the holiday season. As a reseller, this brand has to adhere to MAP pricing, so competitors will always have the same sales. The brand maintained exciting growth goals and was looking to achieve 400% ROAS. The plan was to efficiently execute Smart Shopping campaigns, promo prep, and Display initiatives that were set up earlier in the year. The results were phenomenal. With an 881% ROAS, the home goods brand saw a 291% lift in Cyber Five revenue.
Early childhood education brand sees 195% boost in Cyber 5 revenue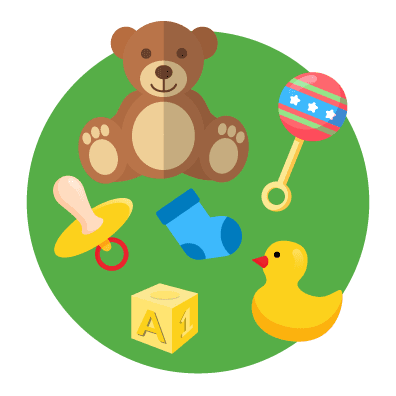 One of our clients in the education industry has experienced overall lower performance in 2020 due to school closers. The brand decided to hone in on the toys & games category over the holiday shopping period to help fill the revenue gap. The goal was achieving record Q4 revenue ($1 million) by increasing budgets, bids, and ad schedules around key promotional periods, as well as using Custom Labels to segment out key holiday items from more classroom-oriented products. The ROI team also worked closely with the brand to limit advertising on low-inventory products to avoid a Shipageddon. The brand's expanded paid search budget allowed for major year-over-year growth, and the Q4 target of $1 million in revenue was hit on December 1st. Cyber 5 revenue grew 195% YoY and Cyber 5 revenue from the Toys category grew 681% YoY.
Black Friday revenue surges 163% for home goods brand
One of our clients in the home goods industry has seen record growth throughout 2020 thanks to a wider range of products, greater overall investment in advertising, re-platforming to Shopify, and the pandemic pushing many customers to decorate their spaces at home. Their goal over Cyber 5 was to grow revenue YoY within their ROAS target. The ROI team used seasonality adjustments, budget increases, and upper-funnel investment to both generate and harvest demand over the Cyber 5 period. The brand hit a new daily revenue record with a 163% increase in revenue over Black Friday and a 250% YoY increase over the entire Cyber 5 (compared to 29% YoY growth in 2019).
Find more ROI client Cyber 5 success stories here!
December 7 update
Surprising Cyber 5 2020 stats
72% of all Black Friday purchases were impulse buys (Bluecore)
59% of shoppers were first-time buyers with a brand on Black Friday (Bluecore)
5% of shoppers who first bought from a brand during the pandemic made repeat holiday purchases (Bluecore)
December 4 update
Cyber Monday 2020 sees high participation
88% of Digital Commerce 360's top 50 online retailers participated in Cyber Monday this year, with most of the non-participants focused on B2B.
76% participated in Black Friday 2020, and the same percentage were offering a "Black Friday" deal on the Monday before. Overall, 78% of the top 50 online retailers had a holiday promotion before Black Friday this year. Many retailers continued their pre-Cyber Week sales without offering a deeper discount over the five-day period.
Online sales increased 15.1% this Cyber Monday to reach a record $10.8 billion. While retailer and consumer participation were both high, online sales only reached half the projected rate.
December 3 update
Cyber Week 2020: Thanksgiving + Black Friday stats
30% of shoppers said COVID-19 safety precautions like crowd control would improve the Black Friday shopping experience, but better deals and lower prices still won out as the top priority for consumers (35%).
With COVID-19 safety precautions in mind, only 41% of shoppers planned to shop in stores this Black Friday, down from 61% in 2019. The difference was made up in online shopping, however, which was up 21.6% year-over-year. Online shopping grew 21.5% on Thanksgiving Day.
To accommodate for increased holiday demand while prioritizing COVID-19 safety precautions, many retailers also expanded their buy online, pick up in-store services. Curbside pickup on Black Friday increased 52% year-over-year, according to survey data from Adobe.
Mobile ordering accounted for 40% of total ecommerce spending on Black Friday after surging 25.3% year-over-year to a record $3.6 billion. Together, consumers spent $6.3 million per minute online on Black Friday.
December 2 update
Cyber Week 2020 stats
Total Cyber Week 2020 US digital sales hit an all-time high of $60 billion, reaching $270 billion globally.
22% more shoppers participated in Cyber Week 2020 compared to last year.
US retailers offering BOPIS & curbside pickup increased digital revenue by 29% compared to 20% for retailers without these options.
Digital revenue from curbside pickup grew 95% YoY.
Check out our Cyber Week 2020 Stats, Recap, + Results blog post to dive deeper into our first round of Cyber 5 stats, and stay tuned for more updates on Cyber Monday!
November 30 update
Cyber 5 stats: Black Friday + Thanksgiving ecommerce data
November 24 update
What to expect during Cyber 5 2020 on Amazon
As consumers finalize Thanksgiving plans and adjust to the changes 2020 continues to bring, marketers are preparing for Cyber 5. With online shopping on the rise as the pandemic continues, we're left wondering what Cyber 5 will look like this year.
You might have noticed that big-box stores like Walmart and Best Buy have been peppering their Black Friday deals throughout the month since the beginning of November. As we prepare for foot traffic to shift online, what other trends are we seeing that will inform Cyber 5 strategy?
In this blog post, ROI Revolution's Marketplaces team has some insights to share about what this year's Cyber 5 might look like on Amazon. Read it to discover just how important Cyber 5 is this year, how an October Prime Day will impact Cyber 5, how the coronavirus pandemic has changed brands' Cyber 5 goals, and more!
November 18 update
The fastest-growing online category for holiday shoppers?
Online toy merchants are seeing the fastest growth this holiday season, with the category growing 195% for ecommerce year-over-year. Pre-pandemic, the toy category was projected to grow 10.9% year-over-year.
The pandemic caused the initial surge in online toy purchases, up 175% year-over-year in April and 180% in May. The category even continued to see growth in October, increasing 85%.
Considering many toy businesses see the majority of their business over November and December, this holiday season is projected to be huge for the toy category.
50% of all toy purchases this holiday season are projected to be made online, a level that's never been seen before for the toy industry.
November 13 update
Holiday + COVID-19 ecommerce stats
The COVID-19 pandemic will lead to an additional $40 billion in online holiday revenue over November and December 2020, according to new data from Digital Commerce 360. Pre-pandemic, this level of digital holiday shopping wasn't expected to be reached for another four years.
For the first time ever, more than a quarter of holiday sales will occur online in 2020. In fact, US consumers are expected to spend a collective 43.3% more with online retailers this holiday season, a total of $198.73 billion. That's a 26.1% increase in web penetration, up from 19.2% in 2019.
Along with this ecommerce shift, in-store sales are projected to decline 3.7% year-over-year. Brands and retailers with brick-and-mortar locations can cope with this shift by offering options like buy online, pick up in-store and curbside pickup.
November 9 update
COVID-19's impact on holiday shopping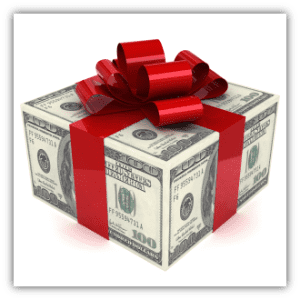 The uncertainty that continues to linger around the coronavirus pandemic will impact consumer shopping habits this holiday season beyond the shift to ecommerce.
25% of consumers are stressed about their ability to afford gifts this year, with 30% of consumers saying they'll spend less this year due to the current state of the US economy. In fact, 57% of shoppers rate the economy poorly – a 37% increase from last year.
Brands who are able to extend layaway and other "buy now, pay later" options like Klarna, Affirm, and Afterpay may see this holiday season may see a boost in sales. In September, Dillard's began offering Afterpay as an option, which resulted in increased purchases and more shoppers to their website. Macy's followed suit in October by announcing a long-term partnership with Klarna.
By offering alternative payment options that give shoppers more financial control and convenience, brands can reach wider audiences during a time of strife and uncertainty, especially over the holiday season.
November 4 update
Black Friday + Cyber Monday trends & stats
Cyber 5 2020 will look like no other – but there are still bountiful insights to be uncovered from past Cyber Weeks. We analyzed historical Cyber 5 data from hundreds of our clients representing over $50 million in ad revenue to uncover the major trends brands can expect to see for Cyber 5 2020 in our 2020 Retailer's Holiday Ecommerce Playbook. This guide to the holiday season offers tips and insights on how you can leverage these historical trends to build your holiday strategy and stay ahead of your competition.
You can claim your copy of the report here. Here's a sneak peak at some of the data you'll uncover:
Overall revenue over each day of the Cyber 5, year-over-year: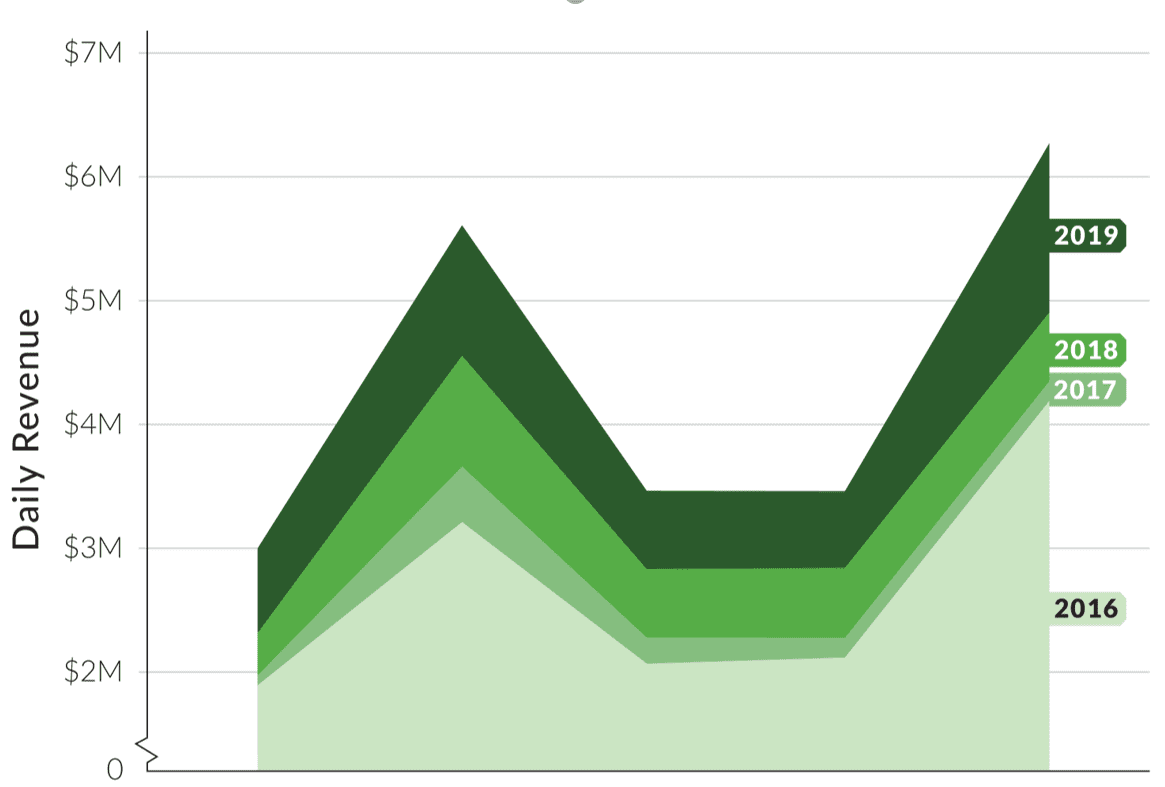 Google Shopping revenue over each day of the Cyber 5, year-over-year: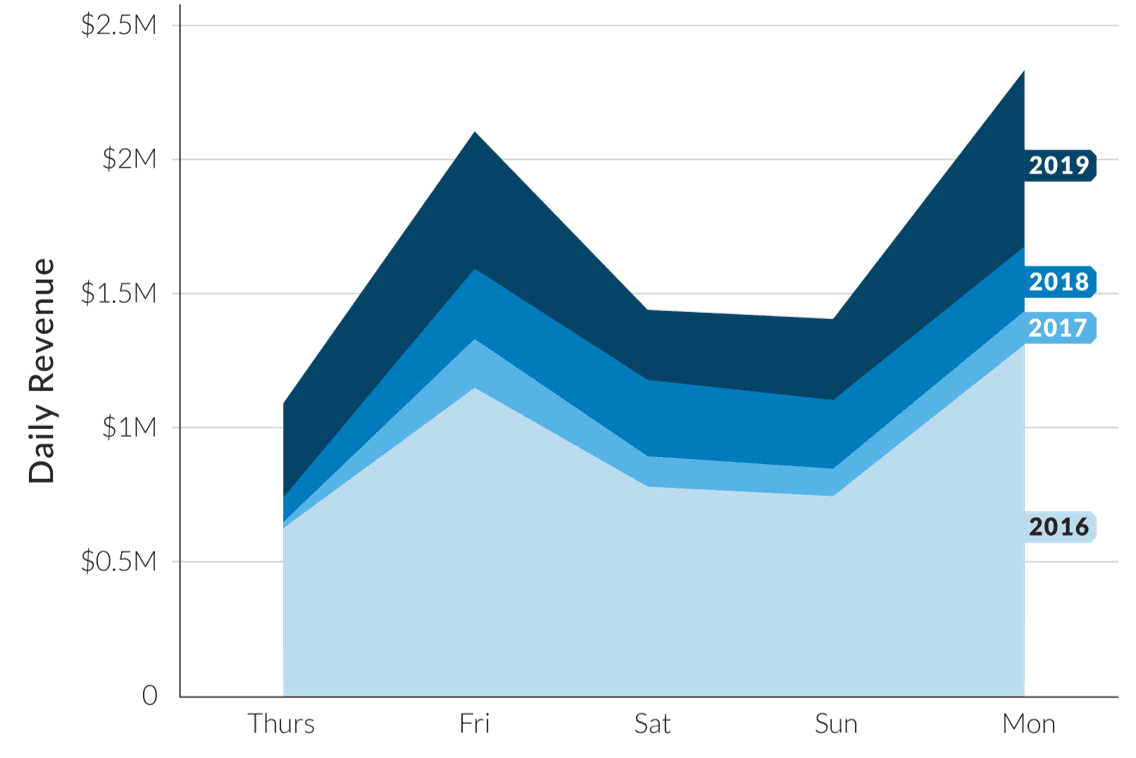 Google search CPCs over each day of the Cyber 5, year-over-year: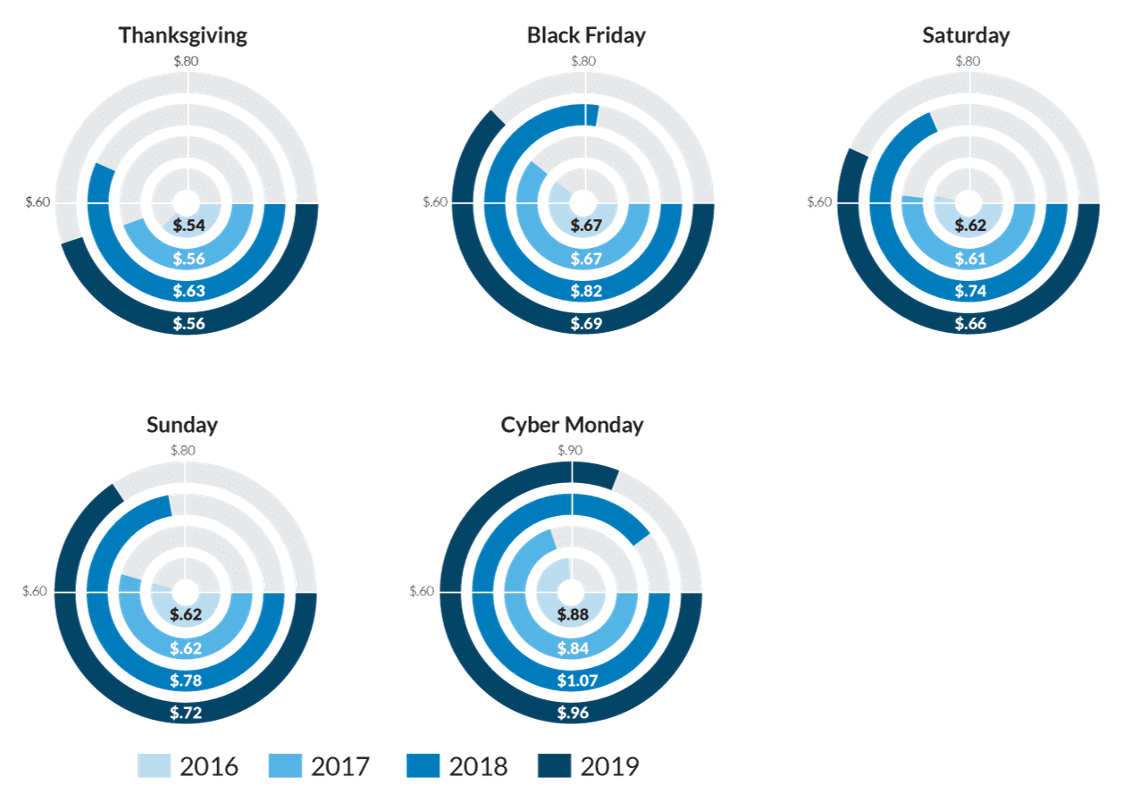 Get your copy of the holiday report today to uncover the rest of the exclusive data!
October 30 update
Black Friday + Cyber Monday 2020 predictions
Black Friday is a mere 27 days away. The shopping holiday will look quite different this year, just like everything else in 2020. What can brands, retailers, and consumers expect?
We've gathered some of the most important predictions and stats to help ensure you're ready for this Black Friday and the rest of the Cyber 5.
October 27 update
2020 holiday ecommerce stats
Ecommerce will reach new heights in the 2020 holiday season, with consumers spending more time than ever online shopping due to the coronavirus pandemic. From rising trends like BOPIS and curbside pickup to consumers' heightened interest in savings, this year's holiday shopping season brings an influx of novelty for brands and consumers alike.
Here are some 2020 holiday ecommerce stats from Merkle about global holiday shoppers that are relevant to marketers this year:
56% care about the ability to buy online & pick up in store this year (compared to 37% in 2019)
74% will buy gifts for themselves this holiday season
88% plan to purchase gifts online and ship them to recipients
October 22 update
2020 holiday ecommerce fulfillment trends & stats
Shipping delays we saw at the beginning of the coronavirus pandemic will likely return over the holiday ecommerce shopping season, with fulfillment and supply chain issues likely to crop up due to heightened demand. Receiving gifts on time is always of greater concern for shoppers over the holiday season, and it's likely that shoppers' priorities will revolve heavily around availability, shipping, and delivery times this year.
Salesforce predicts that up to 700 million holiday packages could be delayed this year due to shipping capacity being exceeded by 5% globally. Delivery surcharges between November 15 and January 15 are expected to reach $40 billion as a result.
To help avoid this time crunch and unhappy customers, stores with physical locations are expected to emphasize options like buy online, pick up in-store (BOPIS) and curbside pickup this year. BOPIS will increase digital revenue by an average of 90% for retailers this year compared to last year.
Brands can help support their customers during this time by updating website copy to remind shoppers to buy early and highlighting last ship dates.
October 20 update
Live with Google: Cyber-centric holiday success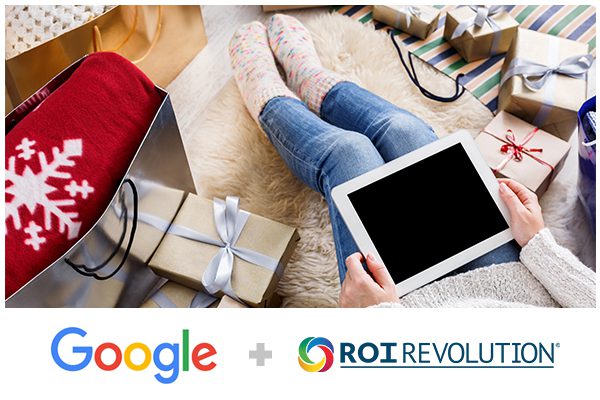 Online holiday sales are expected to reach as high as $196 billion between November, December, & January.
With 2020's extremely competitive ecommerce landscape, it's more crucial than ever to have a strategy to succeed over Cyber 5, the entire holiday season, and beyond.
Join ROI and our expert partners from Google for a presentation and live Q&A on November 10th at 11 am ET to unearth strategies for Q4 and post-holiday success. You'll discover:
Hidden keys and to improve customer acquisition and revenue pre- and post-Thanksgiving.
Underutilized December ecommerce strategies to convert more last-minute shoppers.
Post-holiday insights to prepare your brand for 2021 and beyond.
Best practices for reaching new customers through Google Shopping & YouTube.
Historical Cyber 5 data from enterprise brands you can leverage for 2020 growth.
Now is not the time to shift into neutral. Save your spot to put your foot on the gas and outpace your competition, accelerate your brand growth, and drive more profitable revenue.
October 16 update
Let the ecommerce holiday shopping ecommence!
With Amazon Prime Day 2020 wrapping up, what some might call the unofficial start to the holiday season has begun.
The deep discounts that major outlets started promoting alongside Prime Day are expected to continue in various forms from now until the end of the holiday season, with price being a main factor in consumer's buying decisions this year.
Prime Day was the catalyst to Cyber 5-esque sales and discounts starting so early. As The Washington Post reports, these types of sales "will extend into December as retailers drop the 'stampede mentality' to contend with the coronavirus pandemic."
Among the brands and businesses having "October Black Friday" sales are Target, Walmart, Jos. A Bank, Guess, Men's Wearhouse, Old Navy, Gap, Best Buy, Banana Republic, Office Depot and Office Max, and Bed Bath & Beyond.
October 12 update
2020 holiday ecommerce stats
You don't need anyone else to tell you that we're approaching an unprecedented 2020 holiday shopping season. But what do the numbers say? We've collected some of the top 2020 holiday ecommerce stats. Check them out below:
October 6 update
Black Friday deals starting earlier than ever in 2020
It seems holiday deals start earlier and earlier every year, with Black Friday deals historically encroaching into Thanksgiving.
But with the acceleration of ecommerce in 2020 and many consumers concerned about the safety of online shopping, many "Black Friday" deals are starting before Halloween.
Walmart is promising to "spread traditional Black Friday savings throughout the season and have more deals available online," with Kohl's starting Black Friday deals four weeks early. Target will start introducing holiday savings this month.
Not only do 56% of US consumers plan to shop for holiday gifts online this year, but 39% also plan to start shopping as early as October.

A previous rumor suggested that Amazon Black Friday would start on October 26, less than two weeks after Prime Day. However, a snippet pulled from a Google search for "Amazon Black Friday" reveals that their deals may be occurring on November 25 and 26. The page linked does not provide any additional information on Amazon Black Friday 2020.
September 29 update
Major retailers to shut doors for Thanksgiving shopping
Major brick-and-mortar retailers including Walmart, Target, and Best Buy are shutting their doors for Thanksgiving shopping in light of the COVID-19 pandemic.
The holiday closings come as retailers work to avoid overcrowding their stores and allow all of their employees to have a day off.
Walmart was the first major retailer to announce it close on Thanksgiving. In a memo addressed to employees, Walmart stated in a news release that stores would be closed as a show of appreciation to Walmart associates, who have been deemed essential workers in the COVID-19 pandemic.
This will be the first time since the late 1980s that Walmart stores will be closed on Thanksgiving.
Six days after Walmart's announcement, Target released a preview of its adjusted holiday plans, which include starting to roll out the biggest deals of the year in October to avoid large crowds of shoppers – an earlier start to holiday shopping than ever before.
Target's plan also includes expanding same-day grocery delivery to accommodate for increased holiday demand.
Other retailers shutting their doors this Thanksgiving include Best Buy, Dick's Sporting Goods, and Kohl's.
Many retailers will focus their efforts on curbside pickup this holiday season, with curbside pickup orders at retail stores surging 208% amid the coronavirus pandemic.
September 23 update
Key 2020 holiday ecommerce stats
58% of shoppers made online holiday purchases in 2019. This number will be even greater in 2020.
Holiday shoppers are already anticipating a further reliance on digital shopping this year. 73% of US shoppers say they'll shop more online this year, with 77% saying they'll browse for gift ideas online, not in store – a form of online window shopping.
This dramatic shift to digital and ecommerce is the biggest transformation we've seen since mobile transformation.
More consumers are solving their gifting needs online, and many are actually looking for new brands. 30% purchased from a brand that was new to them last holiday season, and nearly two-thirds of consumers plan to shop at local small businesses this holiday shopping season.
This year, 2 out of every 3 US holiday shoppers will shop early to avoid crowds and out-of-stock items. If 2020 is following similar trends to 2019, 1 out of every 4 US holiday shoppers have already started shopping for this holiday season. Most consumers will have 1/3 of their holiday shopping complete by Cyber 5. 
Impulse purchases will be less prevalent in 2020 due to COVID-19. Searches for "best affordable" have grown 60% YoY, indicating a larger shift in underlying consumer needs and behaviors. Consumers are seeking value through quality and price, looking for the best of both worlds.
September 14 update
Amazon Black Friday 2020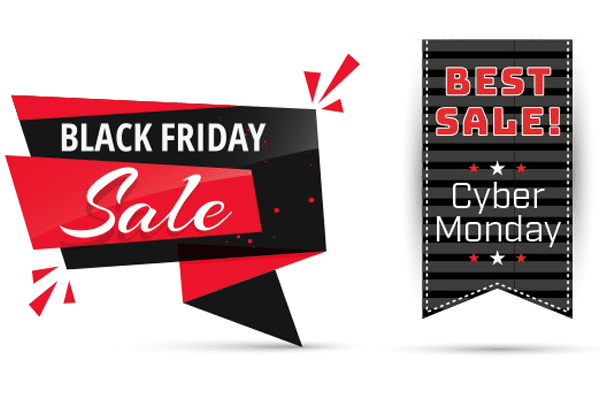 As one of the largest holiday ecommerce retailers, Amazon will reportedly launch Amazon Black Friday 2020 deals on October 26, according to TechRadar, Business Insider, T3, and others. Tamebay, a Markplaces news website, was the first to leak the news, but did not reveal the source of their information.
According to Tamebay's report, the Amazon Black Friday 2020 will reportedly run for three weeks from October 26-November 19 – ending before the traditional Black Friday, which will happen on November 27 this year.
Prior to this information being leaked, brands selling on Amazon had supply chain & inventory concerns about Prime Day reportedly being postponed to October, not long before Cyber 5. Amazon Black Friday 2020 ending before Cyber 5 even begins poses additional inventory concerns.
This would mean a massive Q4 for Amazon, which means competing marketplaces like Target, Walmart, eBay, & Best Buy risk losing sales to the ecommerce giant. This rumor is yet another curveball thrown at brands and retailers in 2020 amidst coronavirus, Prime Day being postponed from July to October, and general global unrest & uncertainty.