For online retailers, there is nothing more discouraging than working to drive prospects to your site, just to see those efforts wasted by poor conversion tactics. This is why any successful online business is constantly testing to find new ways to optimize their site and overall customer experience.
In today's ecommerce landscape, web forms serve as the backbone of almost every website conversion funnel, yet they are oftentimes the most overlooked when it comes time to test.
Keep in mind that when your customers enter checkout, there is only one thing standing between them and the product or service they'd like to purchase – a form. For that reason, simplifying the checkout process is essential to your success. According to a recent poll, nearly 30% of cart abandoners said that a long or complicated checkout process was the main reason they didn't make a purchase.
Here are three things you can do to improve your checkout process and ensure that you don't fall down the slippery slope of pushing form optimizations to the wayside.
1. Minimize Distractions in Your Checkout Process
It is safe to say that a confusing checkout process is sure to cause a downturn in sales as shoppers may simply abandon their carts out of frustration. To reduce friction points, checkout pages should be removed of anything that could distract the customer and lead to form abandonment.
While this seems obvious, many online retailers do not think to remove site elements that are typically consistent from page to page. This can include site navigation, headers, category page links, search bars or any other promotions that might distract the customer from completing their purchase.
Take a look at this example below, where one of our ROI Revolution clients was looking to optimize their checkout process. In this case, their site had some of these friction-causing elements, such as navigation and search bars. Our expert team was able to test a more simplified checkout page which removed these elements, and it ended up leading to a 6.7% increase in revenue per visitor.
2. Don't Require Account Creation
Many ecommerce sites ask a user to sign up for an account before making a checkout. While this may be useful information for the retailer, according to Kissmetrics, nearly 1/4 of all shoppers say that having to create an account was the reason they abandoned their cart.
Having a guest checkout in addition to your new and returning customer checkout can help lower your cart abandonment rates and lead to more conversions. Below you'll find a perfect example of a very simple form that is clear, concise, and covers all the bases for potential customers.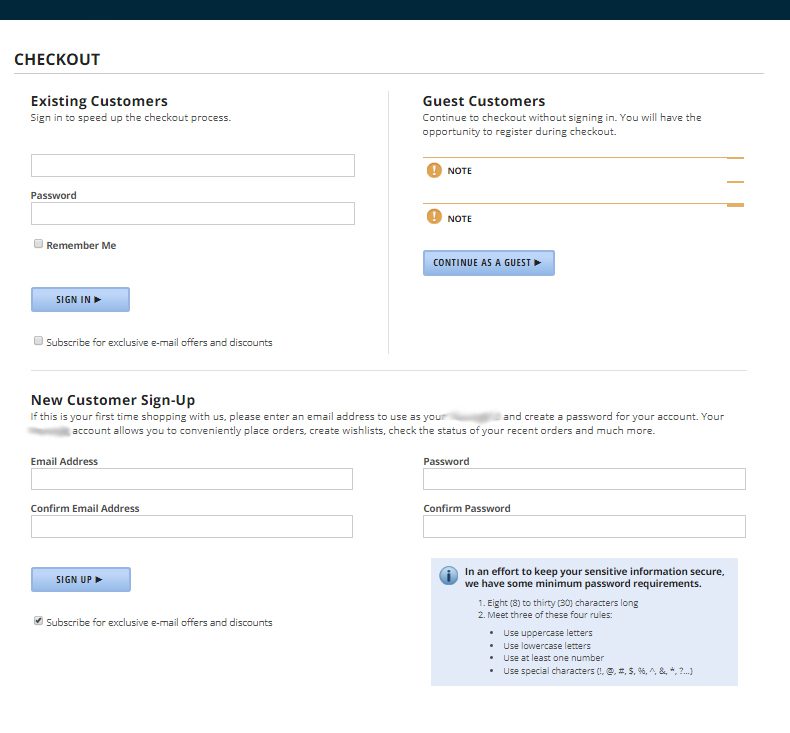 3. Make Sure the Path to Completion is Abundantly Clear
If your checkout flow has anything out of the norm (norm being billing, shipping, and order confirmation), you'll need to make that very clear to users. The goal is to reduce anxiety and increase clarity.
In many cases, retailers provide help text on a form page to clarify the extra steps that are required to checkout. However, providing help text on a page should only be used as a temporary fix as any out-of-the-norm steps should instead be integrated and clearly defined within the form itself.
For example, one of our ROI Revolution clients who sold customizable products required the customer to upload custom artwork to finalize the checkout process. Our conversion optimization team hypothesized that displaying an info box when the user clicks on the "upload artwork later" placeholder image would reduce user confusion and result in a higher conversion rate.

The test results showed that Variation 1 had a 5.14% higher ecommerce conversion rate than the control for desktop traffic that hit the cart page. For this client, it was projected that a 5.14% lift in transactions would result in nearly a $30,000 increase in monthly revenue and close to more than 150 additional transactions.
Still Need Help?
If you are looking for even more conversion tactics, as well ways to optimize your checkout process, grab our latest white paper: The Q4 Conversion Rate Challenge. This detailed report will uncover further strategies to optimize your website and improve conversions.

For even more insights, you can visit our website and get in touch with one of our CRO experts. They can outline key areas of your site that are ripe for testing and help you down the path to an optimized customer experience and a better converting website.