Programmatic advertising is an efficient, data-driven way of buying highly relevant audiences at scale. It is the most efficient way to buy digital ads and get your ad live in the current advertising landscape.
Compared to manual or direct ad buying methods, it saves time, prevents wasted ad spend, provides limitless inventory, and optimizes campaign frequency. Programmatic can play a huge role in ensuring that your budget goes toward converting relevant customers who are highly likely to purchase.
But what exactly are the programmatic ad formats that can be purchased? Brands have an array of effective ads to choose from, including cross-device display units, video advertising, streaming audio, and digital out-of-home.
1. Cross-Device Display Units
Cross-device display units can appear across desktop, mobile, or tablet. The three main cross-device programmatic ad formats/ types are standard banner ads, native banner ads, and rich media banners.
Standard banner ads are the fundamental cross-device display ad type and a natural entry point into Programmatic. The most cost-efficient solution for great reach and scale, they usually appear on the top or sides of web pages and are available in many different sizes.
Native banner ads take your campaign a step further by appearing as "recommended" or "sponsored" content. Because native banner ads are more likely to match the look and feel of the rest of the media on a page, this ad type often leads to higher click-through rates. Native banner ads also require headline copy and imagery allowing you to share additional brand info or product details.
Rich media banners are interactive ads that feature an animation such as a pushdown, expandable, or carousel unit and invite the user to engage with your ad. They'll require more creative resources and working time, but their multimedia visual appeal make them fantastic tools for brand recognition. The power of data-driven advertising with Programmatic combined with the power of rich media ads could be a gold mine for your brand.

2. Video Advertising
Programmatic video ad spend is projected to grow 18.9% in 2023 to approach $75 billion.
This programmatic ad format helps ensure your video ad dollars go to good use by putting your ads in front of the right audiences. The four main types of video ad units for Programmatic are pre-roll, super pre-roll, native, and over-the-top (OTT).

Pre-roll and native video ads align with what consumers expect from ads, allowing brands to reach customers in a way they're comfortable with. Programmatic makes it easy for brands like yours to also branch into over-the-top advertising and stand apart from your competitors.
OTT advertising refers to the content providers streaming video via the internet, such as Hulu, Disney+, or Sling. It provides the opportunity to reach customers through newer technology like smart TVs and other consoles that introduce a new place for brands to advertise to customers – and with Programmatic, to advertise to extremely targeted audiences.
Over-the-Top + Connected TV Opportunities
Over-the-top (OTT) advertising is soaring as one of the most profitable channels for programmatic advertising. The COVID-19 pandemic drove more consumers than ever to pay for over-the-top video services like YouTube TV and Hulu + With TV, with OTT subscription revenue soaring 41.2% in 2020.
Since 2019, more consumers have been paying for connected TV services than cable TV. Connected TV (CTV) refers to the device the video is streamed on, such as a smart TV, gaming console, or Roku.
Connected TV programmatic display ad spend is projected to hit $8.88 billion in 2022, a nearly $2 billion increase over 2021.
With this Programmatic ad format, brands can pinpoint highly targeted audiences on TV for the first time ever in real-time using machine learning. Programmatic advertising provides an avenue to target your highest-intent consumers with compelling video content in addition to the ability to measure and adjust KPIs in real-time as the numbers come in.

3. Streaming Audio
Programmatic gives brands unique opportunities to build awareness, drive in-store traffic, and build loyalty through major audio streaming platforms like Pandora, Spotify, and more, all the while armed with the power of data and machine learning to know which listeners should receive the ad.
Working with a Programmatic partner, your brand can purchase 15-30 second audio spots, run banner ads, and capitalize on highly customizable advertising options to serve personalized ads to listeners who are highly likely to be interested in your product or service.
The top three digital audio platforms (Spotify, Pandora, and Amazon Music) are expected to have a combined 190.7 million active listeners in 2021, surpassing 203 million by 2023.
Advertising through streaming audio (which includes music, podcasts, and radio) gives brands the opportunity to connect with consumers in a way that easily integrates into their everyday life, with many consumers streaming audio throughout the day. In 2022, 21% of digital radio ads were purchased programmatically.
Streaming audio is expected to grow yet again in 2022 despite originally being forecasted to decline due to the pandemic.

4. Digital Out of Home (OOH)
Programmatic digital out-of-home advertising allows brands to advertise on digital billboards and other outdoor displays. Digital OOH displays are great at grabbing consumer attention because they are highly visual and creative and can't be blocked or skipped.
Data like time of day, weather conditions, and location can be used to target your programmatic OOH ad to the right audiences at the right time.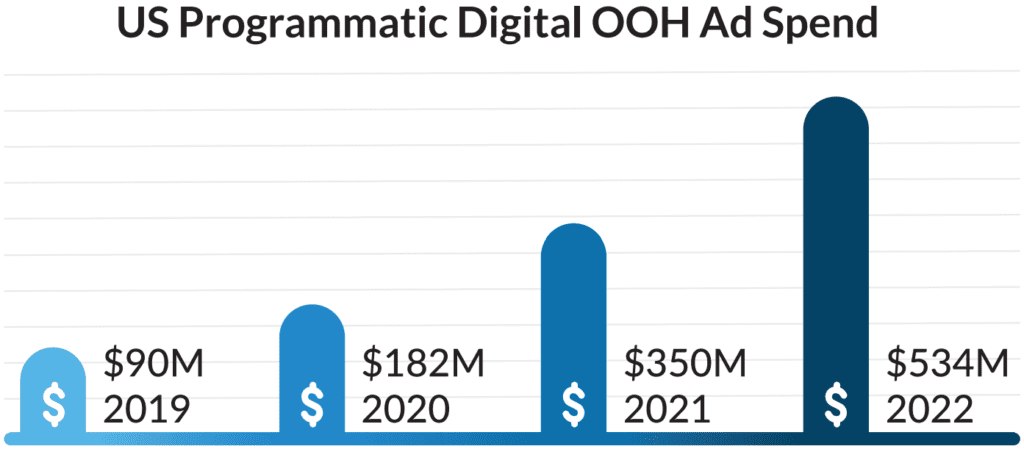 Programmatic digital OOH ad spend is expected to account for nearly 15% of digital out-of-home ad spend in 2022. While this may seem like a small percentage, it's nearly triple what it was in 2020.
Programmatic OOH advertising could be an extremely profitable path for many brands as the post-pandemic world approaches and consumers begin spending more time out of their homes.
Tying It All Together
As an extremely fast and data-driven way of buying highly relevant audiences at scale, Programmatic is the most efficient way to buy digital ads and get your ad live in the current advertising landscape. Cross-device display units, video advertising, streaming audio, or digital out-of-home advertisements can all be purchased through programmatic ad buying.
Are you interested in seeing how these Programmatic ad formats could benefit your business? Visit our Programmatic Advertising page to learn more and reach out to one of our experts to put your brand on the path to profitable programmatic growth.
Sources