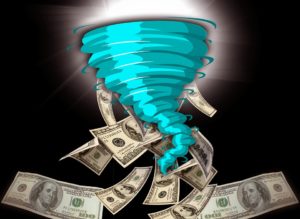 AdWords is a complex machine.
With so many different settings, features, and best practices, it's easy to get overwhelmed with it all.
Thus, it's not surprising that stuff falls through the cracks from time to time.
But sometimes, the little mismanagements that escape your attention today become those big problems that cost you hundreds of dollars (and a bottle of aspirin) tomorrow.
These are disasters waiting to happen, and we've personally seen them cost even the smartest retailers thousands of dollars.
So today, we're talking disaster preparedness for paid search advertising. These are 7 little-known disasters waiting to happen – and what you can do about them.
#1. Smart Budget Capping
One simple, but destructive, mistake is misplacing a decimal. This might seem like too obvious a mistake for anyone to make, but you'd be surprised at how much it happens, especially when you've got a lot of bids to manage.
This little error can cause you to bid $10 or even $100 on a $1 keyword. And while you probably won't ever spend $100 per click with Google's auction model, this mistake can cost you a lot of cash in a short amount of time.
Another small (but costly) mistake is accidentally setting a keyword match type to broad and giving it a high bid. Broad match tends to run up costs with unprofitable traffic, and can quickly eat through a budget.
Mitigate any potential damage by using smart budget capping. While you don't want to limit successful campaigns, you do want to set a reasonable budget ceiling, to keep your costs from accidentally going through the roof.
For example, if you find that a campaign spends $50 a day at most, then you should be able to comfortably set your budget to $100 – $150 a day, put your campaign settings on accelerated, and not have to worry about hitting your budget and losing impressions.
You'll want to revisit campaigns regularly to see if you need to increase this budget due to seasonality or increased competition, but never set an arbitrarily high budget. If you make a mistake, would you rather waste $150, have your ads stop showing, and get an alert from Google saying your budget has been reached—or waste $1000? I think we all know the answer to that one.
Take Action: Look back over the previous quarter for your campaign to find your highest spending day. Double that amount and set it as your maximum budget. This should ensure that you get all possible traffic, without risking enormous amounts of cash on paid search accidents. Do this every quarter, and make special allowances for peak seasonality or major shopping days like Black Friday or Valentine's Day.
#2. Timing on New Initiatives
It doesn't have to be Friday the 13th for you to end up with an AdWords horror story over the weekend. Avoid launching new campaigns and initiatives on Friday if at all possible. With so many different settings and factors that could go wrong, it's always best to launch new initiatives on Monday morning, so that you can keep tabs on it throughout the week and make any necessary adjustments.
If the new campaigns or ads aren't time-sensitive, you can always post them to the account set to pause, then easily unpause on Monday morning. But if you absolutely have to post something new on Friday, you should be dedicated to keeping an eye on your account over the weekend to avoid trouble. Murphy's Law always applies to AdWords –especially over the weekends.
Take Action: Plan your AdWords management with this principle in mind. Set your schedule so that Monday is your day to create, run, or start new campaigns.
(Have a sale or coupon running over the weekend? Never fear. Google's got some great tools for promoting sales without making major changes to your AdWords account.)
#3. Search Campaign Remarketing
And it's not just wasted spend that can hurt your account—tight restrictions on traffic can hurt just as much.
If you're not already a fan of remarketing, you should be. Remarketing is a great way to reach out to pre-qualified traffic and (usually) net higher conversion rates. But there are some tricky settings that can sometimes mess this up.
For instance, Google allows you to remarket in search campaigns, not just in Display. It gives you the options to show new ads, or raise bids, for users who have already been to your site, bounced in a shopping cart, etc—the list is up to you.
When you get into your targeting options, however, you're going to have two options: either Target & Bid or Bid Only.
For the most part, you're going to want to set that to "Bid Only." What this means is that it will sit in the background and collect data for a while, and then you can choose whether or not you want to raise your bids by a certain percentage.
But if you set your Search remarketing campaigns to "Target and Bid," that's telling Google "I only want to target people who have been to my site before." That's going to tank your traffic big time, since that campaign will no longer be bringing new customers in the door, only targeting the old ones.
This might sound like a silly mistake to make, but we've seen traffic for major campaigns just drop off a cliff, with everyone wondering why. While this issue won't waste money, it will cut off traffic, which can sometimes be just as detrimental.
Take Action: Make this setting one of the earliest ones you check when troubleshooting and reviewing campaigns, especially if you see inexplicable drops in traffic.
#4. Display Network: Extended Match
On the Display Network, chances are you're trying to show up on sites with certain content (based on keyword or theme), to narrow the reach of your ads and stay relevant. But with Extended Match, Google uses session-based matching that targets behaviors, instead of placements or keyword contexts. This means they will show your ads on irrelevant sites, provided the browser has viewed relevant sites earlier in their session,
Unfortunately, you have no direct control over this feature—there's no way to simply turn of Extended Match. However, you can manage the feature somewhat.
Take Action: Run a placement report to look for domains, then exclude (or bid down) bad placements.
#5. Close Variant Matching
On a related note, you'll want to keep an eye on plurals, and close variants when you review your search query reports. While most of the time, you benefit from close variant matching, it's not always profitable for all keywords.
For example, if someone searches "Ethernet cable," they're probably looking for one or two cables to use in their home. But if someone searches "Ethernet cables," they could be looking for 500 feet of Ethernet cable to wire an office building. There's a big difference between those two scenarios, so that's something to really consider as you set your keywords and review reports.
Take Action: Make sure you're reviewing your search query reports with some regularity, and keep an eye on close variants to make sure they don't become unprofitable for you. If they do, try adding them as negative exact match keywords.
#6. Yahoo's "Trending Now"
One (perhaps) surprising paid search mistake is Yahoo's "Trending Now" section. This is a featured area on Yahoo's home page that highlights popular searches, usually sports, news or celebrity gossip.
But sometimes, especially around holidays, things like "red roses" or "teddy bears" will appear in Trending Now. And if someone clicks on one of those links, it will perform a search on that topic—and will include any search ads targeting that keyword.
While that may sound great at first blush, being featured on a Trending Now search tends to be a disaster for retailers. Even pristinely managed accounts are hurt when they're hit by this surge in unprofitable traffic, which quickly depletes budgets without converting very well.
Take Action: Check for this in your account. If this has happened to you, you can ask for a credit from your Yahoo representatives. More often than not, they'll give you a refund for Trending Now clicks. Step two is then to block "trending now" from your account, so this doesn't happen again.
#7. Search Partners
Speaking of the Yahoo/Bing Network, you're going to want to make sure you're checking your Search Partners report diligently. These search partners tend to have a lot of junk traffic that can easily spend a couple hundred dollars in your account without ever converting. While that's not a lot of money in the grand scheme of things, it's too much to be spending idly on non-converters.
Take Action: Take some time this week and dig into your last 90 days' worth of search partner's traffic. Look for any major unprofitability. This is another case where you can show the data to your Yahoo rep and request a credit—so don't neglect this report!
Next Steps
So we've covered some of the ways you can locate and disarm the disasters lurking in your account. But an ounce of prevention is worth a pound of cure, right?
I strongly encourage you take a half hour to learn our top methods for preventing these and other "disasters waiting to happen" in your paid search advertising. Our on-demand webinar, Safeguarding Against Ad Spend Disasters delivers 10 tactics for bulletproofing your paid search budget – all collected from the experience of our top analysts. I promise, it's worth 30 minutes of your time.