What is D2C in ecommerce? D2C or DTC is short for direct to consumer, referring to brands that bypass third-party retailers and wholesalers to sell products directly to customers. As an online-centric business type, D2C has experienced tremendous growth over the course of the coronavirus pandemic as consumers have reduced their in-store shopping.
To give you a picture of the current D2C ecommerce landscape, we conducted a survey of over 170 digital marketing professionals from a wide range of industries and company revenue. In this article, dive into the data behind direct to consumer marketing and how your brand can leverage D2C for profitable growth.
Direct to consumer marketing is the fifth most popular trend that digital marketing professionals name for 2022, with 39.1% of our respondents saying D2C is top-of-mind for their brand in 2022. D2C grew 45.5% in 2020 to reach $111.54 billion in online sales.
In 2022, D2C ecommerce sales will be nearly double what they were pre-pandemic, growing 97.2% over 2019 to reach $151.2 billion. Next year, sales will grow 15.7% year-over-year and approach $175 billion.
43% of Americans are now familiar with D2C brands.
Many D2C businesses that started as online-only have since adopted an omnichannel approach. Companies like footwear brand Allbirds and eyewear provider Warby Parker have added brick and mortar stores in addition to their formerly online-only presence, while others like mattress company Casper have partnered with retailers like Target to reach customers wherever they are.
The profitability potential of the direct to consumer model varies from industry to industry. Out of all of the D2C brands that answered our survey, the most popular industry was apparel & accessories, followed by electronics & technology and home goods. Some top D2C companies include Dollar Shave Club, Chewy, and HelloFresh.
Digitally native brands will make up 25.3% of all D2C ecommerce sales in 2022, contributing $38.26 billion. In 2023, that number will reach $44.65 billion. The proportion of digitally native vs. offline-native D2C sales has remained relatively stable since 2019, when digitally native brands made up 25.2% of all D2C sales.
1 in 4 D2C ecommerce sales come from a digitally native brand.
The direct to consumer approach also provides brands with an avenue to collect first-party data – an especially appealing option as Google prepares to remove third-party cookies. With a huge swath of valid customer data to work with, D2C ecommerce brands are able to create highly targeted and personalized marketing strategies that resonate greatly with individual customers. This type of tailored D2C marketing increases the chances that a shopper will not only convert but even become a loyal brand advocate.
D2C is appealing not just to brands but also to consumers. 44% of consumers believe that direct to consumer brands produce products with a higher quality and lower cost than traditional brands.
Hydro Flask | D2C Case Study D2C is a big part of the selling strategy for sports water bottle brand Hydro Flask. To continue the growth of their direct to consumer site and improve overall spend, Hydro Flask established a partnership with the experts at ROI Revolution that would help make HydroFlask.com the place where consumers find Hydro Flask products. The results included 92% revenue growth at 220% higher ROAS! Read the case study to learn more.

Supply Chain, Shipping, & Fulfillment
Direct to consumer marketing has become especially appealing to brands in light of supply chain strain that started at the onset of the pandemic and spiked in Q4 2021. Delayed orders, empty store shelves, and rising distribution costs aren't such significant roadblocks for D2C companies that avoid middlemen and have greater control over their fulfillment strategy.
The supply chain is a high priority for marketing professionals in 2022. It's the third most important trend for marketing managers after attribution and personalization, with 44.2% of managers saying shipping and fulfillment are top-of-mind for them this year.
36.8% of marketing professionals name shipping and fulfillment as a top trend for 2022.
Estimates range from late 2022 to well into 2023 before any semblance of normalcy will return. With demand still sky-high in key categories like electronics, auto parts and accessories, gaming, and even raw materials, there could be a long, bumpy road ahead. Instead of planning for when things are better, businesses should plan a strategy to make the most of the current reality.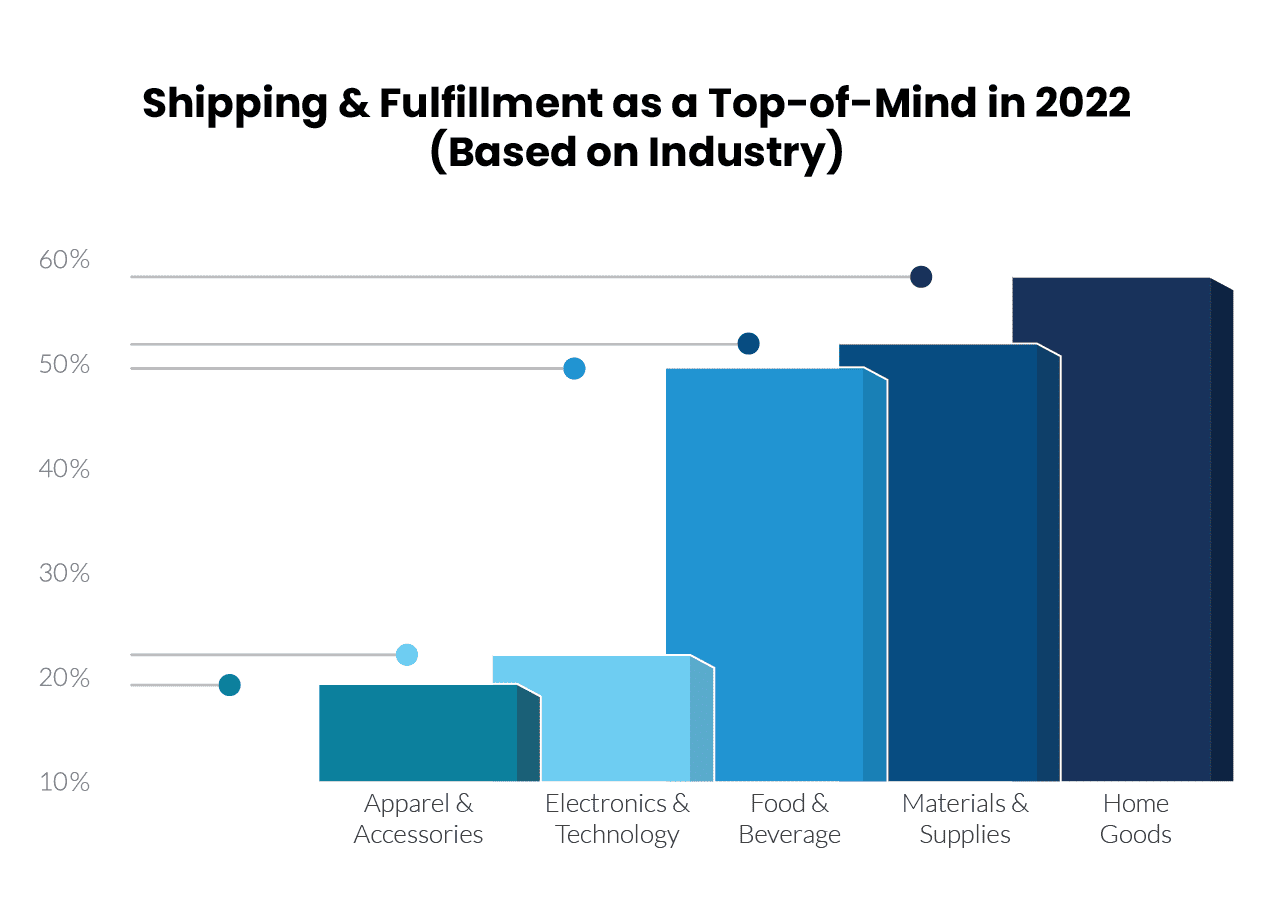 Supply chain issues have impacted pretty much every industry around the globe – but some have been hit harder than others. It's top-of-mind for just 20.7% of brands in the apparel & accessories industry, but for the home goods industry, it's the second most important trend this year. This isn't likely to abate any time soon, so proactively planning your advertising and marketing around your inventory management will be crucial – especially if you have peak seasonality.
Tying It All Together
With the digital marketing landscape shifting and transforming for myriad reasons, many unexpected trends have been popping up. The rise of direct to consumer and supply chain issues are just two examples. Being prepared for the unexpected by being agile and open to pivoting could make or break your brand in the coming years.
Remaining calm in the face of uncertainty is easier when you have a team of experts by your side. At ROI Revolution, our proven digital marketing experts act as an extension of your team to help you exceed your goals and drive revenue. Reach out to connect with an expert today to see how we can help your brand grow profitably even in an unpredictable market.
Sources
ROI Revolution. 2022 State of Digital Marketing Survey Data.