Unless you've been living in a cave the past couple of years, you've seen Pinterest rise from a teenage pastime to a pivotal staple in many marketing routines.
According to Omnicore, as of April 2017, Pinterest has accumulated over 175 million active monthly users!
Let's face it, the world is changing and with it, consumers have changed the way they shop, who they trust, and how they buy. Your job is still to satisfy the needs of your customers, but how you approach the consumer and how you effectively package information is constantly evolving.
Although you may already have the ever popular Pin It button on your site and boards full of Pins in your business account, you may not have heard of Pinterest's self-serve CPC platform called Promoted Pins. Promoted Pins allow you to increase visibility to a strategically targeted audience, ultimately increasing engagement, traffic and overall interaction with your ads.
Not sure if Pinterest is for you? Allow me to change your mind with some Pinterest-ing stats.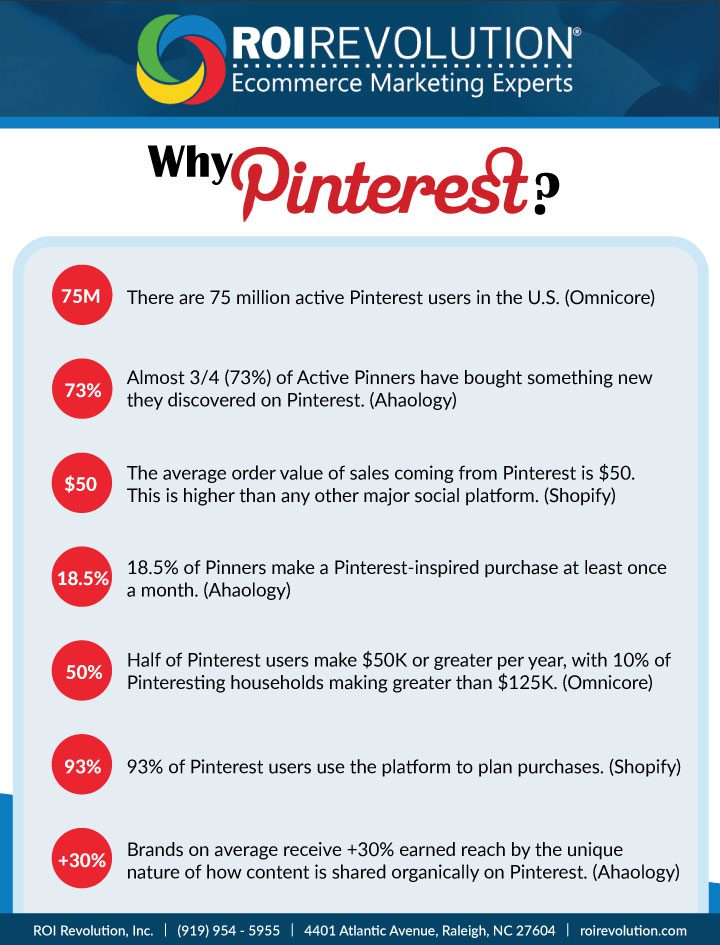 Excited to get started? Here's a few quick tips.
Set up your business account: https://business.pinterest.com/en/set-your-business-account
Visit https://business.pinterest.com/en/promoted-pins and fill out the form. They'll contact you when they're ready for you to begin.
Once you're in, choose a Pin to Promote, or create a brand new shiny Pin with tailored text, special for your new campaign.
Remember, although Pinterest is all about great visuals, it's still search driven. Utilize top keywords from your other marketing efforts like AdWords to steer you in the right direction when choosing keywords for your Pinterest Campaigns.
Pinterest has their own Analytics platform, but if you're currently using Google Analytics, don't forget to tag those URLs. Try out ROI Revolution's URL Builder here: https://roirevolution.com/google-analytics/google-analytics-url-builder.php
Step 6.? Go brag to all of your friends and colleagues that you finally found a way to make Pinterest your job. May your Pinning be fun and profitable.
Excited about learning new ways you can utilize social media advertising to boost customer engagement and revenue? Download our special report, Winning with Facebook Ads: The Guide to Driving Ecommerce Engagement. This report will give you a high-level overview of five essential Facebook Ad strategies advertisers must employ to drive better qualified leads!