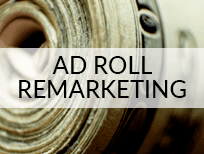 Roughly 1-2% of shoppers convert on their first visit to an online store. But what about that other 98% that come to your site but leave before making a purchase?
That is where a successful remarketing strategy can take your business to the next level.
Remarketing is the best way to keep your past site visitors engaged with your brand. By keeping track of people who visit your site, remarketing gives you the ability to display ads to these potential customers as they browse other sites across the web.

Remarketing in Google AdWords is certainly an effective way to bring back buyers. But, what if you could do more?
This is where AdRoll comes into play. AdRoll is the most widely used remarketing platform in the world. You have the ability to do standard web retargeting, just as you would through Google AdWords, only with a different set of display partner sites.
With AdRoll, you also have the ability to test remarketing through Facebook, Twitter and mobile, which ensures that you are able to reach your customers across multiple platforms.
Here are some of the underlying beauties of AdRoll, other than the cross-device & cross platform remarketing:
First of all, it is cheap! AdRoll's remarketing campaigns have a CPM range of $1.00 – $2.50.
Second, you have the control. You set your budgets, you create the segments and campaigns and you control the content.
Third, the interface is very user-friendly. AdRoll provides everything you need in order to understand your customer data. While the experts are always there to answer any questions, you have all the optimization tools you need to get the most out of your campaigns.
Many of our ecommerce retail clients are now using AdRoll. In many cases, we have seen a lot of success. For one retailer, using AdRoll for Facebook remarketing over the last 4 months has generated an additional 3,000 conversions at an avg. CPC of $0.34 and a CPA of $2.91.

While these ultra-low costs-per-click and costs-per-acquisition sounds pretty good, it is even more impressive when we learn that their target CPA is $25! With AdRoll, this retailer is generating an additional 750 sales a month at a price that was 8x lower than their goal CPA!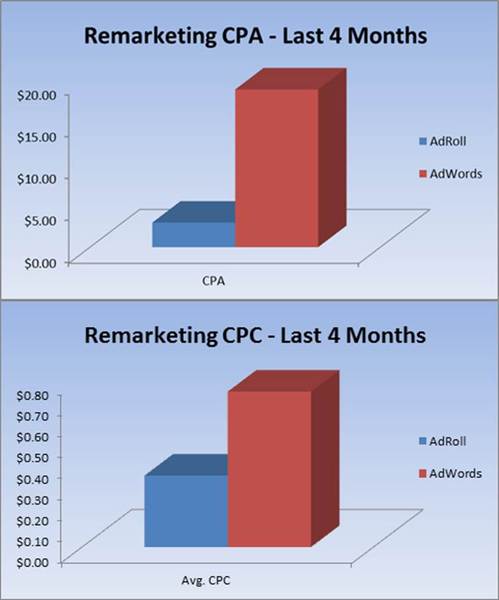 For any retailer not currently focused on bringing back those 98% of shoppers who don't buy on their first visit, you are leaving money on the table. Exploring Google AdWords remarketing campaigns is one place to start. For a further reach on sites like Facebook, where AdWords remarketing isn't available, AdRoll is proving to be a valuable asset for retailers using the system correctly. The setup is easy, and testing the platform won't cost you very much money.
Talk to us. Are you currently using remarketing? If so, what types of remarketing are working.
For more information about remarketing strategies, you can watch the replay of our Retailer Web Clinic: Four Remarketing Resolutions for 2014 Success.