Nearly half of US internet users start product searches on Amazon. What's more, eMarketer estimates that 51.6% of US households have an Amazon Prime subscription, and Amazon represented nearly 13% of US search ad revenue in 2019.
This blog post will give you the latest tips and tricks to set up a great Amazon advertising strategy in 2021 – whether you're just starting out or you're looking to refresh your approach.
We dive deeper into these strategies in our new white paper, The Essential Guide to Amazon Advertising for Brands. In this dive deeper into the ad types that will bring your brand success in 2021 and how you can dominate against your competitors on Amazon. Claim your copy.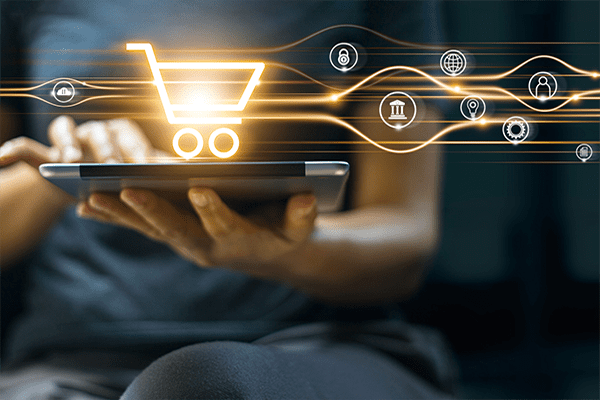 Consider the Amazon Flywheel
The advertising opportunity on Amazon becomes even more compelling when you consider Amazon's flywheel. The flywheel refers to the way all your efforts on Amazon build into each other and "fuel the flywheel." This means earned, owned, and paid media on Amazon all support each other.
This flywheel effect is great news for advertisers. Getting more sales from CPC advertising boosts your product's organic ranking, which in turn promotes more sales. To have a strong Amazon strategy, you must fuel all parts of the flywheel:
1. Earned media on Amazon is most often thought of as your customer reviews and product star rating, as well as the "frequently bought together" widget.
2. Owned media speaks to your product's title, description, and bullet points. These factors, among others, are what goes into Amazon's Retail Readiness checklist.
3. Paid media fuels the flywheel because every sale boosts your organic ranking, regardless of the traffic source – paid or organic.
Paid media
We'll spend the rest of this report talking about paid media. How do you best optimize your paid media strategy on Amazon? Here's the latest.
Amazon Sponsored Ads
Amazon Sponsored Ads are the main advertising offering on Amazon, and they change the game for big brands and everyday sellers alike.
In its suite of Sponsored Ads, Amazon offers three different ad types: Sponsored Products, Sponsored Brands, and Sponsored Display.
Amazon Sponsored Products is Amazon's cost-per-click ad format that looks like a search result. This is typically the most profitable ad format, as it looks very similar to other products that show up organically in an Amazon search, promoting a strong click-through rate. Sponsored Products campaigns are available in automatic or manual targeting format, each with unique pros and cons.
Sponsored Brands is another cost-per-click ad format, but this one allows for more creative control. This ad format uses a brand logo, custom headline, and in some cases, creative. Video was recently added as an open beta for select advertisers in the US, UK, and DE. A lifestyle image creative option was added as a worldwide open beta. Sponsored Brands ads appear in a variety of placements on Amazon, but the most notable is its top-of-search placement.
Sponsored Display is the final ad format available through Amazon Sponsored Ads. This ad format is also cost-per-click, but it behaves more like you'd expect a display ad to. This ad format doesn't target keywords – instead, it offers several targeting options such as views targeting, interest targeting, and category targeting. This ad format is generally the least profitable of the three, but Sponsored Display is great for impression and awareness goals.
So, where do you begin? When considering all these ad types, you'll want to think about how to distribute your budget among the three to maximize your ROAS. Most likely, your strategy will lean heavily on Sponsored Products, then distribute the remainder between Sponsored Brands and Sponsored Display. Try out the different creative and targeting options that these ad formats offer and see what works best for your brand.
Amazon DSP
Outside of the advertising console, Amazon also offers programmatic display ads through its Demand-Side Platform (DSP).
Amazon DSP allows brands to advertise their Amazon products with programmatically targeted display ads across the Internet to your defined audience. Amazon DSP not only covers Amazon's O&O (owned and operated) websites but also taps into some major suppliers, in addition to exclusive inventory not available anywhere else.
Amazon DSP typically prices campaigns by cost-per-mille (CPM) like other display networks, giving it a key difference to the Sponsored Ads suite, but a similarity to other display ad offerings.
Conclusion
In today's ecommerce landscape, an all-in investment in Amazon advertising with a robust, informed strategy is a no-brainer. Do you see any opportunities to expand your marketing strategy on Amazon? Our expert teams at ROI can help you get your Amazon account in order and uncover the pain points and challenges that are holding you back from increased success.
Schedule a 20-minute consult and sit back as our analysts take an in-depth look at your account and develop a custom strategy specific to your needs. What are you waiting for? It's time to dominate Amazon advertising, and we can help!