Amazon advertising allows business owners to sell products through various ad types, including display ads, video ads, and custom ads, as well as Sponsored Products and Sponsored Brands. Taking advantage of the services offered by Amazon's disruptive business model can be a crucial step toward your business' success.
But with Amazon serving over 310 million customers worldwide and ranking as the top place where consumers start online product searches (yes, even higher than Google), changes are happening on the platform all the time and different trends are constantly picking up traction. It can be hard to keep up.
Lucky for you, today, we're going to be diving into the top five trends in Amazon advertising.
1. Amazon DSP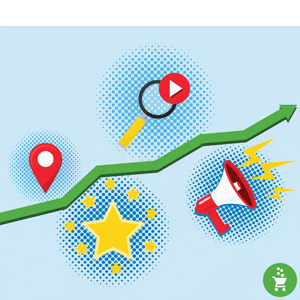 This "trend" may seem obvious, but it was only in September 2018 that Amazon revamped its advertising platform features as Amazon DSP (Demand Side Platform). It allows you to programmatically buy display and video ads at scale while targeting your ideal audience not only on Amazon.com but also on Fire TV Sticks, IMDb.com, Kindles, Freedive, third-party partners and apps, and more. Whether you're a brand owner or reseller, understanding Amazon DSP will help your product prosper.
So what does the Amazon DSP landscape look like right now? To no one's great surprise, signs are pointing toward an increasing interest in it from big brands hoping to get a bigger slice of profit pie. In March 2019, four new upgrades were added to the Amazon DSP user interface to help you more easily stay ahead of your competition:
Navigation
Bulk editing
Custom reporting
Creative moderation
These were all usability enhancements for the advertiser, not the consumer (they were actually all user-suggested), so they'll help you focus on the right things so you can make your campaign successful.
Navigation was made more intuitive and efficient, and all the most important information you'll need was made more prominent. You're also now able to edit and apply several settings at once to domain, audience, and location targeting line items.
Further, the custom reporting feature allows you to choose specific columns to include in a report that can be emailed from the report system based on your unique requirements.
Lastly, regarding creative moderation, Amazon advertising is also working to reduce the time they take to approve creative so that you can get your product in front of consumers' eyes sooner. Amazon has said that "further usability enhancements are planned throughout the year," so keep your eyes peeled for further advancements and updates that will affect the Amazon DSP landscape.
Indeed, display advertising on the whole is seeing a clear uptick in popularity as a format that 1) mimics the ever-popular newsfeed and 2) performs beautifully on mobile. And if you're looking to create the best customer experience, mobile plays a huge role.
2. Customer Experience
Even if you're a third-party seller on Amazon, it's crucial to stay on top of the customer experience associated with your brand. Whether you're a brand owner or a reseller on Amazon, your Amazon presence is still going to be a key factor to success. Delivering exceptional customer experience, especially to niche categories, may help you establish yourself as a marketplace maven.
There are ways to improve your brand's customer experience even when you're primarily selling through Amazon. For starters, you can focus on what not to do. Showing consumers ads that they aren't interested in, having inconsistent messaging, or bombarding consumers with irrelevant messaging can turn consumers away in droves.
Instead, putting as much personalization as possible into your strategy will be another key factor to success. Additionally, product feed optimization, keyword targeting, and quality paid social media advertising are some tangible ways to search for CX success. And of course, being mobile-friendly is a must now.
3. Video Search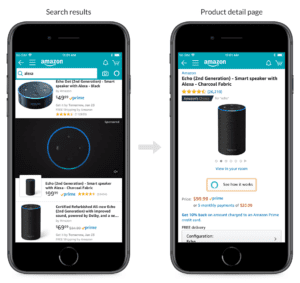 Amazon currently has a Beta version of video in search ads that allows advertisers to create a Product Detail Page Campaign (driving traffic to your product detail page) or a Custom Landing Page Campaign (driving traffic to your Amazon Store or custom Amazon landing page).
They both include a headline text, sponsored tag, and speaker icon, with the former including a product image and the latter including a custom image.
Amazon suggests that your video is immediately relevant to your audience, is optimized for mobile, and is 15-30 seconds long. It's also important to keep in mind that the video will loop, so you should either make it flow or insert an end card. Finally, as with most mobile videos, these ads will automatically play without sound, so make sure that the consumer will understand it with no volume.
4. Voice Search
Half of all searches are predicted to be voice searches by 2020, and did you know voice search SEO is already a thing. That should tell you that it's time for you to hop on the bandwagon… right?
Well, it depends what you're selling and how you're selling it. Voice search will be most impactful to non-ecommerce business categories like healthcare and law. Until voice search for online purchases becomes more mainstream, people will be more likely to ask Alexa where the nearest bank is than where to buy sneakers or craft supplies. Currently, only 21% of smart speaker owners say they've used the device to shop online.
However, that doesn't mean that further down the line, voice search won't be the next big thing for Amazon. Approximately 1 billion voice searches happen per month, and voice commerce sales have been predicted to reach $40B by 2022. While voice search catches up with Amazon, what can you do to ensure your Amazon ads will achieve voice search readiness (VSR)?
Right now, plan on consumers using natural language to say things like, "What are the best laptops?" or pose more specific long-tail queries like, "What are the top 10 laptops for students studying computer programming?" Make sure your ads are optimized for the way people naturally speak and be prepared for more specific queries where you can make a niche. Catering to these long-tail queries can help you naturally reach your target audience and establish your brand with consumers.
5. Competition With Google Shopping
If voice search does take off, Google Shopping may have an advantage. Major retailers including Walmart, Target, Ulta, and Home Depot have already partnered with Google for voice-based shopping, allowing customers to make purchases through Google Shopping that later lead to personalization and easier reordering.
Google stepped up its Shopping game recently at Google Marketing Live 2019, where it was announced that the best of Google Express would be meeting the best of Google Shopping with a redesign of the ecommerce platform. This is going to make Google Shopping a more direct competitor of Amazon with more personalization and a quicker, easier path to purchase.
Google Shopping will also capitalize on users who are browsing Pinterest, Instagram, YouTube, and Google Images – a huge competitive move for a market that's changing how it shops.
The changes will further help promote a more consistent, unifying shopping experience across platforms. Google will manage all transactions performed through Google Shopping, whether they take place on the retailer's website, the physical store, or Google itself.
As the competition heats up between Google and Amazon for marketplace dollars, both giants will continue to introduce new features to enhance the experience of both advertisers and consumers using the platform. Google Shopping has the right business model in a marketplace-centric digital economy. Even if Amazon can't be beat, Google is sure making strides to narrow the gap.
---
The Ultimate Guide to Amazon Advertising
If the wild world of Amazon advertising is a lot for you to catch up with, you're not alone. Luckily, The Ultimate Guide to Amazon Advertising by ROI Revolution Founder & CEO Timothy Seward is here to help you whether you're just starting out with Amazon advertising or already have a solid foundation.
If you want to learn how to capture new customers through Sponsored Product Campaigns, increase your search visibility, apply Amazon's secret formula for long-term winning, and more get your copy today!