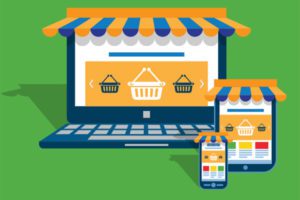 Amazon has become an essential platform for brands and retailers to advertise their product lines. In 2017, it's estimated that Amazon advertising revenue eclipsed $1.65 billion dollars in the US alone, a roughly 50% YOY growth. That number is expected to double to more than $3.2 billion by 2019.
One of the core ad formats for Amazon is Headline Search Ads. Up to this point, these pared-down ads appeared only at the top of search results pages. They were used to point to a specific product on Amazon, your brand page, your Amazon Store page, or a custom URL.
New Placements for Amazon Headline Search Ads
While very useful to brands and retailers looking to grab more real estate on search results pages, the limited placements and inability to automatically customize bids made this format pale in comparison to Sponsored Product ads in terms of versatility and overall ad volume.
However, new placements have been added to this format recently for both desktop and mobile. These new placements allow advertisers the opportunity to show Amazon Headline Search Ads along the sidebar of the page and in two different areas below the search results.
Let's take a more in-depth look at the original placements of Headline Search Ads compared to the new placements.
Previously, Headline Search Ads could only show at the top of the search results page, with the following variations for desktop, mobile, and the mobile app: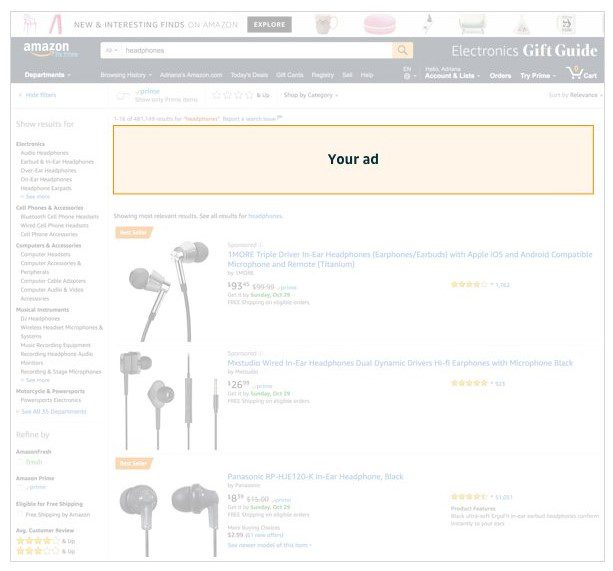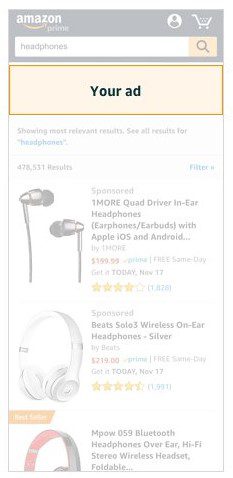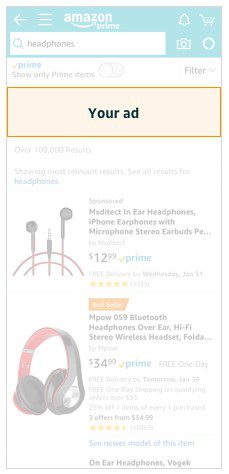 Now, select third party accounts have the ability to show Amazon Headline Search ads in other placements as well. The new placements include additional locations on desktop and mobile, as seen below: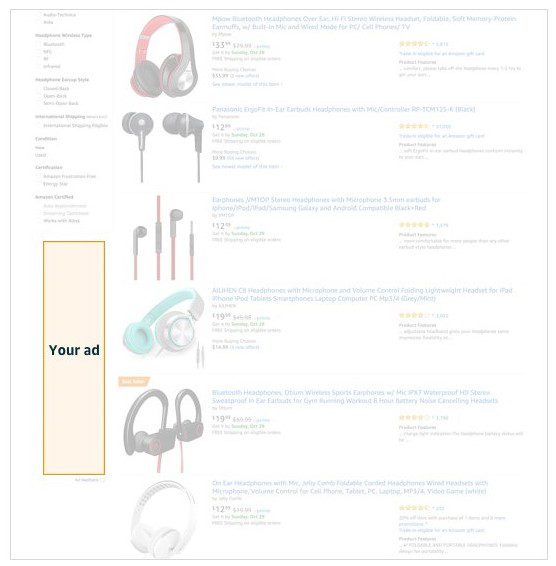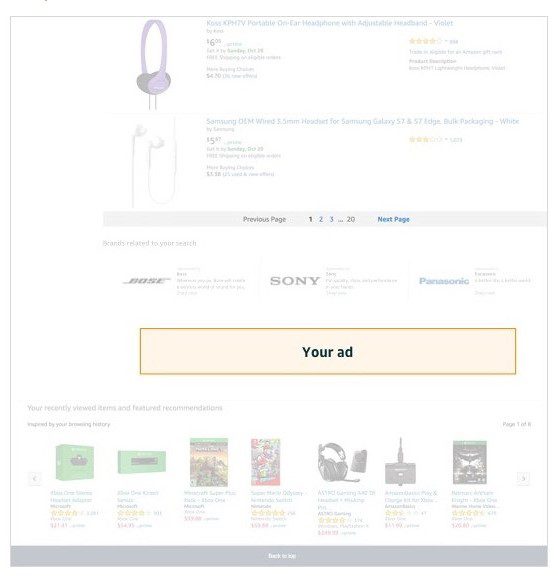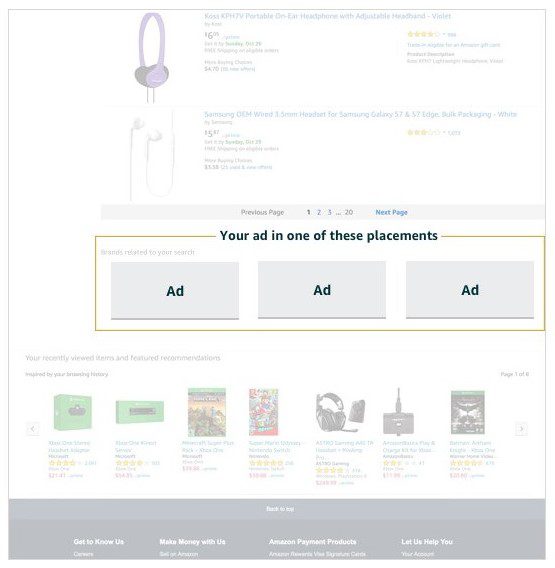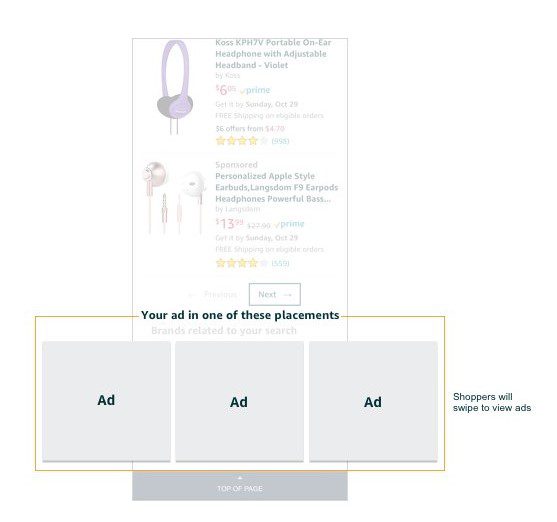 For brands using Amazon Seller Central, these new placements are an opportunity to increase brand presence on search results pages in multiple locations. Additionally, many of the new placements resemble display ads, which are not currently available to Seller Central accounts.
This change will have huge implications on not only the effectiveness of this format, but could also create a more competitive bidding environment as competition for the new placements heats up.
New Bidding Options for Amazon Headline Search Ads
Speaking of bids, another major change to Headline Search Ads is the inclusion of automated bidding and custom bid adjustments.
The automated bidding feature can easily be turned on and off. While on, automated bidding allows Amazon to automatically place bids for placements to help improve conversion rates.
Advertisers will still set a maxium CPC manually, and Amazon will not adjust bids higher than the specific keyword bid that you set. Bids will only be lowered to improve conversion rate on other placements below the top of search.
With automated bidding turned off, it opens up the opportunity to create custom bid adjustments. If you are setting a custom bid adjustment, you can now choose to increase or decrease the bid by a set amount for placements outside the top of the search results page. Additionally, you can customize the amount that you want to increase or decrease bids by.
Prior to these additions, there weren't any options to automatically adjust bids in this format, making it difficult for advertisers to effectively improve conversions and overall ROAS. Now, with Amazon being able to automatically lower keyword bids for placements below the top of search results, this gives advertisers far more opportunity to optimize ads in this format and maximize profitability.
Both of these changes are major improvements to Headline Search Ads. By increasing placements and opening up bidding options, this format just got the facelift it needed to compete with Amazon Sponsored Product ads.
As a brand, these changes offer an incredible opportunity for your business to grow on Amazon. If you're eager to learn more, you should grab our special report on Amazon Advertising for Brands. This report takes an in-depth look at multiple ad formats on Amazon, including Headline Search Ads and Amazon Sponsored Products. Get it today and start maximizing your profitability on Amazon!