I've got three words for you:
Are. You. Ready?
We're in full countdown mode for Amazon Prime Day 2018. And while a definitive date hasn't been set as of writing this, it's almost a guarantee that it will be on July 10. Past Amazon Prime Day's have always occurred on the second Tuesday in July, and I doubt Amazon buck's the trend this year.
**UPDATED: Prime Day will begin on July 16th!
If you're a brand or retailer, Amazon Prime Day is a golden opportunity to massively increase your sales. One of our client's in the electronics industry is a perfect example. They saw a 160% lift in overall sales, month over month last July. But how did they accomplish this feat?
It was a combination of increased ad spend, increased bids and budgets (even for the weeks leading up to and after Amazon Prime Day), Lightning Deal promotions via Product Display Ads, Headline Search Ads, and high keyword volumes in all of their promotions. This year, they're looking to expand even further by promoting new products and focusing even more heavily on some of their high volume, high margin products.
Want to learn how your business can see these kinds of results? Sign up for a complimentary, 20-minute Amazon opportunity review. Our team of Amazon experts will take a look at your business and offer up actionable ideas and tactics to help you grow your marketplace success.
I know what you're thinking… "But Dave, that sounds like an awful lot of work!" And while you're right that it takes time and solid strategy to be successful on Prime Day, it also provides tremendous opportunity to get your brand out there in front of people, drive increased traffic to your Amazon store, and vastly increase your overall revenue.
Sound like the opportunity you're looking for? Still a bit confused where to start? Never fear, as our brilliant graphic designer has created an infographic that outlines some of the key components of Amazon Prime Day, as well as stats from past years, ideas and suggestions for advertisers, and even some advanced seller strategies to help advance your Amazon Prime Day success.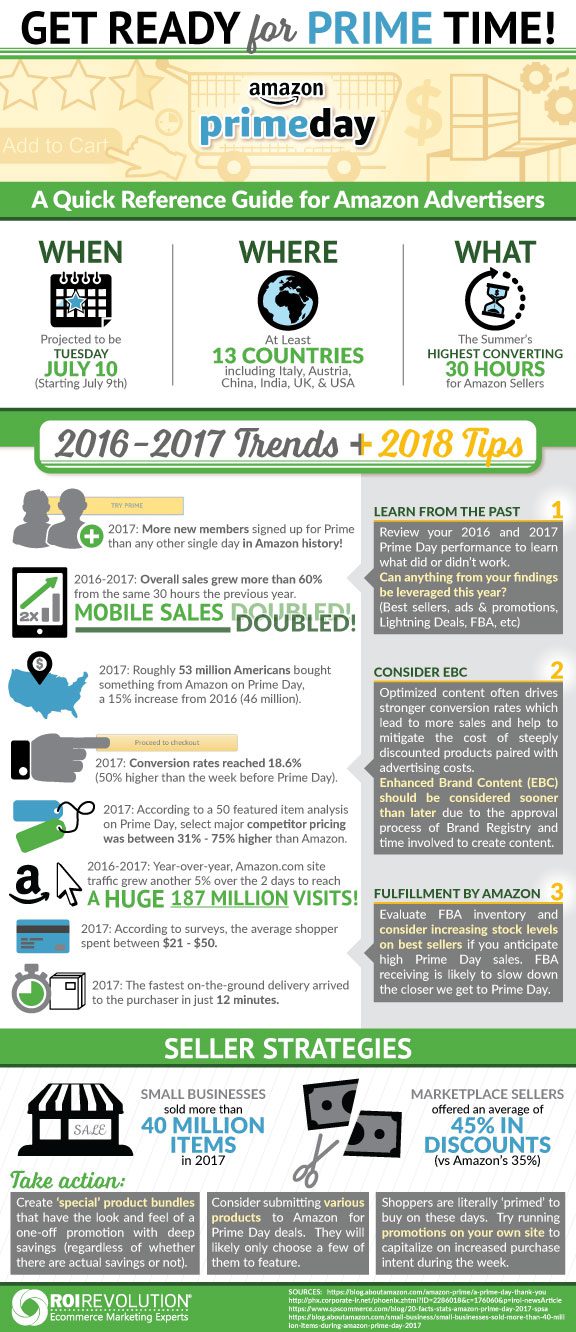 Still looking for even more insights? Check out our recent blog on the 10 Tips and Strategies for Advertising Success on Amazon Prime Day. This gives an even more in-depth look into how advertisers can leverage Amazon Prime Day to improve sales efficiently and effectively.