Da Vinci's painting career before completing the Mona Lisa: 41 years
Tolkien's writing career before publication of Lord of the Rings trilogy: 44 years
Your Opportunity to Throw Your Business into Hyper Drive: Just 131 Days from Now!

It can take a long time to become a master at something, and as an e-commerce retailer, time is probably something you just can't get enough of. Need a whole lot of genius in a little bit of time? That's where the 2016 ROI Revolution Summit comes in. The 10X E-Commerce Event features a two-day itinerary jam-packed with masters of e-commerce and renowned researchers who revolutionized the business world. Big-name companies sharing the secrets of how they have 10X'd their success. Entrepreneurial experts profitably competing with – and beating – the big players in their spaces. The Summit will be a shortcut in your journey to mastering your own business.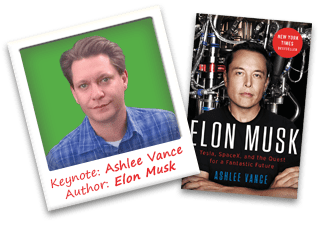 This year's speaker lineup has been crafted to impress and inspire through quality sessions and actionable takeaways. Ashlee Vance — Businessweek master journalist and Elon Musk biographer — kicks off the event with a live onstage chat driven by attendee-submitted questions. (This is your chance to hear what didn't quite make it into the final cut of the biography.) After gleaning deeper insights into the successful processes that fueled Elon Musk's success, don't miss getting your copy of NY Times bestseller Elon Musk: Tesla, SpaceX, and the Quest for a Fantastic Future signed in a meet and greet with Mr. Vance.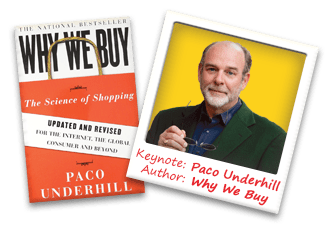 On day 2, consumer analyst Paco Underhill – author of Why We Buy: the Science of Shopping and 20+-year behavioral research veteran – explains how to master the consumer experience. With proven (and often humorous) perspectives on the good, bad, and ugly of both brick and click stores, this session will equip you with the top e-commerce strategies to keep your customers' needs at the forefront of your success.
So what about the other 16 sessions? This year includes the best of the best. From big-name masters of business like Coca Cola & Time Life to innovators like Google & eBay, our general and track sessions will feature insider knowledge, new innovations, and retailer case studies to give you the actionable strategies you need at the start of the year to stay ahead of your competitors all year long. (We'll offer some more sneak peeks into these big name presenters in our next post, so stay tuned!)
In addition to hearing our speakers' stories, you'll also have 10 different opportunities throughout the 2-day event to accelerate your business success through one-on-one networking interactions with these big name masters. Every year attendees specifically look forward to our awe-inspiring networking event at the end of Day 1, and 2016 won't disappoint. (Keep an eye out for more details about our over-the-top tropical luau in the coming weeks!)
If time is of the essence for your business, come learn from the experts who have already taken the time to get where you want to go. Shave off a few years from becoming a business master. If registered by November 13, you can receive a full-access ticket for just $495 until the end of the year ($300 off the normal purchase price!) For full details, visit ROIRevolution.com/Summit2016 or send us your questions at eoverton@roirevolution.com.