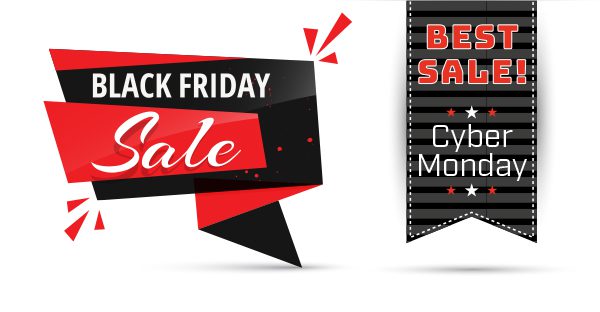 Two of the biggest retail days of the year have come and gone, and good grief, the numbers are staggering! According to Internet Retailer and Adobe, Black Friday alone accounted for more than $3.3 billion dollars! That's up more than 21% from 2015!
As if that wasn't big enough, Cyber Monday had to go and trump that total (no political pun intended) with $3.45 billion in sales yesterday. While it was a more modest 12% again over last year, the increase has helped to push November up 7.6% year over year (YoY).
Just to put things in perspective, those two days accounted for nearly 8 billion dollars in retail sales. The entire third quarter of 2016 is estimated to be just over $101 billion. Just two days produced roughly 10% of the entire quarter's sales!
But wait, there's more!
In fact, that's not even the most telling statistic. Mobile sales during Black Friday eclipsed $1 billion for the first time in a single day, ever. More than 1/3 of all sales on Friday came from mobile devices. Cyber Monday wasn't quite as prolific on mobile, with *gasp* only one in every five sales coming from the devices. How dreadful.
So what do these numbers mean?
There are two main takeaways from this. The first is, if you're an ecommerce business, you should be focusing your efforts big time on these two selling days. In fact, take that even a step further. You should be focusing on the entire Thanksgiving extended weekend (Thursday through Monday). Nearly $13 billion dollars in online sales came from Thursday through Monday.
If your business isn't successfully selling during this crucial time, you need to reevaluate your business model. Many of our clients at ROI Revolution find that this weekend is their biggest sales weekend of the year, and that Black Friday is their biggest day of the year. Missing out on that opportunity can cripple your comapny's future growth.
The other main takeaway is that you have to optimize for mobile. This isn't a suggestion anymore. Gone are the days where you can create a website that is focused only on desktop. In fact, gone are the days where responsive design is even the way to go. You need to focus on a mobile-first mentality.
Make your website based on the mobile customer, and then build out a version that works well on desktop. The mobile trend isn't a fad. Every single year it is growing as a larger and larger percentage of online sales. Is your business prepared?
If not, rest assured that it's never too late to change! And if you need more convincing, read our Mobile-First Ecommerce Report which shows you just how meteoric the rise in mobile has been.
And if you're still struggling to figure out your next steps, schedule a complimentary 20-minute consult with our digital experts who can help you uncover a gold mine of opportunities for your business.
Well, what are you waiting for? Get out there are grow your business!