UPDATE: This blog post refers to an older version of Google Analytics that is no longer available.
With over 80 comprehensive reports right out of the box, Google Analytics can get a little overwhelming for the average user. Since there is data within each Google Analytics account that can benefit each and every department of the typical organization, though, it's important that everyone have quick and easy access to the information that they need most.
That's why there are three handy predefined Dashboards available in every profile: Executive, Marketer, and Webmaster. Each provides a hand-picked selection of the most applicable Google Analytics reports for any given job. The Executive Dashboard gives fast, top-view analysis of a website's performance. Marketer Dashboard focuses on the various advertising and media campaigns driving to the traffic. The Webmaster Dashboard is a great resource for the creative department, giving them a snapshot of design-centric visitors metrics: screen resolution, browser version, operating system, etc. Each of these Dashboards gives quick and clear answers to the questions that every member of your organization has about your website, all in an attractive, easy-to-read format.
Now, for the great news for Google Analytics users: you can now customize the Default Dashboard of a specific Google Analytics user, giving them immediate access to the information they need to do their job. Here are the details:
1. Log into your Google Analytics account.
2. You must be an Account Administrator to change access levels for other users. Click the "Edit" link next to the appropriate profile. If you don't see an "Edit" link, then you are not an Account Administrator.
3. Once your are in the Profile Settings section, you'll see the Users panel at the bottom of the window. It should look something like this:

4. Click the "Report Access" link for the user whose Dashboard you'd like to change.
5. Next you'll see the "Overwrite User Access to Report Access" page: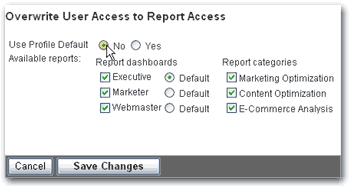 6. Switch the "Use Profile Default" radio button to "No" and customize the various Report Dashboards below to suit the nature of the account's Google Analytics report usage.
7. Click "Save Changes."