Have you ever dreamed about remarketing to users who came to your site through a specific paid search campaign?
Have you ever thought you could get more bang for your buck if you were able to only remarket to users who have spent at least 2 minutes on your site?
While we're unable to create lists of these specific users on AdWords, we have the ability to do so with Google Analytics!
Using Google Analytics remarketing lists we can create even more specific audience lists than we can in AdWords. There are five types of Analytics remarketing lists:
Google Analytics Smart Lists
All visitors to site
Visitors to specific pages or sections of the site
Visitors who completed a goal
Visitors who fall into a custom segment you have created
Through AdWords we're already able to create audience lists for all site visitors and visitors to specific pages or sections of the site, so we'll be focusing on the other three types of lists you can create in Google Analytics.
Smart Lists
A Smart List is an audience of users who Google Analytics has identified as highly likely to convert on a subsequent visit based on machine learning. This means that Analytics uses machine learning to understand the behavior of users on your site and identify signals such as location, device, browser, referrer, session duration, and page depth that indicate a user is highly likely to convert.
In order to have your list created solely based on user activity your site activity you must have at least 500 monthly eCommerce transactions and 10,000 daily pageviews. If your site does not meet those requirements, your Smart List will be based on conversion data of similar businesses to your own. These lists may still be useful to advertisers who are having trouble getting traffic from AdWords remarketing lists, or for those who are just trying out remarketing for the first time.
Goal Completion Lists
Often times there will be actions on your site that are valuable for users to complete outside of a transaction. Examples of this could be signing up to receive a newsletter, playing a video, downloading a file, etc.
With Google Analytics, you can group users who have completed one of these goal conversions into remarketing lists and serve them highly targeted ads. For example, if you have a goal set up for users who downloaded a white paper from your site then you may also want to create a remarketing list of users who completed that goal and serve them ads specific to the content of the white paper.
Custom Segment Lists
Lists created based on custom segments are where the most opportunity lies within Analytics remarketing lists. In this type of list you can specify a number of criteria by which to group users, including:
Demographics: age, gender, language, etc.
Technology: OS, browser, device category.
Behavior: session duration, # of sessions.
Date of first session.
Traffic sources: source, medium, campaign & keyword.
Ecommerce transaction data: transaction ID, product, revenue.
Sequences of behavior.
These lists give you the ability to identify which visitor characteristics are the most valuable to you and then target those users.
A good use case for one of these lists would be in a product vertical where users are inclined to shop around and do sufficient research before making a purchase. We have found that certain behavior metrics indicated that users in these industries are more likely to return in a subsequent session and convert. For example, in one case a user who had spent over 10 minutes on the site was much more likely to convert than a user who only spent 2 minutes on site. Through Analytics, we were able to create a remarketing lists of users who had spent at least 10 minutes on site and bid more aggressively to show them remarketing ads.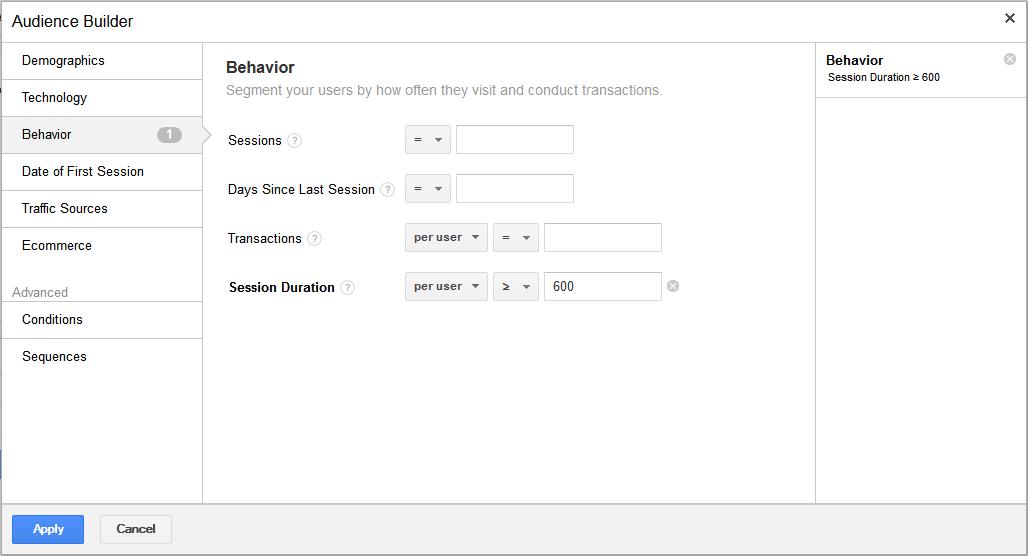 We've only been able to touch on a few lists today, but Google Analytics gives you almost endless options to create customized lists of users for your AdWords remarketing campaigns. If you're not having luck with the limited options of AdWords remarketing, try out some of the Google Analytics list options. You just may find a hidden gem.