Cyber 5 – the aptly named five-day shopping period encompassing Thanksgiving and Cyber Monday – is a major time of year for pretty much everyone. Holiday shoppers are determined to find the perfect gifts at the lowest prices for their loved ones, and brands are scrambling to make their products the ones consumers want to purchase.
If you haven't started strategizing your brand's Cyber 5 game plan yet, now is the time to start to ensure you're capitalizing on the grand opportunity presented by Cyber 5, also known as Cyber Week. It's called the most wonderful time of the year for a reason!
The Proof Is in the (Figgy) Pudding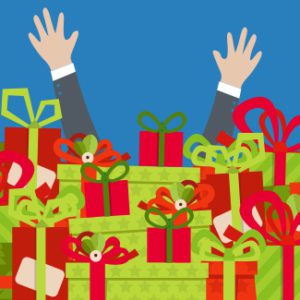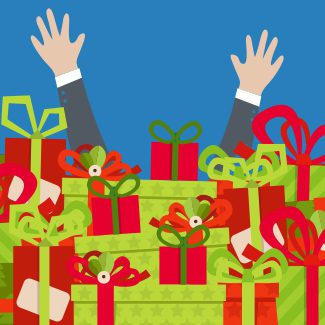 As if all the news stories and videos about Black Friday and Cyber 5 weren't enough, there's also plenty of data to back up this colossal shopping holiday's enormity. Over last year's Cyber 5, 165.8 million shoppers spent a combined total of $24.2 billion, comprising a whopping 19.2% of all holiday revenue in just five days.
66% of this shopping occurred on a mobile phone, which should come as no surprise to marketers who are aware of the massive growth of mobile. What may be surprising, though, is that Cyber Monday sales far surpassed Black Friday sales, comprising 47% of Cyber Week's total sales compared to 25% on Black Friday. Among our clients, Cyber Monday also sees the highest conversion, click, and revenue volume.
This year, we can expect to see mobile (and general online retail) grow even more. Another thing to watch out for is the newer phenomenon of "Cyber Tuesday," the day after Cyber Monday, when we've seen 10-15% higher conversion rates than normal days.
Feast on the Biggest Shopping Week of the Year!
As soon as consumers start wrapping up their delicious Thanksgiving meals – and often times, before they even start it – they'll be starting to get into shopping mode. At the same times, brick-and-mortar and ecommerce stores alike will all be bracing for the biggest shopping week of the year.
So how can you succeed during Cyber 5 and stand out among your competition like a certain bright-nosed reindeer? You'll want to start planning as early as possible in order to employ the best strategies you possible can and get ahead of all the other brands trying to beat you out. Testing, testing, testing and analyzing last year's performance will be your best bet for making this year's Cyber Week a profitable success.
As consumers begin to purchase from ecommerce brands like yours in droves, it's also going to be important for you to ensure your product feeds are as accurate as possible (especially regarding promotions, pricing, and availability). Showing the customer incorrect information is a surefire way to lose their money.
With so many consumers out scouring for a deal during Cyber 5, it's important to also use creative specific to your promotion and specific to the holiday season. When there are many brands competing in the same space, your creative needs to stand out to consumers among the blizzard of holiday advertisements. One way you can do this is by highlighting offers using text overlays in videos and highlighting discount codes or discount details first in your ad copy and headlines.
Obviously, promotions are the biggest draw of Cyber Week. 71% of consumers prioritize special discounts over any other factor when choosing who to buy from, and 95% of holiday shoppers say that price discounts are the most effective way to get them to shop with a new retailer.
What types of promotions will grab consumers' attention the most? By far, they want free shipping. 80% of Cyber Week orders shipped for free last year, so consumers are growing to expect this type of deal. Don't let them down!
Keep Moving With Mobile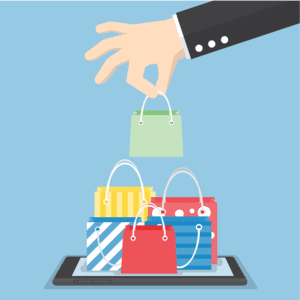 Consumers are growing increasingly comfortable with making purchases on their mobile phones, and Cyber 5 is no exception. 66% of shoppers used mobile to make purchase decisions over Cyber Week 2018, and 20.7% of conversions came from mobile in November of last year (compared to 8.3% in 2016).
As the mobile movement continues, leading brands are relentlessly focused on ensuring their mobile experience is best-in-class, so you should be, too. With a mere one-second delay in mobile load time impacting conversions by up to 20%, and 61% of online purchases in 2018 being made on a mobile phone (compared to 34% in 2017), it will be crucial to have stellar mobile UX in place during Cyber Week.
Here are some tips you should follow in general but especially during the mobile-heavy Cyber Week to make sure you stay on your audience's "nice" list:
Keep it succinct & optimized, since you have less room on mobile to make an impact.

Use mobile bid adjustments to target on-the-go shoppers.

Use square images for single image/video ads.

Think mobile-first by prioritizing storytelling to inspire viewers while also eliminating friction points like slow load times.
Wrapping Up
Once Cyber 5 comes to a close and December makes its way into the picture, don't forget about all the customers who you reached during Cyber Week. December is time to keep relationships strong. Now that you've built up traffic and reached tons of new shoppers, it's time to remarket to them! Remind them about your brand and entice them to reconsider shopping with you (or even place another order), using your ad copy to reflect the urgency of time.
To dive deeper into how you can prep for Cyber Week, check out our 2019 Holiday Success Plan for Brands, which is chalk full of data, insights, and tips for maximizing brand growth and revenue during the holiday season! When you download your report, you'll also get access to exclusive videos and infographics straight from our experts to help wrap up your year with a profitable Q4.