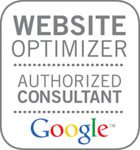 Just a brief reminder that there is still time to register for the FIRST EVER Google Website Optimizer Seminar for Success, where we share our Website Optimizer knowledge with you in person!
Coming to Washington, DC.
When: Thursday, December 4th
Where: Hilton Alexandria Mark Center
5000 Seminary Road
Alexandria, Virginia 22311
1-703-845-1010
Cost: $249
Agenda: The seminar will be a full day from 9am to 5pm with a one hour break at 12pm for lunch. Morning and afternoon refreshment provided.
Topics Covered:
Landing Page Principals
* Testing Basics
* Selecting a Test Page
* Developing Your Value Proposition
* Minimizing Friction and Combating Anxiety
* Design and Layout Principals
A/B and Basic Testing
* Introduction to Google Website Optimizer
* Types of Testing
* A/B Testing Strategies
* Setting up an A/B Test (Live Demo)
Multivariate and Advanced Testing
* Multivariate Experiments
* Setting up a Multivariate Experiment (Live Demo)
* How to Read Results
* Advanced Testing with Google Website Optimizer
* Advanced Tools and Techniques
Audience Question & Answer ALL DAY LONG
and much more!
–Deadline–
Register By Thursday, November 27th, 2008 to qualify for the $50 AdWords Credit. (Only 8 days away!)
Sign up quickly as seats are limited due to space and supplies, so click over to register today for the Google Website Optimizer Seminar for Success!