Between website SEO, ecommerce blogs, email marketing, and conversion rate optimization, one thing remains clear: Content is still king. And optimizing your content is paramount to your brand's success.
We conducted a survey of 170+ digital marketing professionals to get a clear picture of the current ecommerce landscape. In this article, we'll dive into the data to learn about the content that may resonate the most with your audience and offer content marketing tips to leverage different content marketing channels to bring profits to your brand.
Why is content marketing important? Content is an appealing option to marketers not just to generate awareness with your target audience but also to drive traffic to your site at a low cost.
Content marketing costs 62% less than traditional marketing methods, yet it generates three times more leads.
When it comes to content marketing, knowing your audience is crucial. We noticed some significant variations in interest in different content types among different job roles. For example, 81.4% of marketing managers stay up-to-date via blog posts compared to just 41.6% of decision-makers. On top of that, only 7.9% of decision-makers stay up-to-date via video and streaming compared to 37% of doers.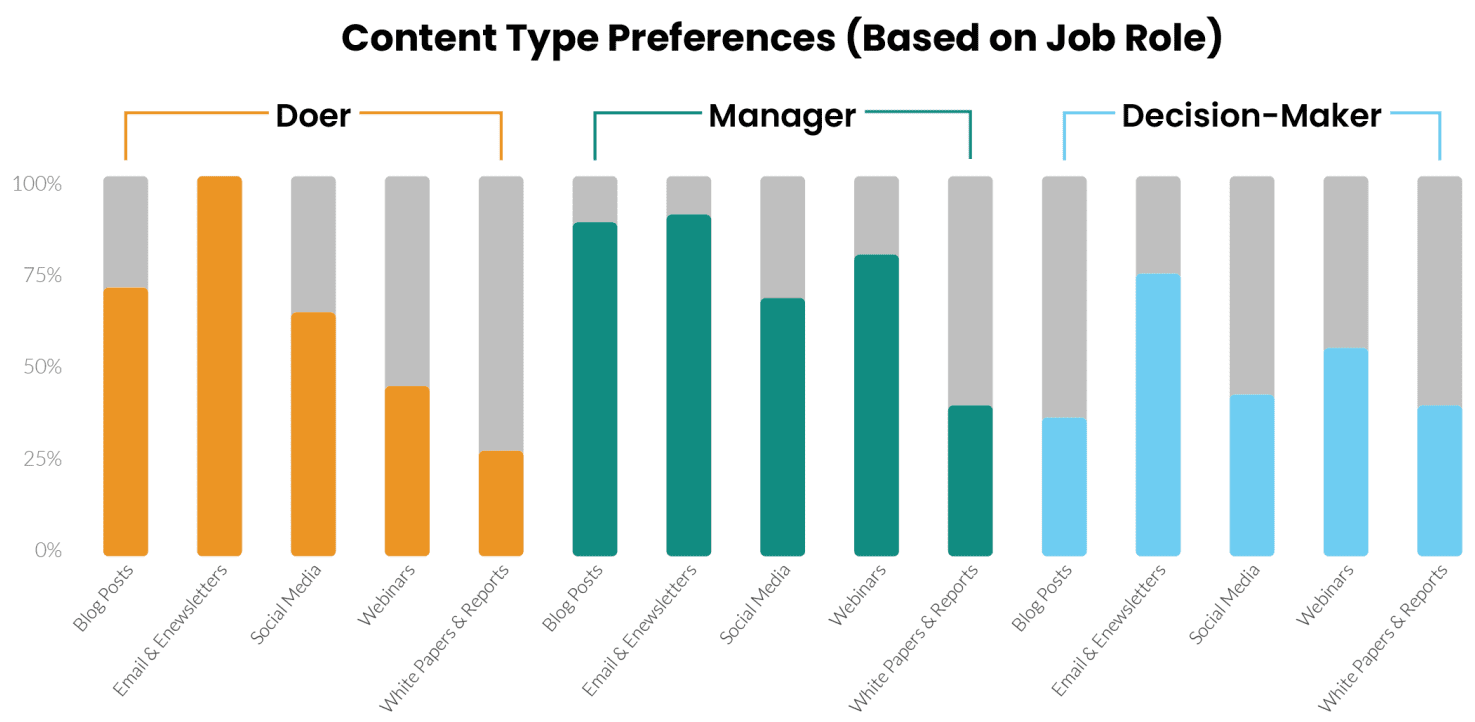 It's worth noting, however, that email is the top preferred content type among all of our respondents. 80.5% of marketing professionals say they stay up-to-date on industry information via email and enewsletters, with blogs and social media a distant second at 56.3% each.
It seemed like for a bit during the pandemic people went through webinar fatigue, but that trend seems to have subsided. More than 50% of those surveyed get their information and news through webinars.
The print format remains a low priority for most brands. While still having a strong foothold with catalog companies, direct mail has lost its luster with the majority of marketers and advertisers surveyed. Only 9.2% of our respondents say they use print or direct mail to stay up-to-date with industry news and trends, compared to 80.5% for email and enewsletters.
Email Marketing
Email is far and away the top content type preferred by our respondents, with more than 4 in 5 professional marketers saying they stay up-to-date on industry trends and news through email and enewsletters.
Email marketing is one of the most profitable channels for marketers, enabling brands to reach the more than 4 billion consumers around the globe who use email. After generating $8.5 billion in revenue last year, email marketing is expected to reach $9.62 billion this year and grow to $10.9 billion in 2023.
By 2027, email marketing is expected to generate $17.9 billion in revenue globally – more than double what it was in 2020.
But with many brands focusing on ecommerce email marketing strategy, competition will be fierce. In fact, more than 333 billion emails will be sent and received each day in 2022. By 2025, that number will reach 376.4 billion. It will be more critical than ever this year for brands to stand out with emails that are visually appealing, are personalized and tailored to the reader, and function exactly as intended.
Automation platforms like Marketo and HubSpot offer solutions that make it easy to create personalized emails and automate sophisticated campaigns so that you can impress your target audience and mitigate technical issues. And they're growing in popularity. Between 2022 and 2027, email marketing software revenue is expected to grow by $1 billion – more than double what it was in 2020.
23% of marketers use automation for content management. 65% of marketers use automation in email marketing, making it the most automated marketing channel.
Email marketing automation platforms can also offer valuable insights into deliverability, which is a key aspect of email marketing. No matter how perfect and personalized your email is, if it doesn't land in your customer's inbox, it's useless. 11% of emails that are sent never reach the recipient's inbox.
After taking second place in 2017, Gmail has surpassed iPhone as the email client with the most share of opens, accounting for 36.5% of email opens compared to 33% respectively in 2021. Outlook makes up 5.9% of email opens, with Android at 2.2%.
Make sure you're relying on the right data to track the success of your email campaigns. If you're focused only on opens or clicks, you're chasing vanity metrics. You need to focus on engagement metrics like website or product page visits, registrations, content downloads, or purchases as your metrics for success (or failure) of your email campaigns.

Ecommerce Blogs
Businesses that have a blog drive twice as much email traffic as those that don't. Ecommerce blogs are also a key way to generate more website visits. Companies that have a blog get 97% more links to their website than companies that don't, making them a great driver of brand awareness.
Blog traffic is largely driven by organic searches and email marketing. In fact, blog visitors from organic initiatives are much more likely to convert than traffic from outbound efforts like email marketing. Leads that come to a blog organically have a 14.6% close rate, compared to 1.7% for outbound leads. Blog visitors that come in from an organic search have a much higher intent than users who receive an email that you send.
Do keep in mind, though, that for the marketing budget you're saving with organic content initiatives, a valuable ecommerce blog strategy requires your team to spend time strategizing, writing, and optimizing content. Articles that are 2,000 words or longer are much more likely to have strong results, and the average blog post takes 3.5 hours to write. On top of that, articles of 3,000+ words get twice the amount of page views and 24% more shares.
Knowing your audience is essential for successful content marketing. Being able to tailor your messaging to them with the type of content they prefer will be key to converting browsers into buyers, and buyers into long-term brand advocates. Blog posts resonate with 74.1% of marketing doers compared to just 41.6% of decision-makers. White papers, on the other hand, resonate with 43.8% of decision-makers compared to just 25.6% of doers.
Social media is a key channel to showcase your content, with 96% of bloggers saying they promote their posts on social channels. The most effective social media platform to drive engagement with content is LinkedIn.
Highly relevant, strategic, and well-written content can drive immense interest and awareness to your brand – but if you don't share it, you're missing out on valuable traffic. 94% of blog writers use social media as part of their promotion strategy, and 29.8% of consumers use social media to find content. That number has grown tremendously in the past year, with the amount of North American social media users who say they use social media content to find content up 12% YoY as of Q3 2021.
White Papers & Reports
The magic of content is that it can be reshaped and repurposed across different formats and channels. Content that a writer spends a lot of time creating can have exponential value if it's spread across multiple formats and reorganized in efficient ways to cater to different audiences, then promoted across various channels.
For example, a long white paper can be split into multiple blog posts that contain less information to entice users to download the full report. That content can also be used to write scripts for webinars, podcasts, or videos. You can then share this content in your email and social media marketing in a personalized way.
White papers are much more likely to resonate with managers and decision-makers than doers. 25.6% of marketing doers say they stay up-to-date via white papers and reports, compared to around 43% of managers and decision-makers. Conversely, social media is much more likely to resonate with doers, with 66.7% saying they stay up-to-date via social media compared to 44.9% of decision-makers.

Tying It All Together
At ROI Revolution, our proven digital marketing experts act as an extension of your team to deliver quality strategies and valuable growth for your brand. We leverage our 20+ years of online advertising experience alongside proprietary technology to drive revenue and help you exceed your goals. Connect with an expert today to uncover opportunities to drive your brand growth this year and beyond.
Sources