As the ecommerce landscape becomes increasingly competitive, personalized marketing is surging as a key way to increase customer acquisition and retention. Ecommerce personalization is becoming crucial to standing out from your competition among your target audiences.
We conducted a survey of over 170 digital marketing professionals from a wide range of industries and business types to help you navigate the tumultuous ecommerce landscape. Personalization is the second biggest trend for 2022 among digital marketing professionals, not far behind measuring attribution. In this article, dive into the data for insights into the benefits of personalized marketing in ecommerce.
55.6% of doers, 53.5% of managers, and 44.9% of decision-makers named it as a top trend on their mind going into 2022. Ecommerce personalization is a key way to convert customers by:
Tailoring messaging and promotions directly to their needs
Providing relevant product or service recommendations
Increasing their likelihood to recommend, buy from, or become repeat customers of your brand
After implementing personalized marketing, 54% of brands see increased engagement, 48% see increased conversions, and 41% see more clicks and opens per email. On top of that, 64% see an improved customer experience, 43% see increased lead generation and customer acquisition, and 42% see improved brand perception.
31% of marketing professionals see ecommerce revenue growth from implementing personalization.
Ecommerce Personalization by Industry
The importance of personalization varies across verticals. For the food & beverage and materials & supplies industries, it's the biggest trend for 2022. In fact, 64.3% of food & beverage brands say personalization is top-of-mind for them this year.
For other industries, personalization is less important. Just 34.5% of apparel & accessories brands named personalization as a top trend for 2022 – they're prioritizing social commerce more this year.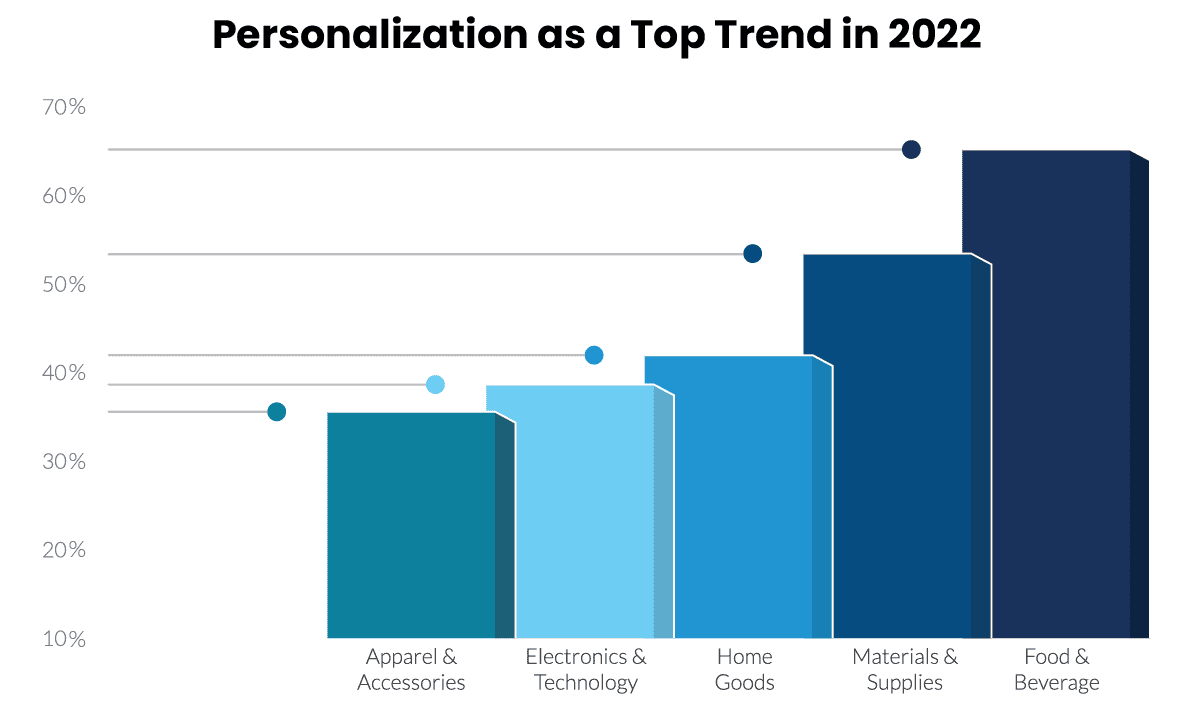 Personalization may vary in importance depending on industry, but it's an expectation for 71% of consumers. In fact, 76% of consumers feel frustrated when a company doesn't deliver a personalized interaction. And it's not just your customers who benefit from personalization – companies that excel at personalization also generate 40% more revenue than other companies.
With new technology like AI and machine learning critical for modern digital marketing, ecommerce personalization technology strategies are transforming. In 2020, 46% of marketers used machine learning and algorithms for personalization, up from 26% in 2018.
Growing Customer Acquisition & Retention With Personalized Marketing
Perhaps the widest discrepancies in the importance of personalization come from a company's annual revenue. Just 41.4% of brands with up to $10 million in annual revenue named personalization as a top-of-mind trend for them in 2022 – compared to 81.8% of brands that make $1 billion or more.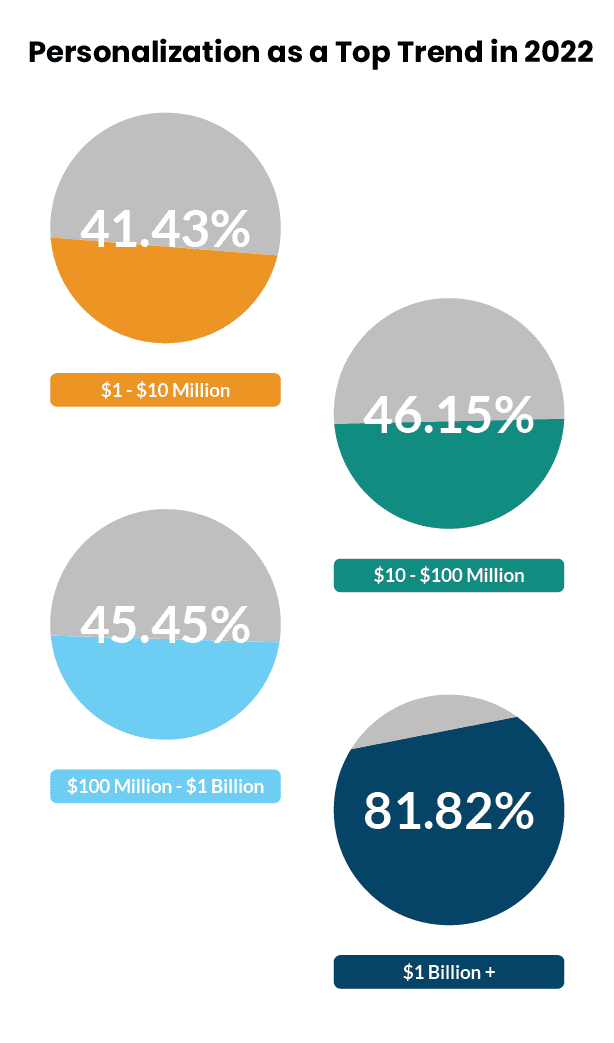 Why the major difference? Well, personalization is a key way to convert customers. It helps customers feel like they actually matter to your business instead of being just one drop in a bucket of millions of customers. That comes naturally to small brands with small databases.
33% of US marketers devote 50% or more of their budget to personalization.
But for high-grossing brands with a large amount of customers, personalized marketing strategies have to be intentional. Big brands have a huge opportunity to personalize because they likely have a large database of customers that can be segmented in various beneficial ways. 46.2% of $10-$100M brands and 45.5% of $100M-$1B brands say personalization is a top-of-mind trend for them this year.
Adding in layers of personalization to your outreach and content strategy can amplify your profitability and help you turn more browsers into buyers. An effective one-to-one approach to personalization will be a key differentiator for the most innovative and successful brands in 2022.
Ecommerce personalization is also a key component of marketing for digitally native businesses like D2C (direct to consumer) brands, which usually have a swath of first-party data that can be used to create targeted messaging – an especially attractive opportunity as brands prepare for cookie deprecation. In fact, personalization drives around 25% of a digitally native company's total revenue. For CPG (consumer packaged goods) and brick and mortar, it's closer to 10%.

Email Personalization
As the most popular digital channel for personalized communication, email is a key place where brands can implement personalization. 67% of marketers use email marketing solutions and 38% use triggered email tools to execute personalization.
Personalized emails have an average ROI of 122%.
Email is also a top initiative for 46.6% of marketers this year, with 80.5% saying that they themselves use email and enewsletters to keep up-to-date with industry trends and news. The top three personalization factors that marketers use in emails are name or company name, whether the recipient is a prospect or customer, and the user's past email interactions.
93% of consumers say they receive marketing communications that aren't relevant to them and 90% are annoyed by the irrelevant messages. With 44% of shoppers willing to switch to brands with better personalized marketing communications, personalization will be a key way to target and convert your ideal customers in 2022.
67% of US social media users say ad relevance is a moderately to extremely important factor to them in deciding whether to engage with sponsored content, with 70% saying a platform showing them annoying ads is also moderately to extremely important.
Blog | 3 Personalization Tips to Boost Your Conversion Rates Personalization can – and should – be implemented across all channels, not just email. Personalized ads boost revenue, reduce customer acquisition, and increase marketing spend efficiency. In this blog, learn three tactics you can test to ensure your website pages resonate with the visitors who reach them from paid ads. Read the blog.

Tying It All Together
As the ecommerce landscape becomes increasingly competitive, standing out to your target audiences is becoming even more crucial. Personalization in digital marketing is a key way to stay top-of-mind with new and returning shoppers to increase customer acquisition and retention. Reaching shoppers with hyper-relevant emails, ads, and landing pages will make it easy for them to see why they should buy from your brand.
The proven digital marketing experts at ROI Revolution have over 20 years of online advertising experience. We help brands grow with data-driven strategies that deliver profitable revenue. Reach out to one of our experts today to learn how we can improve your customer experience with personalized advertising strategies.
Sources