We're very excited to announce that BigCommerce, the leading innovator in hosted ecommerce software for small business merchants (and one of our fabulous clients!), has just launched the BigCommerce $35,000 Ecommerce Makeover Contest to discover online merchants who have the potential to become the next ecommerce giant (think Amazon.com, Zappos.com) but need a little help to do it!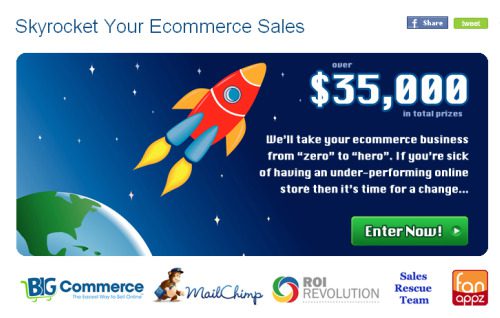 From now until June 15th, 2010, small online business owners can enter the contest by posting a 60-second video to YouTube with the tags "bigcommerce" and "ecommerce contest" that communicates why they should win the ecommerce makeover and other relevant information about their business.
The grand prize winner will receive all of the following amazing services and resources to help grow their business faster:
BigCommerce Diamond Store, with two-year free subscription
Professional store redesign & migration of the store to BigCommerce
Two-year MailChimp email marketing subscription
One-year Fan Appz Pro license for social media marketing
Google AdWords Account Audit & Strategy Session* from ROI Revolution!
Online sales and marketing program consulting from Sales Rescue Team
Significant promotion & various PR opportunities
Full case study posted on BigCommerce.com
Four runner-ups will receive a two-year BigCommerce Gold Store subscription, PR opportunities and a case study on BigCommerce.com.
BigCommerce invites eligible contestants to submit their videos now through June 15, 2010. Five finalists will be selected by the judges to enter the final round, at which point finalist videos will be posted on the BigCommerce web site and Facebook page where the public will have an opportunity to vote for their favorite submitted video. Public voting runs from June 29, 2010 through July 9, 2010. The grand prize winner will be announced on July 15, 2010!
To be eligible, contestants must be online merchants based in the U.S. with less than 1,000 products on their site and have been selling online for at least one year. The contest is open to both current BigCommerce clients as well as customers using other ecommerce shopping cart platforms.
More contest details and official entry guidelines can be found here. Good luck and we look forward to helping develop the next ecommerce giant!
*Don't qualify for the contest but still want to grow your online business? Learn how we can help you get the most out of your online advertising with a comprehensive AdWords account audit & strategy session!
UPDATE:
As of May 25, 2010, the contest is now open to anyone (18 years or older) in ANY country with little to no experience selling online!
The contest was previously limited to US residents only with at least one year of online selling experience.
Click here for all the details and official entry guidelines. Best of luck to all the contestants out there!