About 3.7 billion consumers use Meta worldwide. There is no denying that brands should build a presence on the Meta platforms (Facebook, Instagram, Messenger, and Audience Network) – but more than that, brands should utilize Meta advertising to build relationships with customers.
A recent Harvard Business Review survey concluded that more than 80% of consumers consider trust a deciding factor in their buying decisions. With more than three million brands actively advertising through the platforms, here are some strategies to make your business stand out and to build better relationships with your customers.
Utilize User-Generated Content (UGC)
User-generated content is becoming a more popular strategy throughout all social media channels. It's no secret that the popular saying "TikTok made me buy it" has users trusting in the videos and words that come from real consumers and their experiences in the brands they buy.
This strategy is rapidly growing and can be utilized through Meta advertising platforms to build trust with consumers who already love your brand. 64% of consumers seek reviews about products before making a purchase and 90% of consumers find user-generated content useful and believe what existing customers say about the brands rather than flashing ads and promotional emails.
Report: Full-Funnel Meta Advertising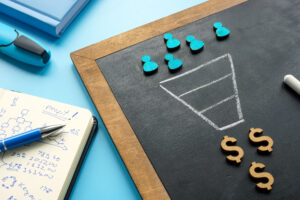 Do you look at social media channels solely as a play for brand awareness or engagement? Many retailers fall into the trap of underestimating the importance of upper-funnel efforts. In this report, you'll uncover proven best practices for full-funnel profitability through the Meta platforms, an analysis of over $12 million in ad spend from the brands that partner with ROI Revolution for social media advertising, and more. Claim your copy.
Interact With Your Customers
Customers like to feel like they have a relationship with the brands they purchase from. Interacting with customers and showing a human element to your brand can help foster a strong relationship. While product-based ads are important, 57% of US consumers say that Stories make them feel like part of a community.
Show customers the behind-the-scenes of your product development or insights into the day-to-day of your business while also sharing personal stories and excitement around a new product or feature. From a paid advertising standpoint, write your ad copy and headlines in a personalized way that helps your customer connect with your brand more closely.
Share Relevant Content
Sharing relevant content on social platforms shows your brand listens to what consumers want and is keeping in mind what's "on trend" in the digital space. It shows that there isn't just a robot behind the scenes pushing out content but gives a human element to your brand.
And while you interact with your customers to build better relationships with Meta advertising platforms, 50% of consumers want to discover new products through Facebook Stories.

Tying It All Together: Meta Advertising = Relationship Building
Utilizing these tactics will help you build more trusted relationships with your customers. You can measure the success of your relationships by monitoring the interactions and likes on your Facebook page using Facebook insights within the Facebook interface. You will need to turn to your web analytics program for data on Facebook referrals, and other goals.
Do you feel confident in your brand's ability to foster meaningful connections through Meta advertising? The social media experts at ROI Revolution are passionate about helping brands discover untapped opportunities for profitable growth through paid social. To explore the revenue potential that we could unlock for your business, send a message to our team today.
Sources