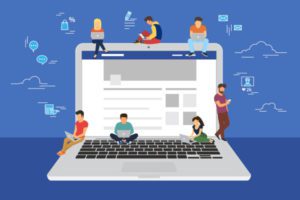 Facebook VP of News Feed Adam Mosseri and CEO Mark Zuckerberg recently announced that there would be a fairly major change to their News Feed Facebook algorithm.
In the future, the feed will focus more on interactions and meaningful connections between people. The feed will prioritize posts from a user's friends and family over those from businesses, brands, or other public content.
According to Zuckerberg:
"One of our big focus areas for 2018 is making sure the time we all spend on Facebook is time well spent. We built Facebook to help people stay connected and bring us closer together with the people that matter to us. That's why we've always put friends and family at the core of the experience."
So what does this mean exactly? Well, if you're a lover of Buzzfeed listicles or online quizzes that tell you what breed of cat you are, you might be seeing less of that content you love. However, don't fear, because you still have the option to follow your favorite pages and set your feed preferences to make sure you see their content in your feed.
What the Facebook Algorithm Change Means for You
The bigger question in all of this is, what is the impact for brands and retailers? You know, the people actually trying to sell products on Facebook.
Until it officially rolls out, no one knows the exact answer. However, based on the information provided, it doesn't look good for a business's organic reach. If people are seeing less public content posts and more from their friends, there will be less opportunity to gain valuable impressions, build brand equity, and engage with consumers.
Facebook is an excellent platform to build brand awareness, and one of the key ways to do that is through the content a business posts on their Facebook page. Generating brand awareness and interaction with people is a great way to help grow your business. Losing out on some of that audience will certainly hurt.
What Can You do About it?
First and foremost, don't give up on Facebook! While the Facebook algorithm change may be a pretty big bump in the road, it's not the end of the world.
According to Adam Mosseri:
"The impact will vary from Page to Page, driven by factors including the type of content they produce and how people interact with it. Pages making posts that people generally don't react to or comment on could see the biggest decreases in distribution. Pages whose posts prompt conversations between friends will see less of an effect."
So basically, if you post boring or spammy content, no one is going to see it. If you post engaging content that leads to interactions and comments, you probably aren't going to be affected as much.
Once again, content is king.
But there's an even bigger opportunity than optimizing your content that brands and retailers need to consider: Facebook advertising.
Two billion people log into Facebook each month, so you want to do everything you can to maintain your presence on the platform, especially if your organic reach may be in jeopardy. Of course, you can use Facebook ad campaigns to drive new customers or to entice cart abandoners back to purchase, but you can also use the Brand Awareness or Reach objectives to fill the hole that may be created with this recent algorithm change.
It has been our experience that Brand Awareness and Reach allow you to get your message in front of significantly more people for a fraction of the cost of other campaign types. We've seen with our clients that the CPM for Brand Awareness specifically can be anywhere from 80-95% cheaper. It's not as good as free, but it doesn't require too significant of an investment to continue getting that juice from the newsfeed.
And truth be told, testing the Sponsored Ad waters with Brand Awareness could be an excellent way to get accustomed to what Facebook can offer your business before you decide to spend more aggressively to drive sales.
If you're still looking for more strategies to build out Facebook advertising campaigns, you need to get our special report, Winning with Facebook Ads. This in-depth report outlines the winning strategies and key insights to leverage in order to build out cost-effective advertising campaigns. Don't miss your opportunity to grow your social media presence, brand awareness, and customer base.