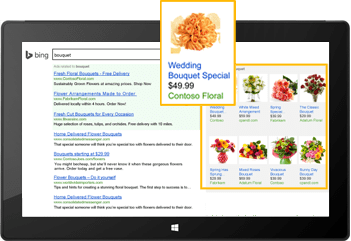 Earlier this year, Bing announced their entry into the world of product ads, roughly six months after Google unveiled their beta upgrade from Product Listing Ads to Shopping Campaigns. Product listing ads are growing in popularity with both consumers and advertisers, and for good reason.
So it's no surprise that Bing is getting in on this profitable trend. And while Bing does tend to draw significantly less search volume than Google, there are still several good reasons you should consider expanding your campaign to Bing Product Ads.

1. Extend Your Existing Feed
Many retailers already have product feeds with Google, and Bing knows this. That's why they're doing their best to support imported data from Google campaigns, making it easy for you to use your existing feed to reach another major ad network. Some tweaks to your feed may be necessary, but in general Bing is making it fairly easy for you to…
2. Expand Your Reach
While Google is currently the unquestioned market leader, the Yahoo/Bing Network exposes retailers to tens of millions of unique searchers. Bing Ads–both text and product ads–may bring in less volume than Google AdWords, but it still provides retailers with valuable exposure and traffic. Bing Product Ads is also a great way to…
3. Increase Click-Through-Rate
While many text-only advertisers are losing traffic to the new product listing ads on both Google and the Yahoo/Bing Network, retailers making the switch to product listing ads are finding their average click-through rate increasing by as much as 45% against text-only ads. Thanks to the informative, visual nature of product listing ads, shoppers are exposed to a catalog-like listing of your product as soon as they access a relevant search. This allows you to…
4. Enhance Your Targeting
When Bing decides to display one of your product ads, it's pulling directly from the product information in your feed and matching it with the user's search and what Bing determines is the search intent. While this does give you less control, it also tends to match your ads with consumers who are further along in the buying cycle. This typically leads your product listing ad campaigns to…
5. Boost Conversions
Product listing ads often bring in a higher conversion rate than standard text ads. This is due to a number of factors, but consider this: when a consumer enters a specific search and finds your ad, he instantly has a picture of the exact product he wants right in front of him, along with specifics on price and availability. If your product isn't exactly what he's looking for, he's a lot less likely to give you a click and not a purchase. If your product is what he wants at a price he likes, voila! With the growing popularity and value of PLAs, online retailers can't afford to miss out on this latest offering by Bing.