Interaction is the factor that makes our Summit unique. We have plenty of resources for those who are a little more comfortable on the bench, but today, we want to highlight the moments our all-star player attendees are able to get involved this year, even with the keynote speeches.
We're currently polishing the final attendee-driven Q&A topics with Ashlee Vance, the author of Elon Musk's biography. We have so much we want to know about the wonder of Paypal and Elon's success as an entrepreneur – maybe we can absorb some of his tactics for success! Hopefully it's not total rocket science.
Paco Underhill, consumer analyst and author of Why We Buy,will be showcasing the development of e-commerce using our attendees' websites as examples. They'll be featuring their hard work in front of their peers, which would be a great starting point for a conversation during networking times (there's 10 hours of those, by the way!)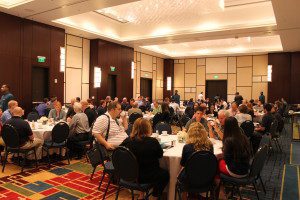 But don't worry if you missed the deadline for getting involved in the keynote speeches. You still have plenty of time for hands-on business development! All meals and snack breaks onsite, PLUS an incredible luau dinner and show on the beaches of Discovery Cove, give you ample opportunity to mingle with fellow attendees, speakers, and some incredible solution-providers.
These partners are not just stuck behind the third wall at the podium…besides 3 speaking sessions, they're out in the exhibit hall during the 10 hours of networking time, ready to connect with you.
We'll be drawing back the curtain and giving you the chance to interact with the companies that hold the best-kept secrets for successful e-commerce sites. This year, our booths are bigger and our network is stronger, with a mixture of old favorites and new additions! Combine long-standing staples of the industry with cutting-edge savvy, and here are the names you'll get…


The interaction time we offer takes you from spectator to star player. Game day is only in 2 weeks, but there are still spots available! Visit our website to learn more about the 10X eCommerce Event!