In the battle to land in the top spot on page one of Google, you don't want to sacrifice meeting the expectations of your readers just to rank higher. Google has gotten much better these days at figuring out whether your content is meant to rank or to help people find what they're searching for. Google has added another dimension to its Search Quality Rater Guidelines with an extra "E" for experience. To rank highly on Google, E-E-A-T is the new way forward.
Let's dive in and look at what this means for your site.
What Is E-E-A-T as Defined in the Search Quality Rater Guidelines?
E-E-A-T is an acronym coined by Google that stands for experience, expertise, authoritativeness, and trustworthiness. Google first referred to E-A-T in 2014 in its initial iteration of the Search Quality Rater Guidelines (SQRG).
ROI Definition | Google E-E-A-T: Experience, expertise, authoritativeness, and trustworthiness; used to determine how high a website ranks on a Google results page.
There are many important measures that Google's Search Quality Raters use to evaluate a website that indirectly shapes and validates Google's search algorithm and ranking factors. These human raters look at multiple guidelines including:
Page quality
Overall website quality
Website or business reputation
Content creator or author's reputation
Google's Search Quality Raters' Guidelines provide detailed information about E-E-A-T and reflect what Google wants the algorithms to do. The SQRG heavily mention E-E-A-T to drive home the importance of how to create content that meets Google's standards.
Why Trust Is the Most Important Quality Rating
The SQRG state right at the beginning of section 3.4 that "the most important member at the center of the E-E-A-T family is trust."
These guidelines determine whether a page is accurate, honest, safe, and reliable. Just think about it: If you were looking up information in a search query about treatments for cancer, you'd want to ensure it comes from a reputable and trustworthy source.
Google focuses on the extent to which content creators have necessary first-hand experience for the topic to create trust. Evaluating trust should consider what the website says about itself (e.g. author bios and about us pages), what others say about the brand, company, or business, and any evidence of expertise on the page.
Reviews by influencers paid to promote the product might be considered as not trustworthy. It is a conflict of interest and should be considered when assessing trustworthiness.
Why Google Added "Experience" To E-A-T
Google recently added "experience" to its E-A-T acronym in December of 2022. This addition was made to better reflect the trustworthy information users want from search.
Originality is often shaped by personal experiences, and this first-hand experience is something that AI-generated content cannot replicate.
Google's inclusion of "experience" in its SQRG guidelines likely reflects the understanding that simply having expertise or authority is not enough for users to trust a website, as it can be easily manipulated.
The extra "E" emphasizes the importance of experience when creating content from subject matter experts. Content that showcases unique and valuable experience is more likely to meet these criteria and stand out among its readers.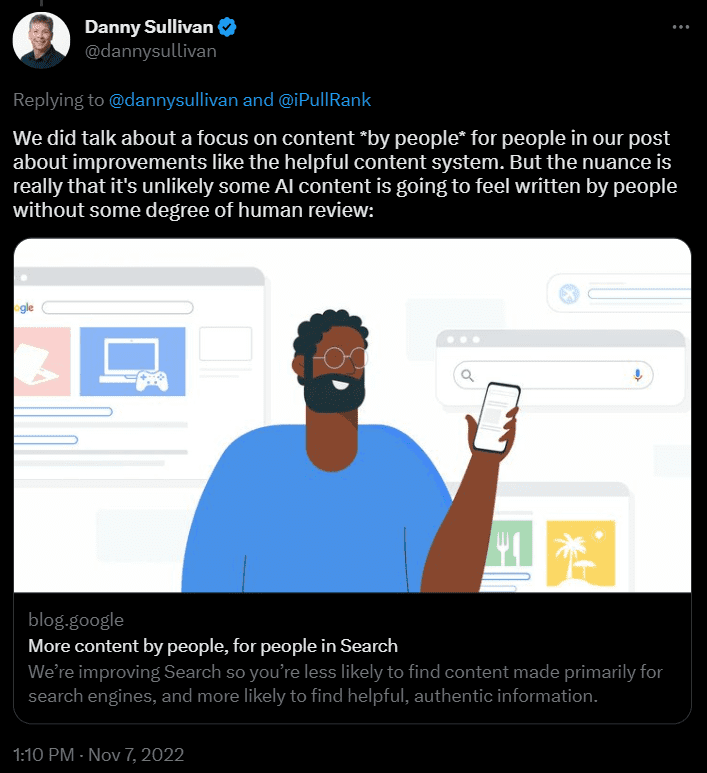 How Does Google Measure E-E-A-T Signals?
Google's E-E-A-T signals are an important part of its ranking process.
A high rating on sites like Yelp, BBB, Amazon, and Google My Business can positively impact a website's reputation and search rankings. Quality raters are instructed to analyze these sources, reviews, site ratings, and Wikipedia page presence when researching a site's reputation.
A high rating on any third-party review site is not necessarily indicative of better rankings but is one of many signals Google considers when a searcher researches a site's reputation.
It is important to note that a few bad reviews won't hurt a site's ranking. However, if most reviews are negative, it is likely to affect Google's assessment of quality.
Why Is E-E-A-T Important for Your Site?
Google E-E-A-T is an important factor for SEO and content marketing success. It helps Google quickly identify and rank reputable websites, increasing overall trust in the search engine.
Incorporating E-E-A-T into your overall site can potentially help your site rank higher in search engine results and attract more visitors. Following this framework, as well as producing quality content that is researched and helpful, will most likely help your business stand out to searchers.
Google has invested heavily in creating better results for shoppers and researchers since its Zero Moment of Truth (ZMOT) study in 2011. The ZMOT is a marketing concept that describes the moment when a consumer decides to make a purchase after conducting online research about a product or service.
Customers just don't search for a product; they also look at online product and brand reviews, overall brand presence in the search results, and other social proof. Having a high-quality site and positive reputation will help your site meet consumers at this ZMOT positively and establish trust.
These positive signals are the backbone of what qualifies as a high level of E-E-A-T in the Search Quality Rater Guidelines.
By ensuring that your website has high levels of experience, expertise, authoritativeness, and trustworthiness, you can improve its chances of appearing the very moment a searcher is seeking a solution to their problem.

What Is YMYL?
YMYL stands for "your money or your life" and is used by Google as a guiding principle to classify pages that impact finances, health, safety, and/or happiness. Think of sites that may help you to lose weight or provide some financial or legal advice on how to purchase a new home.
All ecommerce sites fall under the umbrella of YMYL because you are selling products and process monetary transactions.
These types of websites are held to the highest possible E-E-A-T standards due to the subject matter and potential consequences of misrepresented information. Google has high page quality rating standards for YMYL pages to protect users' happiness, health, financial stability, and safety.
The search engine only wants to showcase information from reliable sources with adequate experience when it comes to YMYL websites.
The new measure of "experience" will help further evaluate the first-hand knowledge of the author.
This means that any advice given must come from someone with credentials who is qualified or someone with real-world experience to meet Google's Quality Rating Guidelines. Serving up low-quality content high up in the search engine results pages (SERPs) could negatively affect a searcher's wellbeing.
YMYL Topics: Experience or Expertise?
Google's introduction of a table to distinguish when experience vs. expertise is needed for YMYL content is a key step in helping people make informed decisions about topics that could have a major impact on their lives.
The table indicates that first-hand experience can be considered trustworthy in certain situations, even if the contributor is not an expert. This helps to ensure that searchers make decisions based on accurate information and don't rely solely on the opinion of a single expert.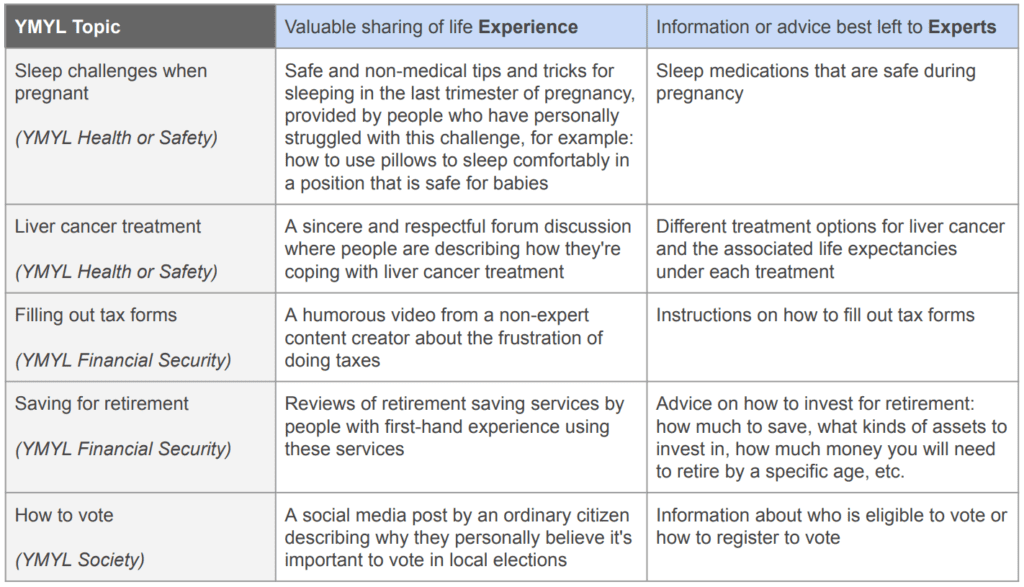 3 Ways to Improve E-E-A-T Signals
To improve E-E-A-T, websites should focus on providing content that conveys trust signals and helps users take action. This includes creating an about us page and author bios to build trust with users, as well as ensuring a privacy policy is in place so users can opt out of data collection.
Some other focus areas that could improve your Google E-E-A-T include the following.
1. Regularly Audit Your Existing Content
Regularly auditing your content has two major benefits.
First, it will ensure you have up-to-date, unique content with a fresh perspective. While evergreen content should outlast trendy articles, it could be livened up with some recent facts.
The other benefit is that you will keep in line with more recent keyword data. One thing is certain: Change happens all the time. Yes, even keyword competition stiffens as time moves on. Your pages may not rank for your original keywords, so doing a refresh will help with a more laser focus on the right keywords and sentiment.
Doing regular content audits will help build your site's trust, expertise, and experience as you constantly update to the latest information, helping you stand out from competitors.
Strengthens trustworthiness, experience, and expertise.
2. Cite Your Sources
While you may be the leading expert in a particular topic, you still may have done some research. Adding the sources is what most scholars do. Doing this shows that you know how to research, and you leverage other industry knowledge.
For sites under YMYL designation, it's even more important to ensure trustworthy content meets the highest standards of quality. This is especially true if there are medical studies or government regulations involved in the subject matter.
Scroll down to the bottom of this article to see an example of this.
Strengthens trustworthiness and expertise.
3. Have Your Policies Front & Center
For ecommerce stores, having your return policies and customer service information readily available for your shoppers is essential to convey the proper E-E-A-T signals.
Not every transaction will go smoothly, but trust is earned when a customer can easily remedy the problem themselves or with your customer service.
When creating content for ecommerce websites, it is vital that it meets Google's E-E-A-T standards.
This means having experience or expertise in your products and industry, being authoritative in the information you provide, and building trust with the audience by sharing accurate and reliable information.
You want to highlight unique and valuable experiences that set your website and products apart from your competition.
Strengthens trustworthiness and authority.
Tying It All Together: Google E-E-A-T
E-E-A-T is a key factor for SEO, especially for ecommerce websites. It is essential to demonstrate expertise and trustworthiness to Google and its users, helping the keywords you have targeted rank well.
This can be done by providing quality content that is backed up with evidence and personal experiences. It is important to stay up-to-date on the latest Google Rater Guidelines as they are subject to change over time.
Focusing on informing your readers and producing the most helpful content will help you stand out and rise to the top of rankings naturally. Whether it is a product description or a blog post, you want to make certain you really bring E-E-A-T to the forefront.
By following these guidelines, you can increase your website's chances of ranking higher on SERPs.
Overall, E-E-A-T should be taken seriously when optimizing a website for search engines. Quality content that is written with expertise and authority will help legitimize your website in the eyes of Google.
If you need an extra set of eyes to take a deep dive into your content, products, and website to ensure you are keeping up with the latest E-E-A-T guidelines, then check out the expert SEO team at ROI Revolution. Send a message to our team today to explore the growth opportunities we can help create for your brand.
Sources