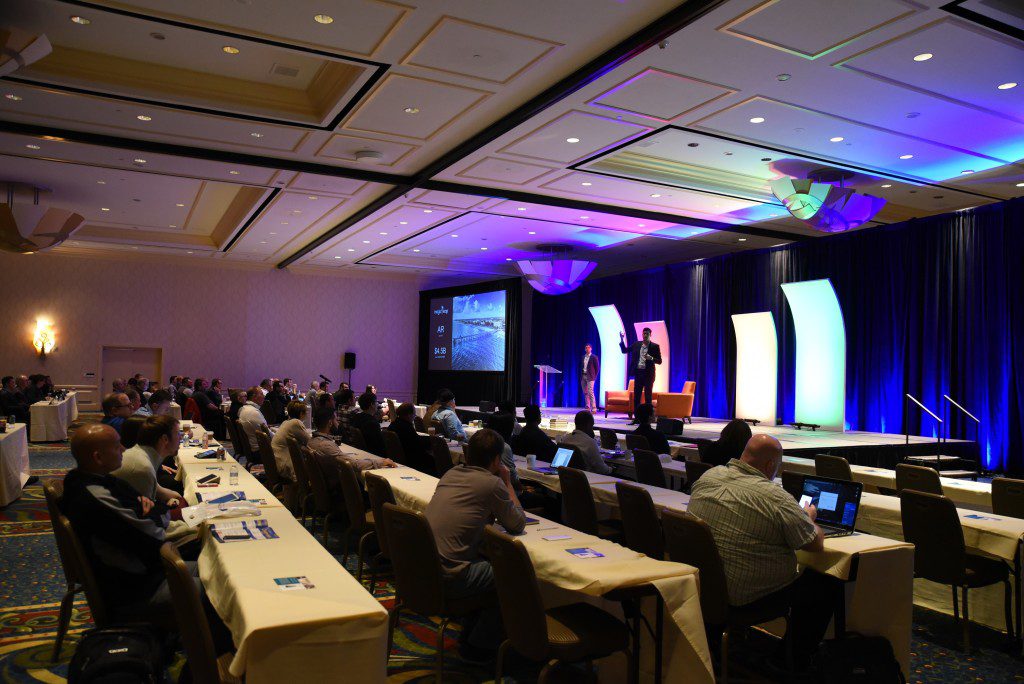 The team from Google didn't disappoint with their presentation at this year's Summit.
Bickey Russell and Jason Shamus from Google's Agency Development team began their presentation – Innovation Comes from Everywhere – explaining how jazz musicians and freestyle rappers use the same parts of the brain when expressing themselves.
Their conclusion was that we are most innovative when we let go (and yes, he did use a GIF of Elsa from Frozen).
Hoping to spark an internal fervor inside his audience, Russell set the tone with a quote: Innovation can't be ordained. However, you can create an environment where it will evolve organically. I believe this is the main message Google wanted to impart.
After a compelling intro with aforementioned Elsa GIF, the duo broke down preconceptions of how innovation is created, where innovation is created and who is able to innovate. And they shared several examples to prove their point – innovation can, and does, come from everywhere.
As one example, they introduced Magic Leap. Who are they? Innovators in Augmented Reality! No, they don't have a Silicon Valley address. The company – which recently raised $793 million in venture capital – is located in sunny Orlando, Florida. Yes, Florida is more known for retirees and vacationing families. Yet, innovation is there.
Another point the duo made is that today's consumer demographics are changing. We're living longer. We're getting smarter. In 2020, we'll see a 21 percent increase in Bachelor's degrees and a 34 percent increase in Master's degrees compared to 2010 statistics.
The last demographic they shared is that we are diverse. But there is a problem. While the country continues to become more diverse, many companies aren't reflecting diversity in their hiring practices or the products or services they create. The Google duo blatantly said the tech industry has a diversity problem. And what company did they use as an example? Their own!
Showing humility and also the determination to change, Google shared the company's latest workforce demographic info: 70 percent men, 30 percent women, 60 percent White, 31 percent Asian, 3 percent two or more races, 3 percent Hispanic, and 2 percent Black.
While they're disappointed with the results, they're actively trying to change the status quo. And so are other tech companies. Google is investing in areas to strengthen the diversity of their workforce and increase opportunities beyond the company. Pinterest hired its first Head of Diversity, Facebook shares its Internal Diversity Training, and Square hired an engineer dedicated to advancing diversity in technology. That's progress.
And Google wants other companies in other industries to rethink their hiring strategies.
Why is diversity so important for innovation? Google has a great answer. A myriad of voices is essential for true innovation: innovation that will help the majority of people, not just one group.
In a video Google shared, an interviewee highlighted a common cause of a lack of diversity. Your network is generally full of people just like you – who look like you and think like you. When you go to hire someone or recommend someone, you're usually rooting for someone within your network.
So what should you do? Challenge your thinking. You'll find that if you diverge from your typical path, you'll still find good candidates.
If you want to make a difference with diversity at your company, don't just talk about it – take action. Expand your reach. Don't just go to the same universities or professional groups. Include places where students or job candidates are equally intelligent and hardworking, but faces, backgrounds, and viewpoints are more diverse.
Google isn't saying only hire people who are different than you. Instead, they wanted participants to see the benefits of a diverse workforce. Different perspectives, cultures, and different backgrounds conjure up dynamic innovation.
Another topic they tackled was workplace culture. And they quoted Lazlo Bock:
"Culture eats strategy for breakfast."
Google encourages you to invite innovation through workplace culture. Examples they gave include genius time, being open to feedback, and creating spaces for innovation. Remember, innovation can't be ordained, but you can create an environment where it happens organically.
Key takeaways from Google's presentation: re-think hiring and re-think culture to drive innovation.
So what are your next steps? Get out of your comfort zone! Ask yourself if your company has an innovation problem. Does an innovation problem stem from a diversity problem? If you believe it does, what are you going to do about it? (Remember: not just words, but actions).
Be like Google. Accept accountability and do something! The world craves innovation.
And just like the duo did with their audience in Florida, I want to leave you with a quote from Google's CEO Sudnar Pichai:
"…a diverse mix of voices and backgrounds and experiences leads to better discussions, better decisions and better outcomes for everyone."
Check out a recap of this year's Summit agenda to see the full lineup of engaging speakers from our event.