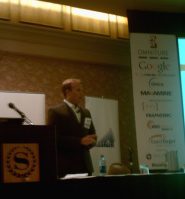 This rocks! Just moments ago at the eMetrics Summit in Washington, D.C., Google's Brett Crosby (Senior Manager, Google Analytics) announced the launch of a new tool, the Google Website Optimizer, designed to help Google AdWords advertisers test different website landing pages in order to determine which ones drive the most conversions–whether they are online sales, sign-ups, or downloads.
I've been here in Washington, DC at the eMetrics Summit since Saturday evening, and there is no doubt that Brett's announcement completely stole the show, generating a buzz of excitement over many of those in attendance.
So what's this new tool all about and why does it matter?
Google Analytics, and now Google Website Optimizer, are both designed to help Google AdWords advertisers and website owners make smarter business decisions and to increase the return on their marketing investments. The new Google Website Optimizer gives advertisers the power to improve the content on the pages within their websites in order to generate more conversions with the same or less advertising spend.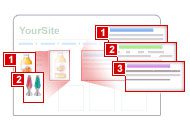 Specifically, Google's new multivarient landing page testing and optimization tool, Website Optimizer, enables marketers to test different ideas for variations of headlines, promotional copy, or images and provides easy-to-read graphs showing which variations resonate best with their website visitors. Through the step-by-step interface, you can quickly and easily plug in the different versions of each page section you wish to test.
Google Website Optimizer automatically applies these versions to create every possible different combination of landing pages, and randomly displays each combination to your users as they come in from your Google AdWords campaign. You simply set up the experiment, plug in your variables, and read the comprehensive reports as the experiment progresses with each click.
Brett covered that the beta launch of Google Website Optimizer is a limited release that is offered to Google AdWords advertisers on a sign-up and acceptance basis (i.e. your application for the beta must be approved in order to qualify for the use of this tool during beta)…but once you are accepted into the beta, the use of it is free.
We were able to take a sneak-peek into the vast wealth of information you will have at your fingertips with Google Website Optimizer.
Here's what we learned:

The comprehensive reports of your test results work similarly to Google Analytics, and are VERY EASILY applied to pages already tracked in GA. You will receive numeric and visual representation of your data so that you can quickly glance to see which combination(s) are going to improve your ROI, and which are duds.
You also receive two different types of reports, each displaying information valuable to the landing page's potential for conversion and the sections that are weighing in with the greatest impact on your visitors. Basically, Google will track and report back to you everything you will need or want to know to measure your experiment's progress. There's no guesswork involved – you know what your users are responding to, because you see exactly what combinations and individual segments are most effective!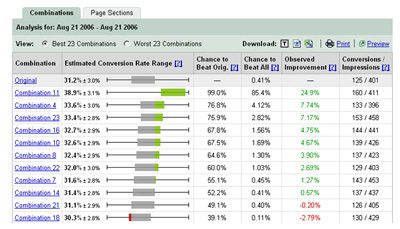 For example, the Combination Report shown above displays the relationship between each section and each version of the website sections you plugged in to the Website Optimizer and how they work with other sections in your experiment. It gives the complete overview with the potential success of your webpage, based on actual conversions made by users visiting your landing page during the course of the experiment.

This report also predicts conversion rates of each combination to show you the overall effectiveness of one combination when compared to another. This report will give you the overview you need to make a decision regarding if you should replace your landing page with another combination of your variables.
In contrast, the Page Section Report will tell you all the information about a particular section's performance. Though the report does provide you with statistics for the same categories as the Combination Report, the real advantage to this report is the Relevance Rating.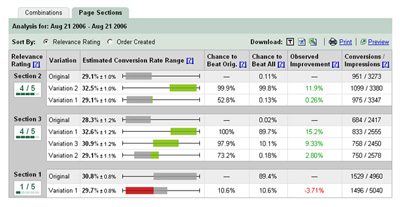 This rating, on a scale of 1 to 5, shows you how strongly a particular section affects your overall conversions: in a positive way, negative way, or not at all. When updating your landing page based on the findings of the Combination Report, it is extremely valuable to know how changing a particular section will affect your overall conversions.
Now that I've quickly shown you the basics of this remarkable new tool from Google, I'm sure you want to dive right in and get your feet wet. Here at ROI Revolution, we are hosting a live, FREE webinar to help you learn more about how to implement and begin using Google Website Optimizer on your landing pages
This fun, interactive online meeting will take place on Friday November 10th, 2006 at 4:00 pm Eastern Time (3:00 pm Central; 1:00 pm Pacific). Join Conversion Specialist Meredith Smith, Google Analytics Implementation Expert Michael Harrison, and me (Timothy Seward, CEO) for 40 minutes of powerful, in-depth knowledge on how to harness the power of this fantastic optimization tool and implement it on your landing pages to gain more conversions with the same amount of traffic you already receive. Sign up here!
Google is collaborating with partners, such as ROI Revolution, to leverage our expertise to provide a range of professional, consulting, and implementation services for AdWords customers. ROI Revolution now includes support with Google Website Optimizer within our suite of professional service offerings.
post by Timothy Seward in Washington, DC and Jennifer Hoy in Raleigh, NC