In case you weren't aware, Google is requiring that anyone selling products with a Global Trade Item Number (GTIN) must provide that number for items on Google Shopping as of May 16th. Non-compliance means those products will no longer be listed. Ouch.
Before we go any further, let's go over what a GTIN is so that you'll know if your business qualifies. Ok, go grab one of your products. Got it? Good. Now, do you see that little bar code on the back of your package? Congratulations, you've got yourself a GTIN!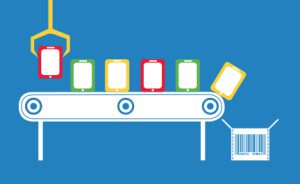 In the United States, those barcodes with the numbers on them are referred to as UPCs (or ISBNs for books). If your product has one and it's on Google Shopping, it needs to be included in the listing.
In Europe and some other regions, they are known as EANs. In Japan it's a JAN (see a pattern here?). All over the globe these numbers exist on the vast majority of products sold. And everywhere they are, they need to be updated for Google.
Thankfully, most of you should already have this information readily available, and most likely built into a spreadsheet. If you don't know offhand where the info might be, talk to the head of your pricing department. If they don't know, try accounting, marketing, or even IT. If none of those departments know what you're talking about, at least you've now made some new friends, right?
Once you have your list compiled, you just have to upload them to your product feed.
Even if the process doesn't end up being pain-free for you, there are some benefits you will gain aside from simply having your products remain up on Google Shopping.
For one thing, having more data on your product feed is always a good thing. The more info you can provide, the more likely Google is to match your product to a search and display it on the proper results page. This directly leads to more control and better targeting in the long run.
Another benefit is that adding GTINs along with other product identifiers like brand and Manufacturer Part Number (MPN) contribute to a large increase in impressions, as much as 40%, over those who don't include them.
Going hand-in-hand with impressions is obviously conversions. The whole point of these ads is to sell stuff, right? Well then you'll be very happy to hear that companies who have already added the GTINs to products have enjoyed a conversion rate increase of up to 20%! That's like gaining an additional sale in one out of every five clicks.
Lastly, adding these GTINs allows your ad to appear in more places. Aside from just Google Shopping, this will open the door for your ads to appear in places like YouTube, Google (many other areas), and Google partner sites. More exposure is always a good thing.
So what are you waiting for? The deadline is fast approaching and not only is this going to be a requirement going forward, but it's something that will be a big benefit to you regardless.
If you're still having a tough time with this, or you need more information, why not schedule a free 20-minute account review with one of our PPC experts? They can give you a more detailed analysis of how this change will affect you and help you find solutions that work for your specific business model.
Schedule your review today!