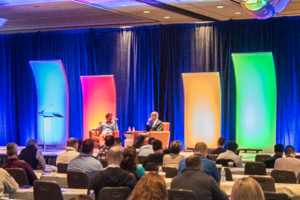 In anticipation for the soon-to-be announced Ecommerce Marketing Summit agenda, here are some teasers for the hot topics we are featuring on the 2017 stage:
72% of people would rather see promotional content through email, compared to 17% who prefer social media (Campaign Monitor). But who says they have to be separate marketing entities? David Piercy, Digital Marketing Manager at Shindigz, will share how the combined powers of email and social media can strengthen your landing pages and overall customer engagement.
Shockingly, 92% of purchases in the US happen offline. 30.8% of American shoppers would rather buy an item offline for this reason: the ability to see or feel the item in person (Google Consumer Surveys). With items like electrical supplies, for example, why should an electrician begin buying parts from a website when a brick store has done the job for him for years? Adam Messner, CEO at LiveWire Supply, will reveal expert tips to help you lower that high percentage of offline sales – based on his own impressive track record of doing just that.
Customer LTV: consumers who are continually engaged after a purchase buy 90% more frequently and spend 60% more per transaction, delivering 23% more revenue and profitability over the average customer (Access Development). Bill Aicher, CMO at Music Notes, will emphasize the importance of your willingness to assist your customers with their long-term goals. A small effort to understand what your past customers need from you goes a long way.
Companies who use predictive analytics have 73% higher sales than those who have never used them (Smart Insights). Joe Thompson, VP of Marketing at Build Direct, has revolutionized his data interpretation through predicitive analytics. Build Direct responds to trends in as close to real time as the industry has ever gotten. As a result, Joe has increased efficiency and conversion rates substantially.
Content marketing: The most popular content marketing tactic reported by 90% of B2C businesses is social media; the next most used tactics are illustrations and photos (87%), eNewsletters (83%), videos (82%) and website articles (81%) (Content Marketing Institute). Make sure you are where your audience is, feeding information to them in the way they prefer to receive it. Tiffani Frey, Director of E-Commerce Marketing at USP Tactical, will present the small changes you can make to optimize your current content marketing efforts, and how to focus your valuable time on the ones that are most profitable.
100% of our speakers for this year are thought leaders and doers in the ecommerce marketing field! Don't miss their unique perspectives and direct experience with 2017's most important ecommerce topics. Visit roirevolution-staging.zrppuvn5-liquidwebsites.com/summit2017 for more information.