Since emerging as an image re-sharing platform in 2010, Pinterest has emerged as a key marketing strategy component for many brands. In fact, US Pinterest advertising revenue has grown by over 5x since 2017, and by 2026, US ad revenue for the platform is expected to surpass $4 billion for the first time ever!
In this infographic, explore key stats and trends about the state of Pinterest advertising and walk away with a comprehensive understanding of how your brand could leverage the platform to achieve your ecommerce revenue goals.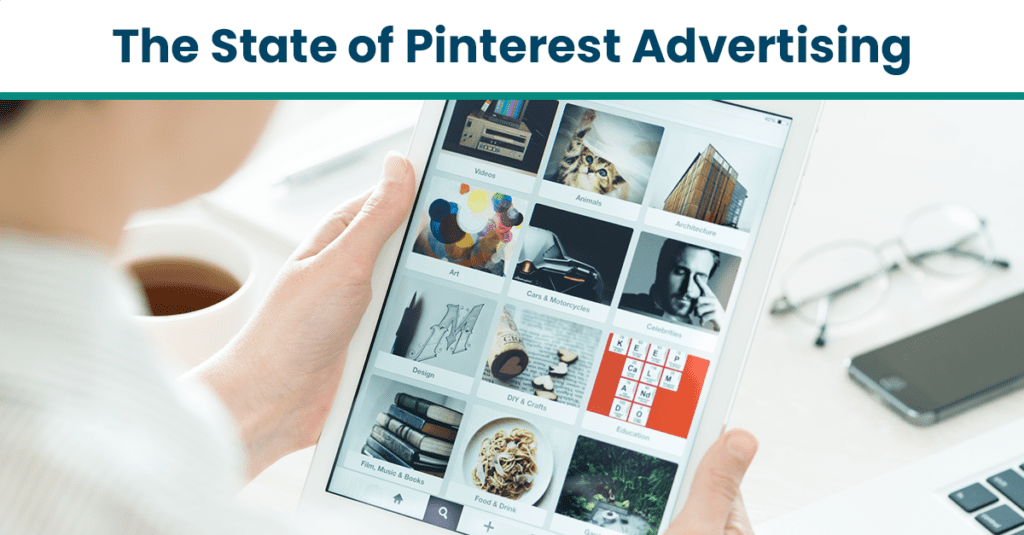 The State of Pinterest Advertising
Pinterest at a Glance
Projected Pinterest global advertising revenue (in billions):
2022: $2.51
2023: $2.91
2024: $3.32
2025: $3.73
2026: $4.13
In 2023, Pinterest global ad revenue will grow 16% year-over-year
In 2025, Pinterest global ad revenue will be more than double what it was in 2020
Average revenue per Pinterest user in the US and Canada grew 20% in 2022
Fashion, home & garden, and DIY are the top categories on Pinterest
Pinterest User Growth & Demographics
Pinterest was the fastest site in history to reach 10 million unique monthly visitors
There are currently 444 million monthly active users on Pinterest worldwide
Pinterest's audience grew 12.4% YOY in 202 (Instagram is the only platform that saw more growth!)
62% of US adults use Pinterest
Pinterest user share by gender:

Female: 77% (the majority of Pinterest users are females aged 25-34)
Male: 15%
Unspecified: 8%
Gen Z on Pinterest
Pinterest has 23 million Gen Z users
Between 2020 and 2025, the number of Gen Z users on Pinterest is expected to grow by 9.4 million – an increase of more than 56%!
Pinterest Compared to Other Social Media Channels
Pinterest ads are 44% more affordable than Meta ads in terms of cost per impression (CPM)
Pinterest has more monthly active users than Twitter or Reddit
Pinterest gets 8.23% of the total social media website visits in the US – more than Instagram, YouTube, or Reddit!
Pinterest is the #1 platform for inspiration among all forms of media
Privacy & Trust on Pinterest
30% of Pinterest users say that Pinterest protects their privacy and data
The only platform that users trust more than Pinterest for data privacy is LinkedIn at 31%
Pinterest ranks #2 among social media platforms for users trusting that their privacy and data are protected
Pinterest ranks #1 in reliable content among all major social media platforms, surpassing the previous leader of LinkedIn
Social Commerce on the Rise on Pinterest
16% of US social commerce buyers shop via Pinterest
In 2025, the number of US social commerce shoppers who buy through Pinterest will be more than double what it was in 2019
In 2025, Pinterest will have 15.8% of the social commerce buying share
Pinterest is the #4 social commerce destination, surpassed by TikTok, Instagram, and Facebook
Pinterest shopping revenue is growing twice as fast as overall revenue
US social commerce buyers who shop on Pinterest (in millions):
2020: $12.1
2021: $15.0
2022: $15.9
2023: $16.9
2024: $17.5
2025: $18.1
Tying It All Together: The State of Pinterest Advertising
Pinterest advertising is a key driver of revenue, brand awareness, and new customer acquisition for many brands. At ROI Revolution, our trusted social media experts work as an extension of your team to increase awareness and convert more visitors into customers – not just on TikTok but also Facebook, Instagram, LinkedIn, Pinterest, Snapchat, and more!
To explore the untapped growth opportunities we can discover for your brand, reach out to our team today at ROIRevolution.com/TikTokInfographicContactUs.
But don't just take our word for it! In the case studies below, follow the journey of some of the brands we've helped grow through social media:
Looking for more information on social media advertising? Gain some insights from the resources below!
Sources