The home goods vertical has seen some of the most impressive growth – and daunting obstacles – since the onset of the COVID-19 pandemic. From an increase in demand due to people spending more time at home to a slew of supply chain issues catalyzed by factory shutdowns and material shortages, the ups and downs experienced by the home goods industry since 2020 have been incredibly volatile.
We've created this infographic based both on internal survey data and external research to help you navigate the complexity and thrive despite the instability. Dive into the stats for the clarity you need to understand the current state of the home goods industry.
View the full infographic here.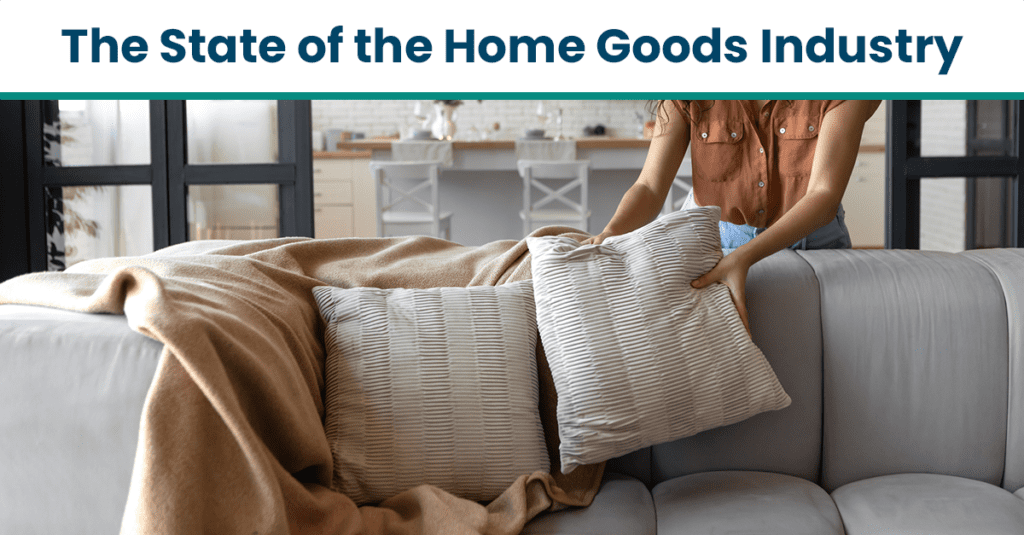 The State of the Home Goods Industry
Top Marketing Trends & Initiatives in the Industry
Conversion rate optimization: 64.7%
Shipping & fulfillment: 58.8%
Social media advertising: 52.9%
Search engine optimization: 47.1%
Direct to consumer: 41.2%
Amazon advertising: 35.3%
Furniture Market Value Data
Global furniture market value (in billions):
2021: $527.9
2022: $546.6
2023: $566.0
2024: $586.1
2025: $606.9
By 2027, the global furniture market is projected to be worth $650.7 billion – an increase of $141 billion since 2020!
57% of US consumers are comfortable buying large furniture online
US home decor market value (in billions):
2021: $181.5
2022: $188.1
2023: $194.9
2024: $202.0
US furniture ecommerce surged 23% year-over-year in 2020 due to the pandemic after staying mostly stagnant during the years before
In 2024, the home decor market will be worth $33 billion more than it was in 2019 before the pandemic hit
The second-hand home goods & furniture market in the US is also growing in light of supply chain strain
In 2023, the used furniture market will be more than double what it was in 2015
US Furniture Revenue & Sales
US furniture ecommerce revenue (in billions):
2020: $119.7
2021: $132.7
2022: $149.4
2023: $167.5
2024: $187.1
2025: $208.2
US furniture & home furnishing sales share:
Brick & mortar: 67.4%
Ecommerce: 32.6%
In 2022, furniture & home furnishings made up 12.5% of all retail ecommerce sales
Value of US Furniture Categories by 2025 (in Billions)
Sofas: $21.9
Master bedroom: $14.8
Entertainment: $9.4
Desks: $6.9
By 2027, the global outdoor furniture market will be worth nearly $23 billion
By 2026, the global office furniture market will be worth over $30 billion more than it was in 2021
By 2025, the global furniture industry will reach $1.6 trillion in revenue
The global pet furniture market is projected to grow 36% between 2019 and 2025 to be worth $3 billion
The US furniture market ranks #1 across all countries for revenue generated
The top online furniture stores in the US are Amazon, Home Depot, and Walmart
Global office furniture market value (in billions):
2021: $54.2
2022: $59.3
2023: $64.9
2024: $71.0
2025: $77.7
2026: $85.0
The US home improvement market grew 22.3% year-over-year in 2020 to hit $497.1 billion
By 2025, the market will be worth more than $621 billion
Sources