Whether you love it or hate it, you can't deny that TikTok has taken the world of social media advertising by storm. In fact, the average TikTok user spends around 46 minutes per day on the platform. On top of that, TikTok advertising revenue is expected to nearly double between 2022 and 2024!
In this infographic, you'll uncover current stats about the state of TikTok advertising and walk away with a comprehensive understanding of where it's been, where it is now, and where it's going.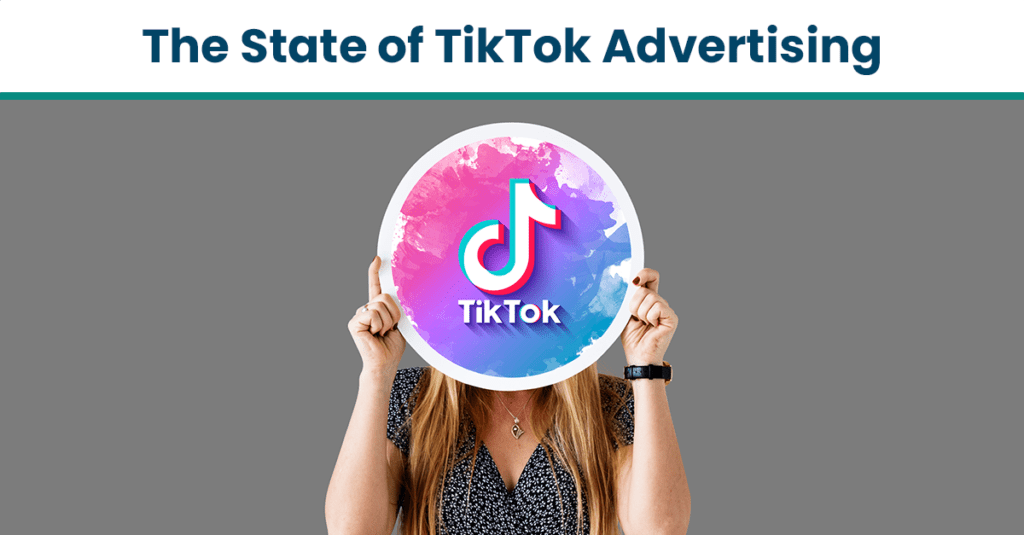 The State of TikTok Advertising
TikTok's Widespread Usage & Growth
37% of all US social media users are on TikTok
TikTok's share of social media users grew 24% between 2020 & 2022
By 2024, US adults will spend 18.6% of their daily social media time on TikTok – more than 4X what they spent in 2019!
The average US TikTok user spends 45.8 minutes per day on the platform
TikTok Ad Spend & Reach
It's projected that in 2022, TikTok made $11.64 billion in global ad revenue (representing 200% year-over-year growth) and that TikTok ad revenue grew 184% after growing 170$ in 2021
TikTok US net ad revenue (in billions):

2021: $2.10
2022: $5.96
2023: $8.75
2024: $11.01

TikTok ads reach over 1 billion users globally
In 2022, D2C brands spent 231% more year-over-year on TikTok advertising
TikTok vs. Other Platforms
TikTok is the 4th most used social network in the US topped only by Facebook, YouTube, & Instagram
There are more users on TikTok than on Snapchat, Twitter, or Pinterest
TikTok made more global ad revenue in 2022 than Twitter and Snapchat combined
Compared to other platforms…

TikTok users have 30% stronger emotional responses to ads on TikTok
TikTok drives higher spontaneous recall for brands two weeks after a user sees an ad
TikTok users who watch ads spend 25% more time watching ads on TikTok
Social media users spend the most time on TikTok
TikTok Behaviors & Attitudes
18% of TikTok users are early adopters of new products
28% of TikTok users have purchased products because celebrities or influencers advertised them on the app
89% of TikTok users consume TV
61% of TikTok users consume radio
Compared to the average social media user, TikTok users are more likely to interact with companies via social media, access the internet via gaming consoles, smart TVs, & tablets, and remember hearing ads on music portals, video games, & streaming services
Top industries TikTok users are interested in:

Food & beverage: 46%
Health & fitness: 38%
Fashion & beauty: 34%
Home & garden: 29%
TikTok Users Are Open-Minded to Ads
Using the algorithm-driven For You page, TikTok is able to mitigate challenges from Apple's iOS 14.5 update
40% of TikTok users say they don't mind advertising if they get free content in return
18% of TikTok users say they don't mind when companies use their personal data for advertising, compared to 13% of all social media users
Tying It All Together: The State of TikTok Advertising
TikTok advertising is just one of many current trends happening in the social media landscape. At ROI Revolution, our trusted social media experts work as an extension of your team to increase awareness and convert more visitors into customers – not just on TikTok but also Facebook, Instagram, LinkedIn, Pinterest, Snapchat, and more!
To explore the untapped growth opportunities we can discover for your brand, reach out to our team today at ROIRevolution.com/TikTokInfographicContactUs.
But don't just take our word for it. In the case studies below, follow the journey of some of the brands we've helped grow through social media:
Looking for more information on social media advertising? Gain some insights from the resources below!
Sources