A packed showroom, fascinating sessions, engaged retailers and massive enthusiasm saw an incredible start to the 13th annual IRCE!
With over 10,000 in attendance from around the country, IRCE 2017 has been one of the most dynamic and successful yet.
For those who didn't get to attend, or were absent for day 2 (June 7th) events, check out these highlights as we recap the exciting event moment-to-moment!
---
Day 2 Morning – Wednesday, June 7th
Welcome and Introduction
The day began with an address from IRCE Vice President, David Southworth, and Executive Editor for Internet Retailer, Kurt Peters. They welcomed IRCE veterans and newcomers, opening the event with a special presentation entitled, "This Is The Future."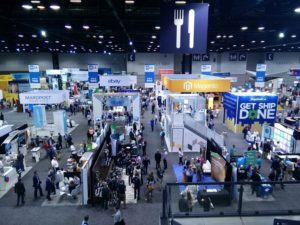 They focused heavily on the nature of change in ecommerce, with particular emphasis on the speed of change and its exponential increase in recent years.
Their data indicated that e-commerce retailers are seeing the fastest growth on marketplaces, with sales exceeding $400 billion – a 4x increase from 2005.
They said that while Amazon continues to be the major player in ecommerce marketplaces, web-only or Web-mostly retailers are still gaining traction because they can offer a more convenient way to shop, or better customer service compared to Amazon's automation.
The presentation ended with cautious advice for retailers about being alert to changes in consumer behavior, but not falling prey to "the latest and greatest." They said change will keep coming faster and faster, and that it needs to be embraced, iteratively, in order for businesses to succeed.
Keynote Presentation: How Sephora Uses Mobile to Deliver Experiential Retail
Senior VP for Sephora, Mary Beth Laughton, ushered on the morning with a keynote lecture on mobile, and its unique role in any client's journey.
She said that in Sephora's case, they found that clients want to do more than just purchase. Clients want entertainment, they want interaction. They are bouncing back and forth between online and offline and expect retailers to make that experience easy.
To give clients what they are seeking, Mary said Sephora leverages the power of mobile in two unique ways:
Feeding the mobile addiction. Embedding mobile into every portion of the customer experience
Using mobile to enable, tech, inspire, and play experiences across channels.
Sephora is able to capitalize on customer's "mobile moments" by engaging with exciting products and stories. Mary said they have launched mobile exclusive events and early access on their mobile app, and that they have fresh daily content on their homepage to draw client in on a regular basis.
She said the Sephora believes mobile can be a customer's in-store companion as well, assisting them personally and drawing them through the sales funnel.
Her advice to other retailers was to look at mobile not just as a device, but as a tool, and to be on the lookout for ways to embed addictive mobile experiences along a customer's mobile journey.
Smarts are Overrated: Take the Plunge
Next on the docket was none other than Barbara Corcoran, one of the renowned "shark investors" on the Shark Tank reality show. Barbara's dynamic presentation centered on customer perception, retailer philosophy, and what it takes to be a successful entrepreneur.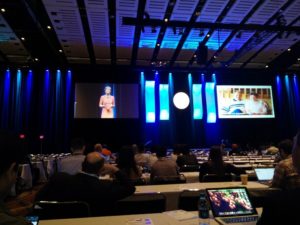 Coming from humble beginnings and ending up owning/selling a 66 million dollar real estate business, Barbara stressed the importance of perseverance for business owners.
She said the retailers that try, the ones who are the loudest, are the ones who make a name for themselves. In her experience, there are two kinds of people in retail: expanders and containers.
She said expanders are full of baloney and spend every penny they have on an idea. They focus on everything that's exterior and everything forcing them to get out and do something.
Conversely, she said containers are the organizers, or the detail oriented ones that keep the expanders in check. They reign people in, make people see the bottom line, and will give an honest, down to earth, point of view based on analysis.
Barbara said the right marriage between the two types of personalities leads to massive business success, and is what she looks for when investing in organizations.
Barbara also said the path to retail success isn't a perfect science, and that people need to be okay with failure. She said you can't succeed without some trials, and that on the heels of a failure, you have to look to the future and how you can use it to move forward.
CLIENT SESSION: How to Win the Sale When Going Head to Head With Your Own Brand
Perry Ellis, apparel retailer and an ROI client, had their Vice President of E-Commerce and Digital Marketing, Jose Nino, deliver an exciting presentation on Amazon bidding strategy and how to avoid inadvertently hurting your own brand(s).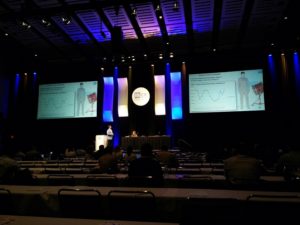 He said Amazon drives visibility and traffic to website though impressions, and that impressions fluctuate greatly based on seasonality and budget. The impact DTC websites is almost linear.
Jose went on to talk about high impressions on Amazon, and how high percentages of Amazon referral traffic increases proportionally. It used to be considerably lower, but now when they have more impression penetration on Amazon, the corollary effect on their website has greatly improved.
In terms of bidding strategy, Jose told retailers to bid on branded terms, arguing that it is an investment in protecting retail domain against competitors.
He said retailers need to bid on Organic Ranking products, and that Perry Ellis has recently run a serious of test to gage its importance.
They found that it doesn't actually matter if amazon is already naturally ranking your product. When they didn't bid on organic brand terms, they saw a decrease in traction. Jose said if retailers want to own a majority of the real estate for search terms and not lose out to the competition, it's is a necessary practice.
Jose stressed the importance of Amazon, citing how most people start product searches on Amazon instead on Google. He said retailers need to be wary of unusual Amazon product spikes, and use certain sales trends for their own DTC purposes.
Drafting a Content Marketing Strategy and Measuring the Results
One of the final sessions before lunch was a joint presentation by Home Depot's Michael Shady, and Vertical Measures Quinn Whissen. Their focus was on content marketing strategy, and how to determine the best, most usable results through measurement.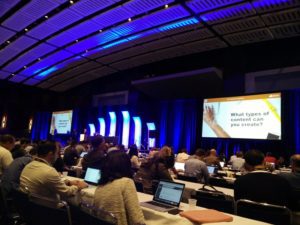 They described content marketing as an art form, best understood as an accompanying element to the customer's journey. Instead of pitching a product or service, they said content marketing is about delivering info that makes a customer more informed before they make a purchase decision.
The presenters described one of the major issues with content marketing being that most content marketers aren't documenting their strategy. They said the goal is to create a documented strategy that is both agile and flexible, as well as focused on what they call the 3 Ps: People, Process, and Priorities.
Continuing with the idea of key-threes, they also related the idea of content marketing to a three legged stool.
Leg 1 is customer experience. Connect your business to customer needs. Connect experience, store to online, online to store.
Leg 2 Productivity and Efficiency. Innovate the business model and value chain.
Leg 3. Product Authority. Enabling a person to make a purchase decision with the right amount of information so they feel confident in the decision they make.
The final point they made hammered home the importance of measuring content success across various KPIs, as well as how to use content to articulate the story of that success.
They said a lot of businesses measure the wrong things, and that retailers need to be able to understand the ROI from their content marketing. Things like site visits, visits to specific content pieces, time on site, number of pages visited, bounce rate, etc. are all valuable and easily viewable from Google Analytics.
---
Stay tuned for part 2 of June 7th, and a complete recap of the 8th and 9th's sessions and events!