A packed showroom, fascinating sessions, engaged retailers and massive enthusiasm saw an incredible start to the 13th annual IRCE!
With over 10,000 in attendance from around the country, IRCE 2017 has been one of the most dynamic and successful yet.
For those who didn't get to attend, or were absent for day 3 (June 8th) events, check out these highlights as we recap the exciting event moment-to-moment!
---
Day 3 – Thursday, June 8th
Mobile, Performance + Wearables: Under Armour takes 'Customer Connection' to a Whole New Level
The floor opened and speaker sessions kicked off with a keynote lecture from George Hanson, Vice President of Ecommerce for Under Armour. His presentation focused on customer interaction and brand perception.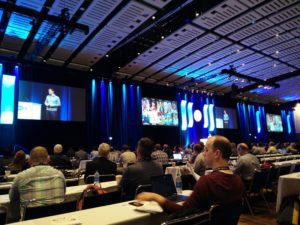 George began by talking about Under Armour's core values, and how the company defines their athletes as their consumers.
The company's mission statement is to make all athletes better through passion, design, and the relentless pursuit of innovation, which George said hasn't changed since day 1. He said that all of their campaigns filter through the company's 'brand mission,' which ultimately determines how each campaign is structured.
With massive success in recent years (sporting just under 5 billion in revenue for 2016), George said Under Armour owes their success to strong customer connection.
He said a big part of connecting with customers is making products that help solve their problems. The company's idea is that everything they're building must answer the question "What is that going to do or improve?" It's always about delivering performance, innovation, and advantages to athletes.
Another important element according to George was establishing a digital footprint, similar to certain SEO strategies. He said building backlinks and strong digital interactivity between Under Armour and certain fitness websites or thought leaders helps bolster brand presence online.
Furthermore, George stressed the importance of personalization for Under Armour, citing what he called the 3 buckets of personalization.
Targeting content: Product recommendations, segmenting content, etc. The path is clear and is driven by the data and capability to work off that data.
Athlete engagement: Acknowledging the customer is key. Whether it's a personal best they ran, or a fan of a specific team, or a purchase placed recently and inviting them to share a review. It's a bridge to say we're acknowledging you and making them feel more relevant.
Digital Concierge: This idea is to deliver a true personalized experience, and the athlete has to be a part of that. They have to be a co-creator in the personalized experience. When you download their shop app, every user is onboarded and given an opportunity to opt in, define who they are shopping for, which athletes they follow, which sports you are interested in. It helps to shape the initial experience.
Focusing on these areas on engagement, George said Under Armour has created a two-way communication channel for brand zealots and consumers to feel connected to the company and one another.
How Art and Science Blend for Personal Best
Next up was Miki Racine Berardelli, CEO of Kidbox, who gave a dynamic presentation on melding the scientific sides of business with the aesthetic sides of brand development.
Miki believes that the magic happens when strike right down middle between brand and business, substance and style, etc – and that it ultimately leads to financial success. That philosophy is what Kidbox was designed around.
She described how Kidbox works, explaining how the process begins with consumers going to the site and completing a style profile. Within days they receive a personalized box of style based on how they answered questions on the site. They have 7 days to decide what to keep or return. You only pay for what you keep. For every full box kept, they donate clothing to children in need.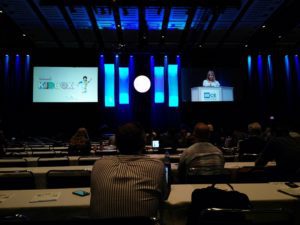 Using proprietary technology based personalization, Miki said Kidbox is able to let its algorithms do most of the work in determining how best to interact with a customer and what that customer might want.
She went on to say the company focuses on 4 key pillars to differentiate them from competitors:
Featuring premiere, well-known, cool brands
Having amazing prices (price / value equation)
The convenience for mom and dad, the fun for the child
The social mission of helping children in need
Miki said these differences became the core values for Kidbox, and are how the company came to be identified by consumers.
She said they take business seriously, but don't take themselves too seriously. She said navigating the fun, creative side of business with the science behind optimization and art is key to carving out a comfortable organizational niche.
Amazon Snapshot: Where It's Heading and What You Need to Know
The following presentation was all about Amazon, and delivered by Internet Retailer editor, Allison Enright.
She opened her lecture with some impressive Amazon statistics, showing how 4 in 10 dollars spent online in the US were spent on the site and more than 2/3 of the growth for the entire US ecommerce market centered on it.
She said Amazon's success and strategy was actually a simple one to understand: Selection, price, and convenience.
Allison went on to say that Amazon has created an ecosystem greater than selling products, it creates touch points and changes people's mindsets for when they do need to shop.
Over the course of 1 week, Allison averaged interacting with Amazon 7 times per day. Of all the transactions, only 1 was a purchasing transaction. It didn't even occur to her to look anywhere else. That behavior is the pull Amazon has created, by creating all these brand touchpoints.
Past just the basic Amazon interface, Amazon Prime has experienced tremendous growth as well: 22 million in June 2015, 63 million June 2016, and 80 million April 2017.
Allison said Prime is important because Prime consumers shop and spend more with Amazon, and more often. About half of the survey made at least 51% of purchases on Amazon.
With the third annual "Prime Day" coming up the week of July 12th, she said Amazon is presented with the opportunity to target specific categories they want to grow, such as grocery and apparel.
Moving forward, Allison said KPIs are only expected to increase, and that businesses need to be aware of how to mimic and take advantage of Amazon uniquely convenient retail model.
The Facebook Ecosystem: A Deep Dive that Goes Beyond Display Ads
Taking a look at the social media side of retail, Facebook's Global Head of Ecommerce Retail Strategy, Martin Barthel, delivered a powerful presentation on utilizing Facebook to its full advantage.
He began by talking about the importance of mobile, saying consumers are moving into a new commerce era driven by the explosive growth of on-the-go shopping. He said mobile is the most "underhyped hype" in recent retail history, and that it should be a top priority.
Martin said 3 trends shape mobile-first commerce:
Online Sales
Offline Sales
Immersive Branding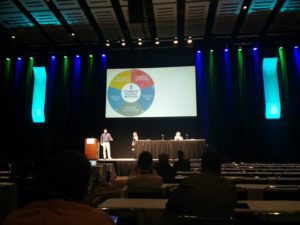 For the online component, Martin said dynamic ads for retargeting perform best. He said these ads grant the ability to retarget people who have made a specific action on a website or on Facebook, and that they can be used to reach new customers.
Three months ago, Facebook launched a new product called dynamic ads for broad targeting. It helps retailers promote products to people who have the highest probability to buy your product, and they've received positive initial results.
The offline component is where Martin sees one of Facebooks biggest areas of possible improvement.
He said Facebook needs to evolve into not only what happens online, but what is happening in stores. That's why they're developing a proximity based store locator, aimed at helping target a specific group of people who live close to a specific location so as to better assess what campaigns will be effective to them.
Looking further down the road, Martin said he believes the future to be performance branding. While most organizations have a brand team and a performance team, the funnel is beginning to collapse and draw both together.
Testing more branding for driving sales, as well as testing a more sales centric approach to branding provides companies with the opportunity to create one over-arching, cohesive, and impactful marketing effort rather than several independent ones.
Winter is Coming: Strengthen your Online Strategy for the Q4 Surge
In a special joint presentation by Kayser-Roth Corp's Ecommerce Manager, Heather Petersen, and ROI Revolution's very own Director of Sales, Denis Coombes, the next session was all about Q4 strategy and how to maximize online strategy.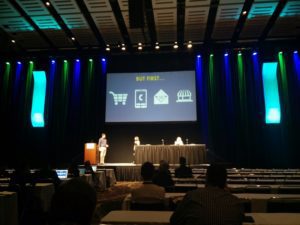 The presentation began by referencing last year's Black Friday, and it's record setting 1 billion dollars in sales, as well as the corresponding Cyber Monday record of 15.2% online growth from 2015.
With all these sales and potential for retail growth, Denis and Heather said the most important first step is to have strong conversion tracking already in place.
They said the beauty of modern marketing is that you can find where you're wasting money, and the data can show you every aspect of your business.
Looking at research examining Q4 practices found by both companies, they said they saw 5 common mistakes retailers tend to make during the holidays.
The first had to do with Google Shopping, for which Heather and Denis said retailers need to think all about the product feed. They described it like volleyball, and how retailers want to set. The better the set, the better the spike, and feed titles and descriptions are essential for the perfect serve.
They also cautioned retailers to include their best performing keywords in titles and descriptions. Essentially, they said this tactic is about widening the funnel, increasing the traffic, but holding a steady conversion rate.
Next, they spoke about merchant promotions and how to actually stand out from competitors, resellers, Amazon. They told retailers to consider promos only for the paid search channel, as you're only really looking to get qualified traffic in the funnel when you're paying.
Concerning search ads, in the context of seasonality, they said not fortifying search ads is a major mistake. They described fortification as low hanging fruit, and necessary as computers are still the dominant form of traffic for search ads.
The most critical piece of advice they gave related to where retailers begin, and how important it is to have specific goals in mind from the beginning. They said that once retailers know where they want to go, they can talk about the keywords that work, define success, plan out each day, make smart budgets, and communicate infinitely more effectively.
---
Stay tuned for in-depth profiles on 2017 sessions and presentations on the ROI blog!