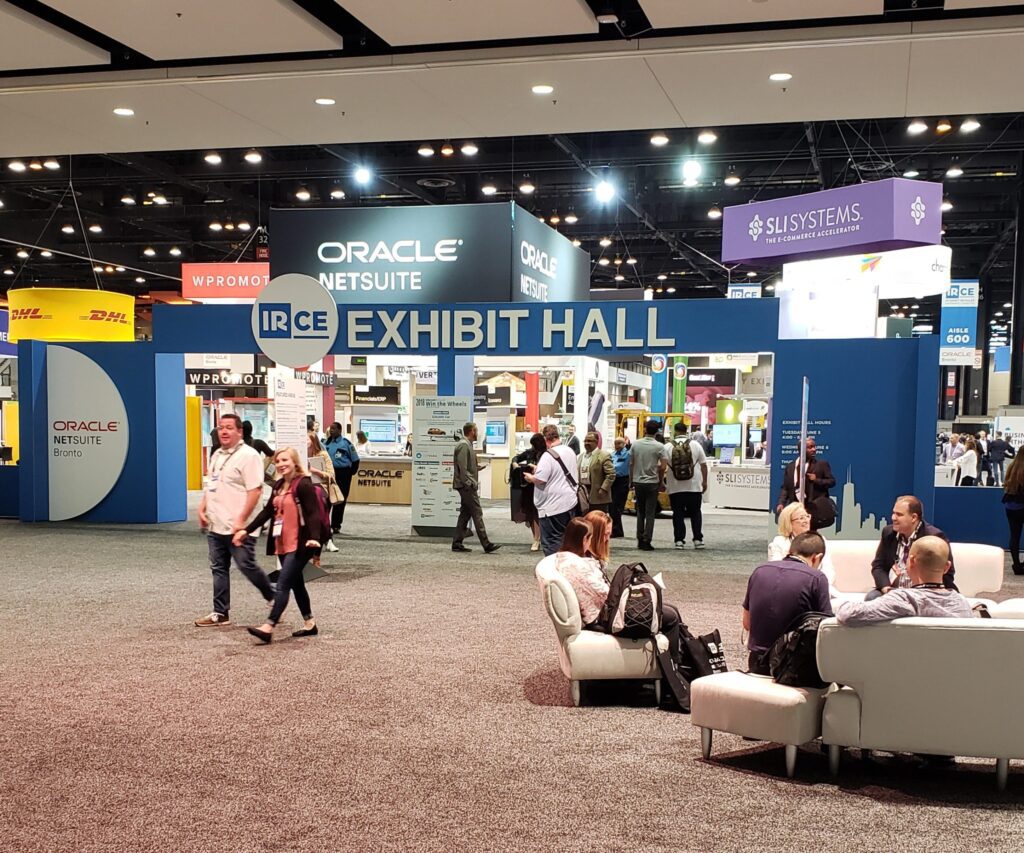 The second day of IRCE has come and gone and we've got the full recap of what went down.
In case you missed it, check out our day 1 recap for an in-depth summary of the first main day at IRCE.
The morning started with a keynote address from Alon Cohen, the President and Co-Founder of Houzz, an online marketplace for homeowners looking to remodel. Alon spent some time talking about how his company started out as just a fun side project. He and his wife were in the process of remodeling and were looking for inspiration, but didn't know where to look. A year later, they had started Houzz, where users could flip through images of different interior design and save their favorites for later.
Alon talked about how when they decided to monetize the brand, they wanted to make sure that everything they did was to improve the customer experience and make it easier for people to find what they wanted. In less than five years, they had accrued 40 million+ unique monthly visitors and 1.5 million active home remodeling designers. By focusing so heavily on the customer experience, they've been able to continually scale their company, and in 2016 won the best app award from Google Play.
They've continued to innovate by offering Visual Match, where consumers can pick out different items within a photo and then either purchase them, or find similar products to purchase. Even more exciting is their 3d studio, where they've combined 3d models of over 1 million products with an augmented reality matrix, allowing users to place virtual furnishings within their home in real time.
The combination of innovation and customer experience continues to lead to profitable growth for Houzz, something that any retailer would be smart to emulate.
Next up was another keynote address, this one from Eloquii CEO, Mariah Chase. Eloquii is a fashion retailer that caters to women sizes 14+. Mariah discussed the incredible importance of quality data in relation to your marketing plan, and the role that technology plays in collecting and utilizing that data.
"Technology advancements are seismic forces that have disrupted and will continue to disrupt consumption patterns and the broader consumer/retail and distribution industries." -Goldman Sachs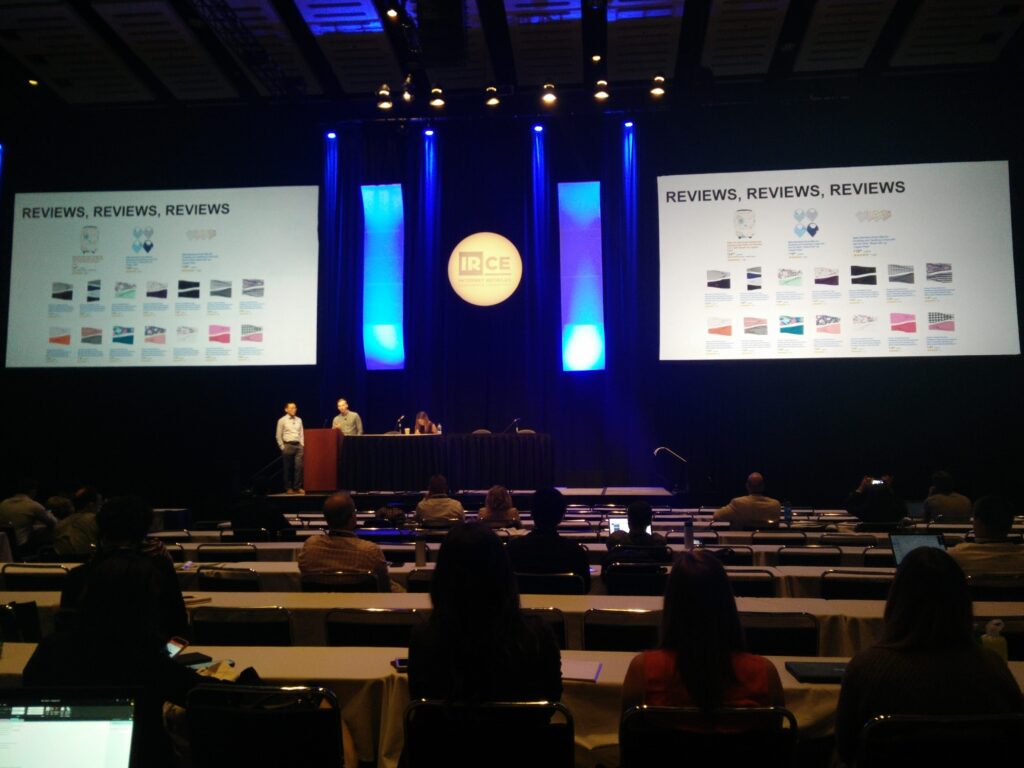 Mariah mentioned a concept she defined as "pretailing", which takes non-sales demand data to drive smart real-time inventory and marketing decisions. For example, Eloquii put out images of future products that weren't even available yet, and allowed customers to wait list the item. This allowed Eloqui to mitigate risk on an item that had the potential for a lot of volatility (ie, an item that is risky, trendy, or outside the norm). This gave them to read and react quickly to trending items or underperformers.
She also talked about the importance of branding, stating "we live in a world of data-driven marketing and yet brand has never had more significance. Eloquii believes that fashion has a transformative power. It can change your life, so it needs to be special and the branded message needs to have an impact."
The next session was from Internet Retailer Research Director, Fareeh Ali. Fareeh highlighted the incredible growth and staying power of worldwide marketplaces. Over $1.5 trillion was spent globally on the top 75 online marketplaces in the world. These 75 grew 34% last year in gross sales, and more than half have launched within just the past 7 years!
Fareeh went on to mention that the 42 US marketplaces they surveyed were responsible for $473 billion in sales last year. However, that number paled in comparison to the top two worldwide marketplaces, Alibaba and Tmall, which sold over $768 billion.
She ended the presentation with some predictions for the future, pointing out that:
Large brands will continue to join Amazon and other top marketplaces (recently joined Amazon: Nike, Chico's, Gap, Under Armour, Best Buy, Calvin Klein).
Walmart and Ebay aren't going anywhere. Ebay hasn't been growing as rapidly as other marketplaces, but they are still growing, and have been picking up momentum in 2016 and 2017. Walmart will continue to expand their own marketplace and grow with the acquisition of jet.com.
More large retailers will launch their own marketplaces. In the past two years alone, Urban Outfitters, Albertsons, Crate and Barrel, Overstock, and more have all launched marketplaces. More will follow.
The last session before lunch focused on personalization, led by Nick Smyth VP of Qubit, and Felipe Araujo, Director of Ecommerce for Diane Von Furstenberg. They discussed how personalization means different things to different people in difference industries. It needs to be highly effective and highly scalable.
They went on to talk about what really works for personalization, listing off the following requirements:
Business buy-in at senior level
Solid data foundations
The right blend of scale and success
The right strategy on the right channels
They also talked about the steps necessary to create an effective personalization program:
Strip back excessive technology
Create a solid visual identity on your site
Create a solid shopping experience and streamline the buyer's journey
Add trending products, powered by social proof (reviews, UGC)
Create low stock callouts when someone selects a size (scarcity is powerful, but keep it tasteful)
Develop a winning strategy for mobile (launch a servery to determine why people aren't buying on mobile, faster browsing on desktop, easier product discovery, easier payment)
Identify the most valuable customers and think omnichannel
Lastly, they talked about implementing machine learning to fast-track the process. They mentioned the need to focus on returning visitors/non-purchasers, making them feel like you know them and what they want (based on what they browsed in the past).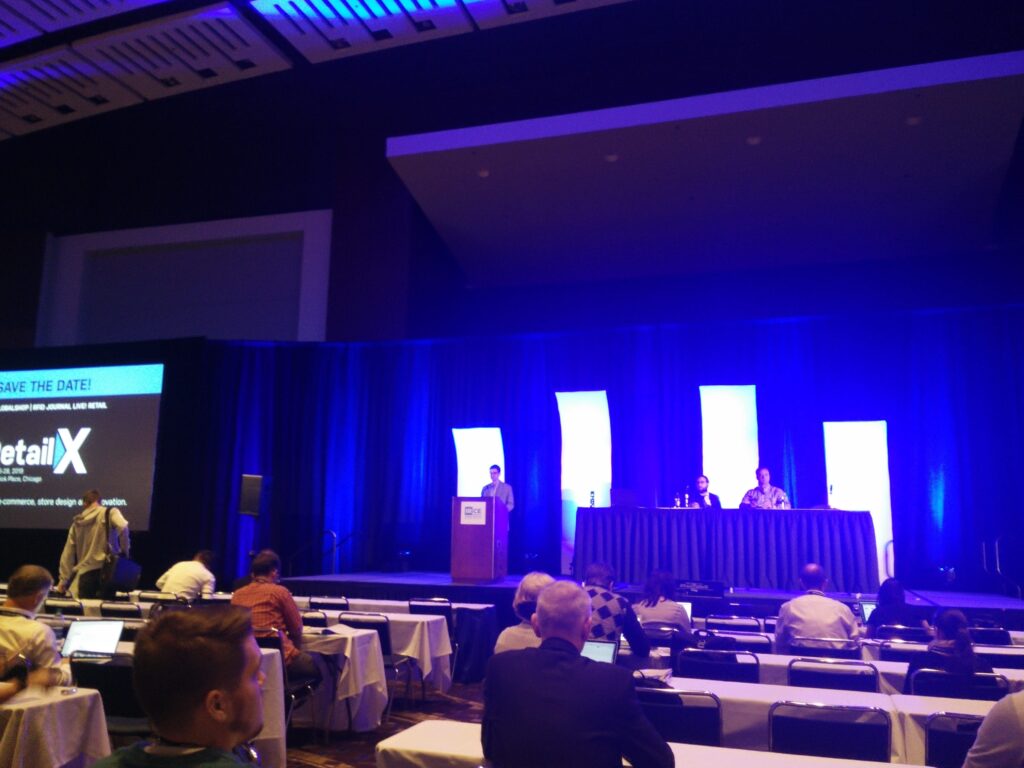 After the lunch break, sessions resumed with a talk on artifical intelligence from Donna Holt, Senior Product Manager at Office Depot and Mike Ni, CMO of RichRelevance. They both discussed how artifical intelligence can have an immediate impact on your testing and expirementation because it can be done in the moment and respond to the data immediately.
They talked about purchase intent and the plethora of digital signals available to marketers who know where to look, and how AI can help utilize those signals to connect the dots on what is driving consumer behavior and purchases.
They concluded by talking about how AI can and should be used throughout the entire sales cycle. From awareness to acquisition to retention, AI can be used to personalize email, create unique recommendations, and follow-up sequences.
The last presentation of the day was on optimizing the online customer experience for sales, led by Mike Moussa, VP of FGL Sports. Mike talked about the 5 pillars of successful optimization
Culture
You have to change your culture to understand that you can't put forward a test unless you're 100% committed to following through with the results.
"Most large organizations embrace the idea of invention but are not willing to suffer the string of failed experiments necessary to get there." -Jeff Bezos
Process
Only 24% of companies are looking at persuasion principles in their experimentation, but thinking holistically about the entire optimization process is essential to success.
"If you can't describe what you are doing as a process, you don't know what you are doing." -W. Edwards Deming
Accountability
Even in the most mature organization, 40% of optimizers say experiments are derailed by gut-feeling decisions. The best optimization organizations combine the analytical and creative approach to experimentation (AKA, the Zen marketing mindset).
Expertise
Using the knowledge you gain from your testing to lead the company in a new direction based on cost benefit analyses. You have to be willing to put your ideas on the line.
As a company gets more mature, they don't just need to run experiments, they need to run good, smart experiments. It's no longer guesswork, it's educated hypotheses.
Technology
The technology that's right for you depends on your industry, where you're at in your maturity, what you strategies are, etc. This is often the first place marketers look, trying to find silver bullets.
First,you need to determine what are you trying to accomplish as a business? What's the customers experience? What do they need in their experience? And THEN determine where technology fits in that equation.
The entire day was jam packed full of expert insights and in-depth tactics to improve advertising, marketing, and the entire customer experience.
If you're looking for even more details on what went down at IRCE, check out our recap from day 1 as well, which tackled even more of the trends and hot-button topics in the ecommerce industry.
Looking for more digital marketing trends and insights? Download our comprehensive report, The 2018 Ecommerce Trends + Tech Brand Growth Guidebook. You'll uncover the innovations and technologies that are reshaping the world of digital marketing.