A packed showroom, fascinating sessions, engaged retailers and massive enthusiasm saw an incredible start to the 13th annual IRCE!
With over 10,000 in attendance from around the country, IRCE 2017 has been one of the most dynamic and successful yet.
For those who didn't get to attend, or were absent for day 2 (June 7th) events, check out these highlights as we recap the exciting event moment-to-moment!
---
Day 2 Afternoon– Wednesday, June 7th
Trifecta! 3 Tactics to Optimize Every Selling Channel
After a quick lunch break, sessions started up again in full force. Victor Rosenmann, CEO of Feedvisor, and Michael Ward, CEO of Best Costume & Toy Deals gave an insightful presentation on channel optimization and the key differences in sites vs. marketplaces.
Looking at where B2C traffic generally goes, they presented data indicating 55% goes to branded stores (websites), and 45% goes to marketplaces. They said what we are seeing with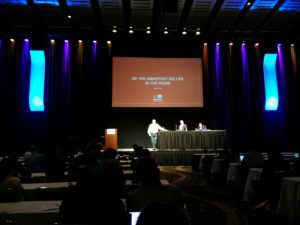 the US economy is starting to follow China's model, where 90% of online traffic goes through marketplace.
Like many presenters, they focused heavily on the importance of Amazon, citing statistics that indicated over fifty percent of US households are Amazon Prime members.
Their presentation also focused on determining the differences between sites and marketplaces, expanding on the idea that while both are similar, each have different sets of best practices for optimization.
While they both have bids, organic/paid traffic, and are search centric, the important aspect lies within the way the customer's view them. Sites like Google are focused on discovery, whereas Amazon is transaction-oriented.
Furthermore, Google searches are measured as being 1-dimensional (keyword/bid/price/etc.), while Amazon searches have multi-dimensional ability: keyword bid price, product price, seller ratings, reviews, and other metrics.
By understanding the differences and similarities, Victor and Michael argued that optimization becomes a much more streamlined process on both fronts, focusing on sophisticated data to allow for business growth.
Busting Through the Paid Search Silos: 7 Tips to Feed and Expand Your Funnel
Next up on the agenda was a joint presentation on managing and increasing the sales funnel, delivered by Tech Armor's product marketing manager Nico Cabral, and CEO of OMG Commerce, Brett Curry.
Their presentation began by debunking some of the more outdated concepts of campaigns, and urged the audience to focus on how campaigns can influence one another to expand and feed the funnel.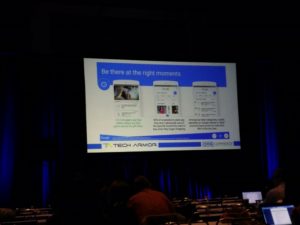 At the top of the funnel, Nico and Brett advised to go beyond the query with audience targeting. Leveraging Google assets, they said geographic and demographic targeting allow you to focus more specifically on key states, locations, income groups, and age groups that buy the products.
In mid funnel, at which most retailers experience the largest volume of potential buyers filtering in, they said it's important to treat every product differently with SKU level bidding. When it comes to Google Shopping, they said retailers should be aware of what every single product is up to, as well as which ways certain products need to be handled.
When it comes to the bottom of the funnel, Brett and Nico said direct conversions is the name of the game. This allows retailers to ignore audiences all together and instead focus on specific bids and queries. They said to be as specific as possible with keywords and long tail keywords, as potential buyers are in decision mode. For every one you may push away with your specificity, you should be able to similarly garner a conversion.
Affiliates, Attribution, and Commission Split
The following presentation focused on defining the "Last-Click-Wins" problem, and was delivered by both Chad Waite of AvantLink.com and Sarah Hohman of Cabela's.
They said that in 2016, 74% of the IR500 clients used the affiliate channel for promotion and to bring in new customers or resell to current customers. Furthermore, 1 in every 6 affiliate sales involves more than 1 affiliate, and 1 in 10 involve affiliates from multiple networks. A big point they stressed was the massive variations of affiliates and how they interacted, including everything from social media, to coupons, to rebates, to loyalty/rewards programs, to blog, etc.
The solution they proposed for splitting commission sales with multiple affiliate referrals was dynamic commission splitting using actionable attribution. Splits depend on how many affiliate referrals were made and when they occurred for each sales cycle. That way retailers are able to reward the actual impact vs. perceived value in a sales cycle.
Chad and Sarah also elaborated on the dynamic splitting process, breaking referrals down into 3 distinct categories: Introducer, Influencer, and Checkout influencer. Each one of these groups is given a specific split of commission as defined by a program. It guarantees that affiliates will get a portion of the payout, they're going to stay in the program, and they will want to stay in the program more.
Email Marketing Campaigns for Today: How More Creativity = More Sales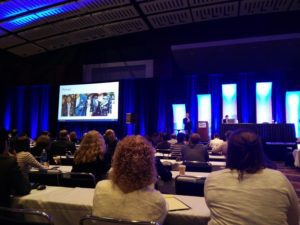 The day's final presentation came from yet another one of ROI's clients, PinMart, as well as one of our partners, American Eagle.
Joseph Gustafson, marketing strategist for American Eagle, and PinMart president Michael Dominelli gave an informative lecture on email marketing campaigns, and how creativity is what wins the day.
Across both companies numerous campaigns, they've found that the business landscape is wholeheartedly saying, "content is king."
With 75% of businesses looking to increase the amount they are spending on content, Joseph and Michael stressed the importance of interaction. They said people don't want to read an email, they want to click on it and have it shown to them so they feel as though they're involved.
The process they laid out for building this interactive email content was structured around 4 central steps:
Concept and Design
Manufacturing Sourcing
Marketing and Merchandising
Ecommerce Marketplace Testing
Each one of these steps allows for the guiding and development of content that speaks to a particular kind of audience, thus helping to ensure people actually take the time to interact with the content rather than simply looking it over.
To be successful with these campaigns, Michael and Joseph said a content calendar is essential. They said the calendar drives everything, but that you need to be able to adapt if something changes and be able to fit in a new email to match a trending topic.
If done correctly, they said a campaign should be able to be flexible, but still have that backbone that keeps everything on schedule.
---
Stay tuned for a complete recap of the 8th and 9th's sessions and events!