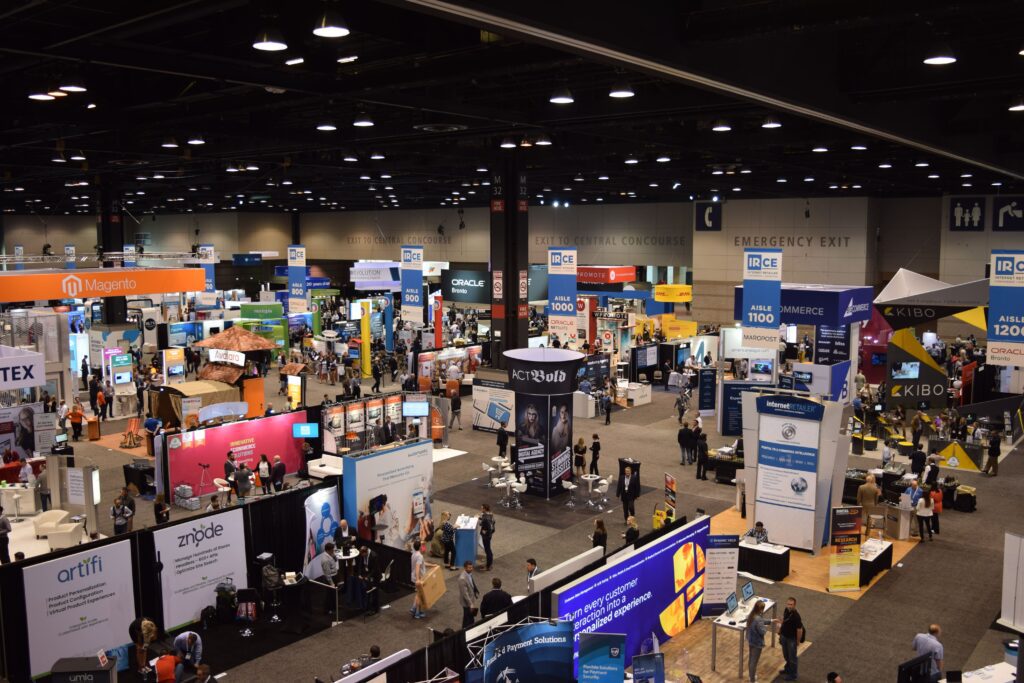 Day 1 of IRCE is in the books, and boy, what a day it was! With sessions from top companies like Warby Parker, Plow & Hearth, Loot Crate, Pinterest, Hollister, Snapchat, and Facebook, it was wall-to-wall insights and innovations.
The day started off with a keynote from Warby Parker co-founder Dave Gilboa. Dave shared how his company started in an apartment and quickly grew to a multi-billion dollar empire with over 1,500 employees and 70 stores nationwide.
Their goal from the beginning was to produce their own brand of high quality glasses, sold directly to consumers online, exclusively through their website. At the time (2010), this was unheard of. Less than 1% of overall glasses sales were online.
So how were they able to take a brick-and-mortar industry, and convert it into an online powerhouse? The answer is simple… customer experience.
From the beginning, they invested heavily in customer service. They offered free shipping, 24 hour support, and the ability to test out 5 pairs of glasses for 5 days, with a free return label to send them back.
Dave talked about how consumers don't think in terms of marketing channels, they think about the experience as a whole, and that's what your business needs to do to be successful.
To compliment this experience, Dave and his co-founders focused on the entire buyer's journey, and made it seamless for customers to shop online and buy in a physical store, or vice versa. They focused on making each customer the star, and tried to speak to them through unique store designs, a friendly and inviting atmosphere, and outstanding customer service.
This led to their rapid growth, and also an NPS (net promoter score) of 87, absolutely obliterating their competition in the industry, and even surpassing retail and ecommerce giants like Costco, Amazon, Netflix, and Apple.
Following Dave Gilboa was another keynote address, this one from author Seth Godin. Seth is one of the most influential thinkers in business and marketing, and his session focused on how your business can set itself apart in a sea of competition.
Seth pointed out that it's a good news, bad news situation for marketers and advertisers. The good news is, customers are only a click away from making a purchase. The bad news is, they're also a click away from your competitors.
He went on to talk about how the vast majority of the ecommerce industry is focused on trying to reach the masses, and make their offer more efficient. This is a fools errand, as customers today are savvy and don't want to hear the same old jargon from companies. They want something unique. They want something different. They want value.
To provide that value, marketers need to realize that everything they do needs to start with a personal connection and a story. It's the narrative you tell as a marketer that can turn a browser into a buyer. You need to engage your consumer on a human level.
Your goal as a marketer is to be the only one, the irreplacable one to customers. Effective organizations are the ones that make change happen. They embrace it and use it to differentiate themselves from the competition.
You need to be willing to think outside the box, even if it doesn't work all the time. No idea is a bad idea.
Seth finished his presentation with a powerful message to marketers: if failure is not an option, neither is success.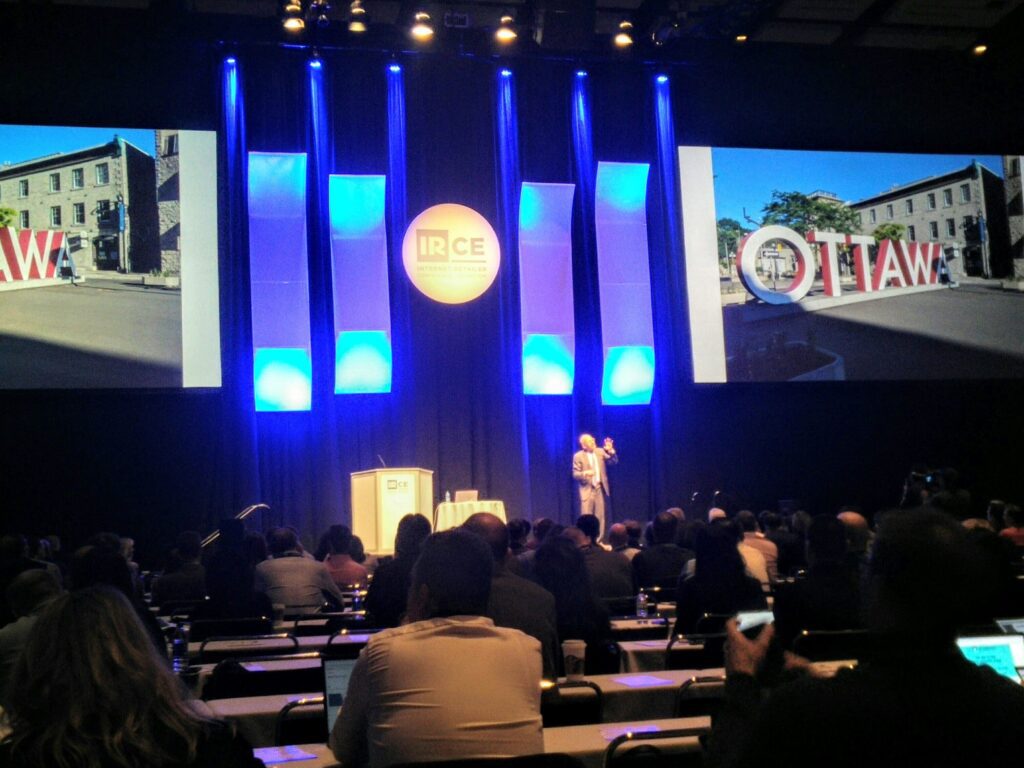 After a brief break, sessions returned with a presentation from Don Davis, Editor at Large of Internet Retailer. Don painted a rather harrowing picture for the future of retailers, talking about the perils that Amazon poses to many online businesses. He mentioned that last year, Amazon was responsible for 42% of all US online retail sales.
He also talked about why Amazon is so scary for retailers, pointing out their growing market share in voice searches, and how Amazon can actually lose money in retail due to their incredible profit margins in cloud and web services. This allows them to undercut sellers and focus on what sets them apart: impeccable customer service.
Retailers are forced to compete with what Amazon offers, which can be very difficult for small and mid-size businesses. Free shipping and 5 star customer service are no longer a luxury, they are necessary commodities that businesses must have if they wish to be successful.
Don did mention that the future is not bleak for everyone, however. Those willing to innovate and think outside the box can still succeed, as evidenced by the tremendous YOY growth of many retailers in the IR Top 500.
Next up, we had the chance to hear from one of ROI Revolution's clients, Plow & Hearth. Cindy White, Plow & Hearth's Senior Ecommerce Marketing manger, focused on email marketing, and how to utilize and implement strategies from the top marketing companies in any industry.
The first key strategy centered on incorporating the value of email into calculating ROI on other digital channels. For email advertisers, it is often beneficial to create print materials as well, especially in catalogue form. The effectiveness of using both, compared to just email, can be very significant.
Additionally, to expand the value of your emails, you need to combine your search & email strategy. PLAs (Product Listing Ads) are an excellent compliment to email marketing, as they often times result in more email list subscribers, which ultimately result in more sales.
Cindy went on to mention that in order to increase site traffic, you must think carefully about pricing. With catalogs, your competition is only the 2-5 other catalogs that the customer may have received that week/month/quarter. But when it comes to online, the only way to show up is through competitive pricing. You should decrease your prices on popular and key items to match market price in PLAs.
The last morning session covered the topic of personalization, led by Caitlin Flemming and Scott Drayer of Paul Fredrick. Their presentation honed in on how it's crucial to make a personal connection through your marketing channels.
The first step they outlined was how to develop your strategy around customer events and define opportunities by making some educated assumptions as to why those events occurred (ie, abandonment, purchases, subscriptions, etc).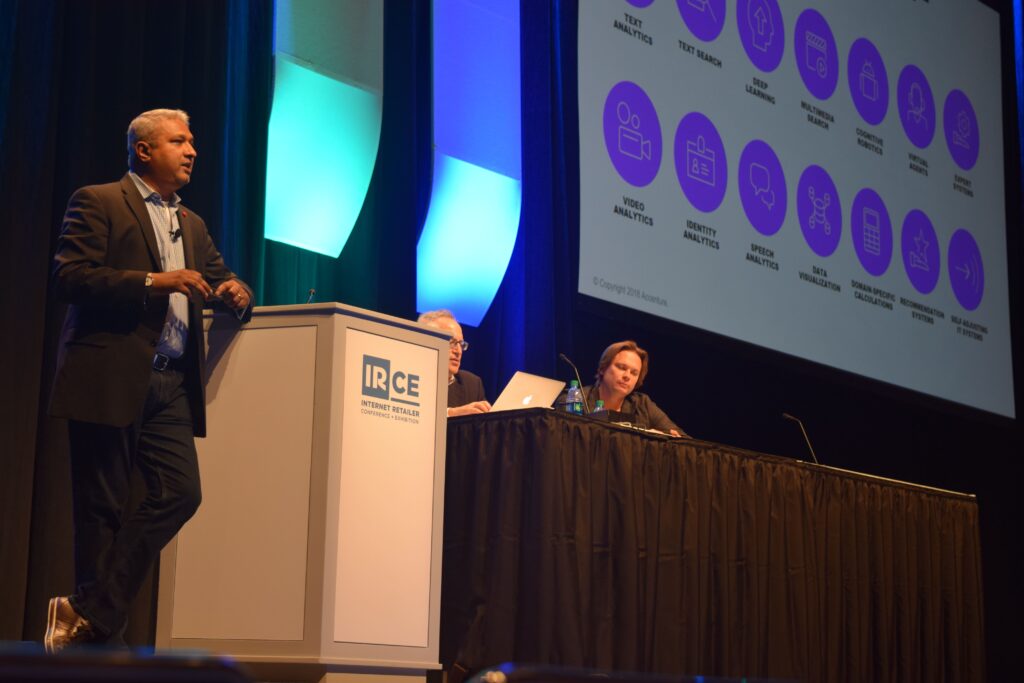 Once you know the events that are email triggers, it's time to personalize. In order to maximize performance you need to be running split tests on emails throughout the customer journey. Place a strong emphasis on building brand loyalty and making products easily accessible.
This can be achieved through product and post-purchase recommendations, which will help customers in their journey and keep them coming back for more.
After a break for lunch, sessions resumed with a compelling talk on the power of artificial intelligence from Guido Campello, CEO of Cosavella, and Vish Ganapathy, Global Retail Director for Accenture.
As products become more commoditized and competitive pricing increases, the cost of keeping the customer is going to be the main factor of success. According to Guido and Vish, this is where AI comes into play, as it can help you find customer segments that couldn't be detected nearly as efficiently, or at all in some cases!
AI works because traditional programming has always been created to achieve a specific goal, while AI is designed to discover new goals and find a recipe to solve future ones as well.
AI is huge for merchandising as it can help detect which customer segments are driving sales. While implementation can be a challenge, in many cases it can free up 25% of a merchandisers role. They can then use that time to find new ways to utilize and improve the AI.
The key takeaway from the presentation was that you aren't teaching computers what to look for, you are teaching them how to learn and implement their learning to improve your full-funnel customer experience.
Following this captivating session was an equally informative conversation on the importance of analytics, presented by Danny Gavin, VP of Brian Gavin Diamonds, and Henry Quinn, Digital Analytics Manager at L.L. Bean.
These two ecommerce experts teamed up to unravel the mysteries behind analytics data, and how you can use it to customize your email sequences and re-target customers who have fallen off before making a purchase.
They both dove right in head first, emphasizing how essential automation and personalization are in email campaigns. While 72% of top retailers have a welcome email series, far fewer are doing browse and cart recovery.
A series of case studies revealed that the average order value (AOV) for browse recovery emails for Brian Gavin Diamonds was 83% higher than any other email sequence, and they added an additional 28% in overall revenue from email marketing.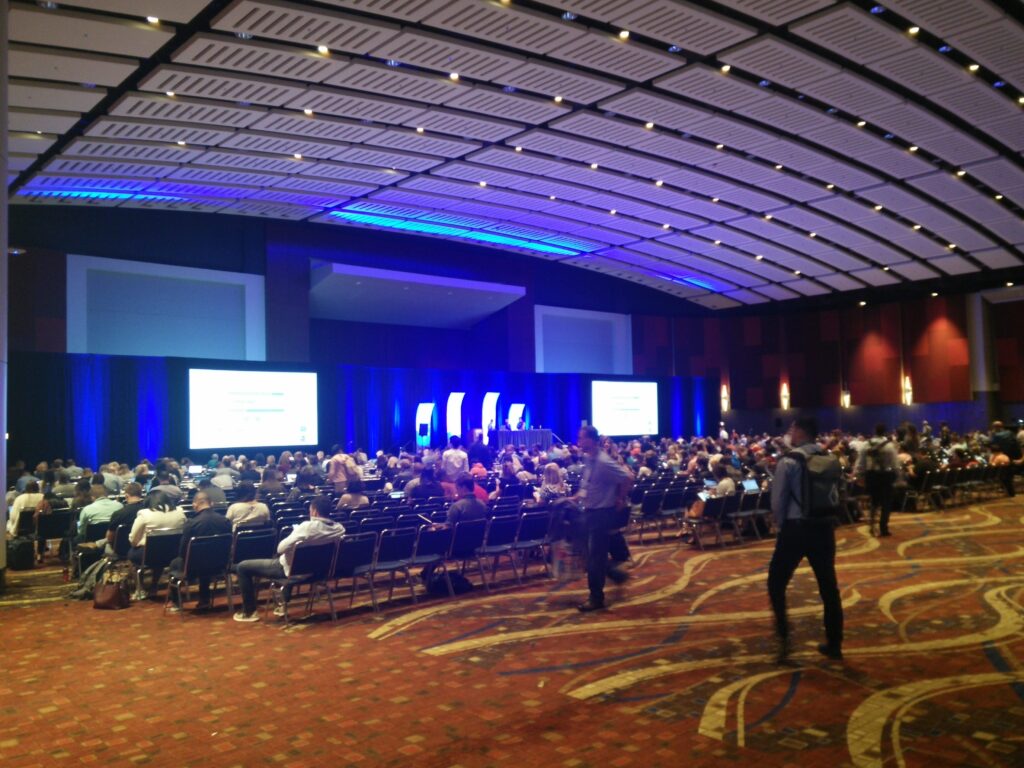 The session wrapped up with a series of do's and don'ts for browse recovery. The do's highlighted a focus on offering multiple products, creating a sense of urgency, and basing the send on how many times a consumer viewed a product. The don'ts focused on not bombarding customers, not being pushy, and not over-personalizing emails, which can make people feel like they're being watched and targeted.
The last session of the day focused on mobile advertising, headlined by Facebook's Director of Product Marketing, Graham Mudd, and Nordstrom's VP of Marketing Analytics, Jason Gowans.
Graham outlined how the mobile phone is a core part of the customer journey and consumers' lives. He went on to say that mobile is at the center of the new retail landscape. However, Graham pointed out that 90% of US Sales are still happening in stores.
The silver lining is, that 56% of those sales have some digital toughpoint in the journey, and 37% are influenced by mobile.
Jason mentioned that the key to succeeding in mobile is getting consumers' attention. You need to be relevant to your customer and find a way to stop their thumbs from scrolling past your message.
They outlined the three keys to mobile success as:
Making your product catalog personal.
Connecting your physical store to your online presence.
Creating immersive merchandising opportunities through augmented reality, Instagram stories, and more.
The session and the day wrapped up with Jason and Graham discussing how bringing technology and marketing together is essential to success. You need to be able to predict what ad will have a meaningful impact on consumers, and that can only be achieved through a combination of technology and data.
Overall, day one was filled with some unbelievable insights, unique strategies, and excellent storytelling. Here's hoping day two can match day one's intensity! Stay tuned for a full recap tomorrow morning.
Looking for more digital marketing trends and insights? Download our comprehensive report, The 2018 Ecommerce Trends + Tech Brand Growth Guidebook. You'll uncover the innovations and technologies that are reshaping the world of digital marketing.