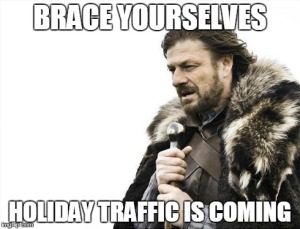 Only a few more days until Thanksgiving, Black Friday, and Cyber Monday. Shoppers everywhere are counting down to the biggest sales of the year.
But if you're reading this, you likely find yourself on the other side of that fence – bracing for the onslaught of shoppers, browsers, and competition that's scheduled to hit as early as Thursday.
And we've found that one of the easiest and most important ways you can prepare your AdWords account for the holidays is budget management. We'll show you what we mean.
0.5. Work from Your Data
Industry data has an important place in any plan. But nothing beats historic data specific to your account. So instead of playing guessing games, time travel through your AdWords account to 2013 and look into your best (and worst) performing days, hours, and campaigns from last holiday season.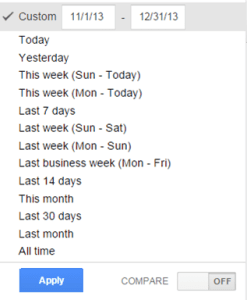 Be sure to make note of key spikes in sales and traffic across all of your campaigns. Then, you can drill into specific campaigns to assess key dates for a particular product line, brand, or category of products. All of this data can be exported into Excel if you want to analyze it further.
This account-specific insight will enable you to make important holiday-specific bid adjustments, so you can make the most of your budget this quarter.
1. Taking Your Bets on Top Performers
While you're preparing to make the most of next week's shopping frenzy, so are your competitors. This means those all-important top positions will be facing much hotter competition than usual, which will drive up your cost per click.
Now, chances are, you're not a company with limitless dollars to throw into AdWords. But that doesn't mean you have to let this increased CPC limit your traffic. Instead of taking a risk by bidding up all your campaigns, focus on the top-performing campaigns or ad groups and allocate more budget to these areas, decreasing spend in other low-performing campaigns if necessary.
By promoting proven performers, you ensure you get the best bang for your buck.
2. Make Sure Your Budget Caps aren't Beheading Profitability
Inevitably, your AdWords cost is going to go up with the increase in traffic and competition in the coming weeks. (Though don't worry – our clients usually see a 50%+ boost in conversion rate as well, so it's not all bad news!) The last thing you want to do is behead your profitable traffic with nonstrategic budget caps.
Don't wait for Google to tell you you're limited by budget! By the time you get the notification telling you your campaigns are consistently being turned off due to meeting budget, it's too late and, judging by click and conversion trends this time of year, you've already lost a lot of sales. Be proactive by raising your budget limits for the holidays before they are consistently met. We personally recommend raising by 3x-5x your current budget.
Raise your mobile bid adjustments. Many retailers bid lower for mobile, as they do not get as many direct conversions from mobile as they do from desktop. However, when it comes to the holidays, we expect a rise in mobile phone use for shopping, as harried shoppers do their Christmas shopping on the go. You definitely want to boost your mobile presence this time of year.
Some have even taken to calling Thanksgiving "Mobile Thursday" or "Mobile Turkey Day." In their 2014 online shopping forecast, Adobe predicted that "31% of online sales will be generated via smartphones and tablets, up from 21% in 2013." While you may be spending the day away from your smartphone enjoying family and friends, it's important you set up your AdWords account for success on this high-traffic mobile shopping holiday.
Double check all your bid modifiers. Make sure you're not suppressing or increasing bids too much with various bid modifiers. Bear in mind that these bid changes compound on one another. For example, a -30% modifier on Florida x a -60% bid on mobile x -35% on evening hours= a $1.00 bid dropping to 18c for a user in Florida searching on their phone in the evening. While this may be smart for the rest of the year, many of the usual trends change around the holidays.
3. Cut Out Questionable Spend
Raising your budget is a necessity for hitting peak performance during the holidays, but what about retailers who have a fixed ceiling for just how much they can spend in AdWords?
Good news – there are some simple ways to reallocate the budget you do have to your top performers by cutting out keywords that are wasting your money. When we review AdWords accounts, we commonly see retailers losing tens of thousands in wasted spend and missed opportunities without even knowing it. But there are some simple filters you can run to get on the right track. Here's a quick overview of two of these filters:
Non-Converting Keywords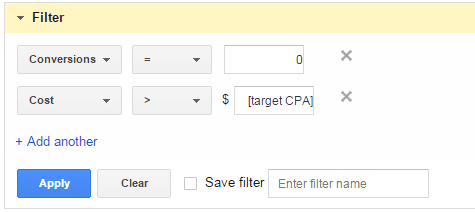 This report will give you a good idea on how much you are spending on keywords that have not directly contributed to a conversion.
Questionably Performing Keywords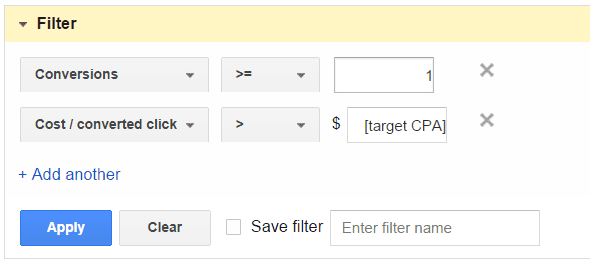 This keyword report gives you insight into more keywords that are very "iffy" and could very well be dragging down your ROI. This filter is another great one to run if you need to find places to reallocate your budget and cut bad ROI.
Are you interested in learning more about demographic targeting and other AdWords features? Grab our special report, 9 AdWords Traps that Kill Profits. This report gives you a detailed analysis on the major pitfalls that can cripple your ecommerce business. It outlines how you can avoid these obstacles and optimize your AdWords account to increase your overall revenue with a systematic, data-driven approach.
Oh, and – Happy Thanksgiving from all of us at ROI Revolution!