Top Ecommerce Acquisitions of 2019
2019 saw over 29 online retail acquisitions among Top 1000 and Next 1000 retailers. Fourteen retailers disclosed sale prices for these acquisitions, totaling $19.80 billion.
The largest acquisition last year was Louis Vuitton Moet Hennessy's (No. 20 in the Digital Commerce 360 Top 1000) purchase of Tiffany & Co. (No. 179) for $16.2 billion – almost $2 billion more than the initial bid. This deal dwarfs both PetSmart's acquisition of Chewy in 2017 and Walmart's acquisition of Jet in 2016 ($3.35 billion and $3.30 billion respectively). When they occurred, these two deals both held the titles of "biggest ecommerce acquisition to date."
Another notable 2019 acquisition comes from PayPal, who acquired Honey for $4 billion. This acquisition – PayPal's largest to date – indicates their mission to play a more meaningful role in the daily lives of their consumers.
2019 Sales: By the Numbers
Boosted by Cyber Monday's record sales falling in December, U.S. nonstore retail sales grew at the highest ever year-over-year rate for the month. While November was the month with the weakest YoY growth, November and December combined saw nonstore sales climb 14.6% – the largest seasonal boost since 1999 – to reach $167.8  billion.
This helped close out 2019 with a 13.9% uptick in nonstore spending, from $655.23 billion in 2018 to $746.24 billion in 2019 – the biggest annual growth in nearly two decades.
Total sales hit $3.76 trillion up 3.8% from 2018 sales. While this is fair growth, the growth rate itself is down from the 4.1% YoY increase we saw in 2018.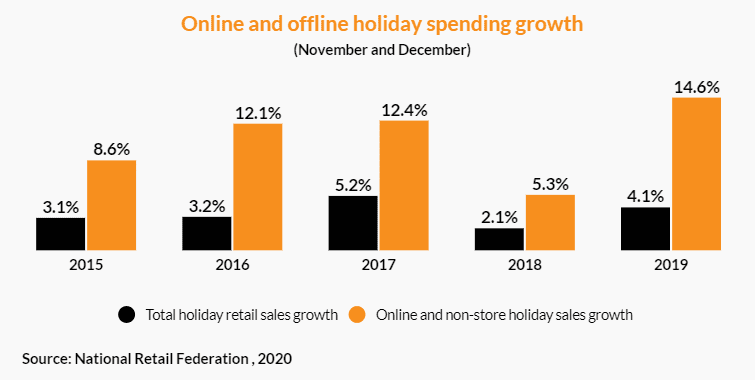 Amazon Profits Fall Despite Rising Sales
While Amazon.com Inc.'s sales rose 24% in the third quarter, the retail giant's one-day free shipping offer put a dent in its bottom line as its net income fell 26%. Amazon's shipping costs rose roughly 46% during the quarter to $9.61 billion. Brian Olsavsky, the retailer's chief financial officer, acknowledged that the costs associated with the shift to one-day delivery have been higher than anticipated. Jeff Bezos commented,
"It's a big investment, and it's the right long-term decision for customers." 
In addition to shipping costs, Amazon's marketing costs rose nearly 44% year over year to $4.75 billion in the third quarter. The sales reflect this investment with Q3 net sales reaching $69.98 billion – up $13.4 billion YoY.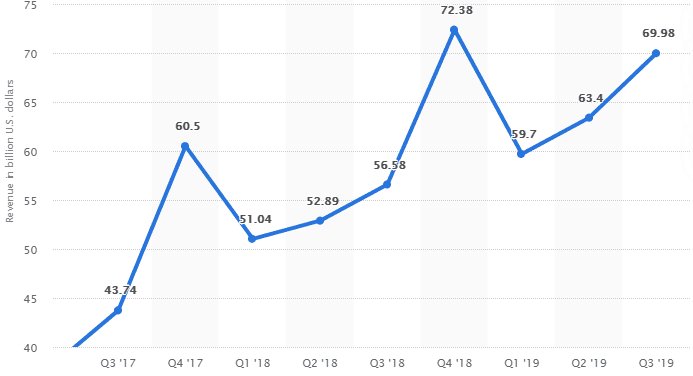 Looking for more industry insights? Check out our other recent installments: