The world of organic search is always changing, and this year kicked off with its fair share of changes. In our January 2023 SEO news recap, uncover some major updates like a change to EAT, what Google's guidance is for AI-generated content (like articles generated through ChatGPT), what Google algorithm updates have occurred over the past month, and more.
Use the links below to jump to each January 2023 SEO news story:
Google Updates Quality Raters Guidelines With an Extra E
Google recently updated the aspects of EAT in the Search Quality Raters Guidelines with an added E for experience. EAT stands for expertise, authority, and trustworthiness. This added E adds in another dimension of how the search raters evaluate the performance of search results.
EEAT are guidelines that can help creators understand how to assess their own content's helpfulness for people searching topics relevant to their business.
Google's Stance on AI-Generated Content
AI (artificial intelligence) content has sparked many interesting conversations among professionals and academia. Some recent attention came when a large finance site, Bankrate, started using AI to generate content and was transparent about it.
Google's search liaison, Danny Sullivan, weighed in on Google's position about AI-generated content. He said:
"As said before when asked about AI, content created primarily for search engine rankings, however it is done, is against our guidance. If content is helpful and created for people first, that's not an issue."
He also references the new EEAT guidelines where he reiterates that Google's core system rewards content that clearly demonstrates EEAT (experience, expertise, authoritativeness, and trustworthiness).

Bing Will Add ChatGPT to Its Search Features
In mid-November, OpenAI made ChatGPT publicly available for testing, and it has since become a hot topic covered in the mainstream news. Then, in early January, Microsoft Bing announced that in the near future, the search engine will incorporate ChatGPT into its user interface with the goal of improving results for users.
Microsoft has invested $1 billion in OpenAI to fund its artificial intelligence research. The hope is that adding ChatGPT functionality to Bing Search will improve its 2.8% share of the global search engine market.
While the AI chatbot is impressive and its potential is exciting, we on the ROI Revolution SEO team have found it to lack trustworthiness to this point. The data it uses is limited in recency, and it has been shown to make up sources when asked to site them. We will continue to evaluate ChatGPT and other AI software for possible future SEO uses.
Google's Official List of Search Algorithm Changes & Recent Updates
Google's search algorithm changes and evolves each year to create the best user experience. As a result, there are periodic updates to its algorithms and many ranking factors.
Last year, Google began publishing a list of Google Search ranking updates. It is primarily aimed to increase the awareness of the latest ranking updates to help website owners.
Keep in mind that this is not a complete list, as there may be other unconfirmed updates, bug fixes, or improvements that are not confirmed by Google but reported as volatility in overall search engine results page (SERPs) metrics. The link spam and helpful content updates from December 2022 both completed on January 12, 2023.
Your 2023 Digital Strategy Forecast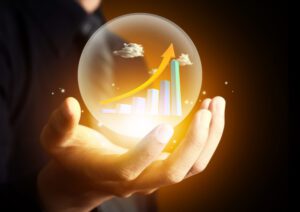 In our 2023 Digital Strategy Forecast webinar, eight ecommerce SMEs from ROI Revolution joined a panel and live Q&A about all things related to digital marketing in the new year. Some of the topics that our experts shared their exclusive insights on included Google algorithm updates, what ChatGPT means for marketers, how cookie deprecation will impact website optimization, and more. Watch the replay to gain all the insights!
Google Algorithm Updates Are Seeds Waiting to Sprout
A question was asked recently about why there is not a defined start and end date of Google Search algorithm updates. In his answer, John Mueller of Google compared launching search algorithm updates to planting a garden. John said:
"You plant a seed in your garden. The neighbor wants to know when it starts growing and when it will stop so that they can take photos. What do you tell them?"
He further clarified that it takes some time for it to be visible once it starts and some time to be complete once it is rolled out to all their data centers.
Google Introduces a Search Status Dashboard
In December, Google announced the launch of a new way to see the status of Google Search systems – the Google Search Status Dashboard.
You can bookmark this new page or subscribe to the RSS feed to easily keep up with any problems that affect external Google Search users.
The example Google provides in their developers' post is:
"If the nameserver handling domain name resolution for millions of sites refuses Googlebot's connection requests, we may post an update saying that changing nameservers may mitigate the issue sites are experiencing."
So, the next time you wonder if Search is down, you can easily see if the issue is widespread and what you might be able to do about it.

Google: JavaScript Should Be Below the Head Element
Google spokesperson John Mueller recently reminded Reddit users that a web page's head element should be clean and organized so that search engines can easily read it and understand what the page is about.
He stressed the importance of moving JavaScript lower on the page, below the head section for that reason, and because placing JavaScript in the head element can slow page load time. Page speed can impact user experience and is a consideration for Google when determining which pages to surface in search results.
Should You "Nofollow" Links to Your Social Profiles?
In short, Google's John Mueller says no. He explained recently on Reddit that if you want to add a meta robots tag, adding rel="me" would be a good practice for open standards-based social media like Mastodon, but it is not advised to add a rel="nofollow" to your own social media profiles.
Is Google Search Getting Worse? Not According to Google.
After Angus McIntyre criticized Google Search (along with other search engines) on Mastodon saying it seems to be getting "progressively less useful," Danny Sullivan replied and rebutted the claim. He reminded folks that Google has reduced the number of irrelevant searches significantly over the past several years, and that Google's teams are always working to improve.
How do you feel about the new SERPs? They're going to keep changing over time, so keep an eye out for exciting new features and updates!


Tying It All Together: January 2023 SEO News
That was a lot of January 2023 SEO news and updates! SEO and organic search are always changing due to algorithm updates and new insights about what factors Google considers when ranking articles. The SEO team at ROI Revolution is dedicated to staying on top of all the latest changes so that we can get our clients ranking higher on Google and dominating the first SERP. To explore the untapped opportunities that we could discover for you, send a message to our team today.
Sources