Welcome to the first edition of ROI Revolution's Monthly Marketing News Recap! Each month, we'll be scouring our sources for the latest news, videos, and more to bring you a panoramic view of an always-transforming digital marketing landscape.
Let's dive into some news from May – the first month of what will be a busy busier than usual summer for digital marketers and advertisers. It's gonna be a scorcher!
---
Highlights
May saw plenty of marketing-related news, so take off those sunglasses and let's take a good look.
Terrifying Tariffs (Maybe)
We're going to get a little technical here, but don't worry – it will all make sense in the end.
It's pretty much common sense at this point, but the U.S. and China have had an ongoing trade dispute for a while now (think about all those 'Made in China' stickers you've seen throughout your lifetime). It's all culminating to a boiling point that means if an agreement isn't reached, a 25% tariff (up from 10%) may be placed on $300 billion worth of Chinese goods – affecting nearly 70% of consumer goods overall.
So, how does this affect marketers? It's actually pretty simple. Increased tariffs require retailers to increase their prices, which means that a lot of consumers will be more wary before making purchases. This means that marketers need to turn up the heat.
Stay tuned for June's marketing news roundup to find out if the potential tariff hike is going to affect you.
Google Marketing Live 2019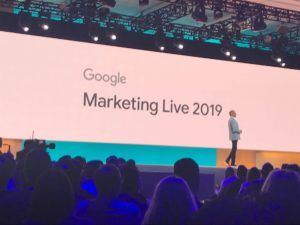 On a sunnier note, Google Marketing Live – the search giant's annual conference for advertisers – took place in San Francisco on Tuesday, May 14, 2019, with an additional 8+ hours of content streaming after its conclusion that night. With over 5,000 attendees, the event was represented by digital marketers from all around the world (68 countries, to be specific).
The summit brought lots of exciting announcements around AI/machine learning, mobile-friendly experiences, personalization, and automation. Through their new discovery and gallery ads, improved Showcase Shopping ads, updated Google Shopping experience, Google Ads app revisions, local campaigns, and a fresh outlook on both inclusivity and user privacy, Google is leading digital marketing into the future.
AI: Assistive vs. Autonomous
Out of the 88% of marketers who are using artificial intelligence, 74% are using it to assist with their tasks as opposed to autonomously take them over. What's the difference? Assistive AI can offer recommendations that help marketers weight options and make decisions. Autonomous AI, on the other hand, can execute actual campaigns and collaborate much more directly with technology. This could indicate a skepticism of AI among marketers. Maybe the computer doesn't actually know best.
Happy Birthday, GDPR!
GDPR (General Data Protection Regulation) was implemented on May 25, 2018, implicating marketers in both positive and negative ways. GDPR is a "set of rules designed to give EU citizens more control over their personal data […] so both citizens and businesses in the European Union can fully benefit from the digital economy." European citizens must explicitly opt into allowing their data to be collected and used. Starting last summer, marketers had a lot less data to use when targeting customers.
Now that a year has passed, marketers have become (at least a little more) GDPR savvy and have found ways to not only survive but thrive with GDPR. For one, if you have to give customers a "yes or no" prompt when asking them anything about data, you might as well ask them another question or two for even deeper segmentation. Additionally, GDPR provides an opportunity for advertisers to show, not just tell. With growing concerns around privacy and security, GDPR compliance helps you prove that you truly care about your customers and their privacy.
Retail Subscription Services: Not as Popular as They Seem?
Retail subscription services like Blue Apron and Ipsy have been making waves recently, but they may not be as popular as you think. 80-85% of US internet users have never signed up for retail subscription services, and more than half think that they'll end up spending more money than they would have otherwise. More consumers are interested in non-retail subscription boxes that offer services like music and TV streaming.
---
The Social Media Water Cooler
Q3 is right around the corner! With that, we have the latest edition of The Social Media Water Cooler. As always, we're covering new features and trends from the social media platforms most relevant to the digital marketing industry in 2019.
Facebook's F8 Conference & FB5 Redesign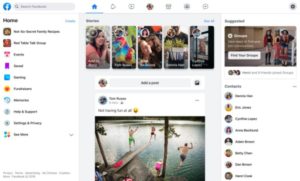 On April 30th, Facebook held their annual F8 conference with more than 5,000 developers, creators, and entrepreneurs coming together to discuss the recent technological advances and opportunities for the future of the social platform.
Among several updates around Messenger, WhatsApp, and Instagram, one of the largest announcements was Facebook's updated design, referred to as FB5.
With a renewed focus on the consumer experience, this update provides a home for users to more readily connect with relevant content and with people who share similar interests and passions.
Snapchat Overhauls Android App
After announcing an overhaul in November 2017, Snapchat rolled out an updated Android app for India and other emerging markets in Q1 2019. The new version is 20% faster and saw an immediate 6% increase from users in markets where iPhones are not the most predominant device. "There are billions of Android devices in the world that now have access to an improved Snapchat experience, and we look forward to being able to grow our Snapchat community in new markets," Snap CEO Evan Spiegel said.
Facebook Streamlines Ads Manager Interface
In a continued effort to improve the tools and products available for advertisers, Facebook has announced a series of updates to its core Ads Manager interface. While rolling out slowly to all advertisers throughout the year, the updates should simplify navigation, provide additional tools to create and edit ads, and streamline campaign management to improve overall efficiency.
Messenger Automates New Customer Communication
In Facebook's family of platforms, Messenger has quickly grown, with over 20 billion messages exchanged each month, and Facebook is eager to help businesses connect with these new audiences. New capabilities for lead generation and appointment-booking through Messenger are currently in beta testing, with the hopes of automating customer communication. Through lead generation templates, businesses can drive people to an automated question and answer flow to better understand what customers are seeking. The appointment booking interface integrates with a calendar system to show up-to-date availability and allow users to book right away.
Let's Get Quizzicle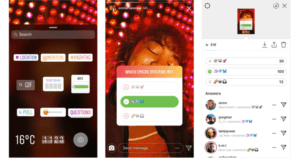 Engagement with followers on social media platforms has always been a great way to build a relationship with your audience and now Instagram has built a new interactive Quiz Sticker to further prompt this social interaction. Similar to Poll Stickers launched in 2017, this update will provide a means to generate additional touchpoints with social media users looking to get to know your brand.
---
Well, That's a Wrap!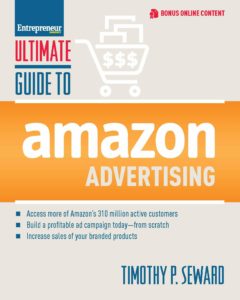 We hope that you enjoyed the first-ever edition of ROI Revolution's Monthly Marketing Recap. With advancements in artificial intelligence and personalization, GDPR celebrating its first trip around the sun, and updates to Facebook and Instagram, May was a whirlwind month for digital marketing. We can't wait to see what June has to offer.
If you have any feedback or something you'd like to see next time, leave a comment down below and let's talk.
One last thing: ROI Revolution CEO and Founder Timothy Seward's book just published! The Ultimate Guide to Amazon Advertising will teach you how to capture new customers through Sponsored Product Campaigns, increase your search visibility, and apply Amazon's secret formula for long-term winning. Buy your copy today!