Determining how to measure marketing attribution is becoming a challenge for marketers in light of new consumer privacy regulations. Knowing where your sales come from is a critical component of any marketing strategy. Without properly tracking attribution, you can't measure the success of your advertising campaigns.
We conducted a survey of over 170 digital marketing professionals from a wide range of industries and business types to help you navigate the tumultuous ecommerce landscape. In this article, dive into the data for insights into measuring attribution and consumer privacy.
Attribution is the top trend that our survey respondents indicated interest in for 2022.
With the rise of consumer privacy concerns, laws and regulations, and cookieless data, the ability to clearly understand the multitude of touchpoints that your customers pass on their path to purchase is paramount to your brand's continued growth.
49.4% of our respondents named attribution as a top-of-mind trend for their brand this year. It's the most important trend for managers at 60.5%. Managers always want to ensure that they can prove to decision-makers that their company's marketing budget is going to good use.
It's also consistently a top trend across verticals, ranking as either the #1 or #2 trend for every industry that we analyzed. But when it comes to annual revenue, we noticed some interesting differences in the importance of measuring attribution in marketing. The more annual revenue a company has, the less important attribution becomes as a trend.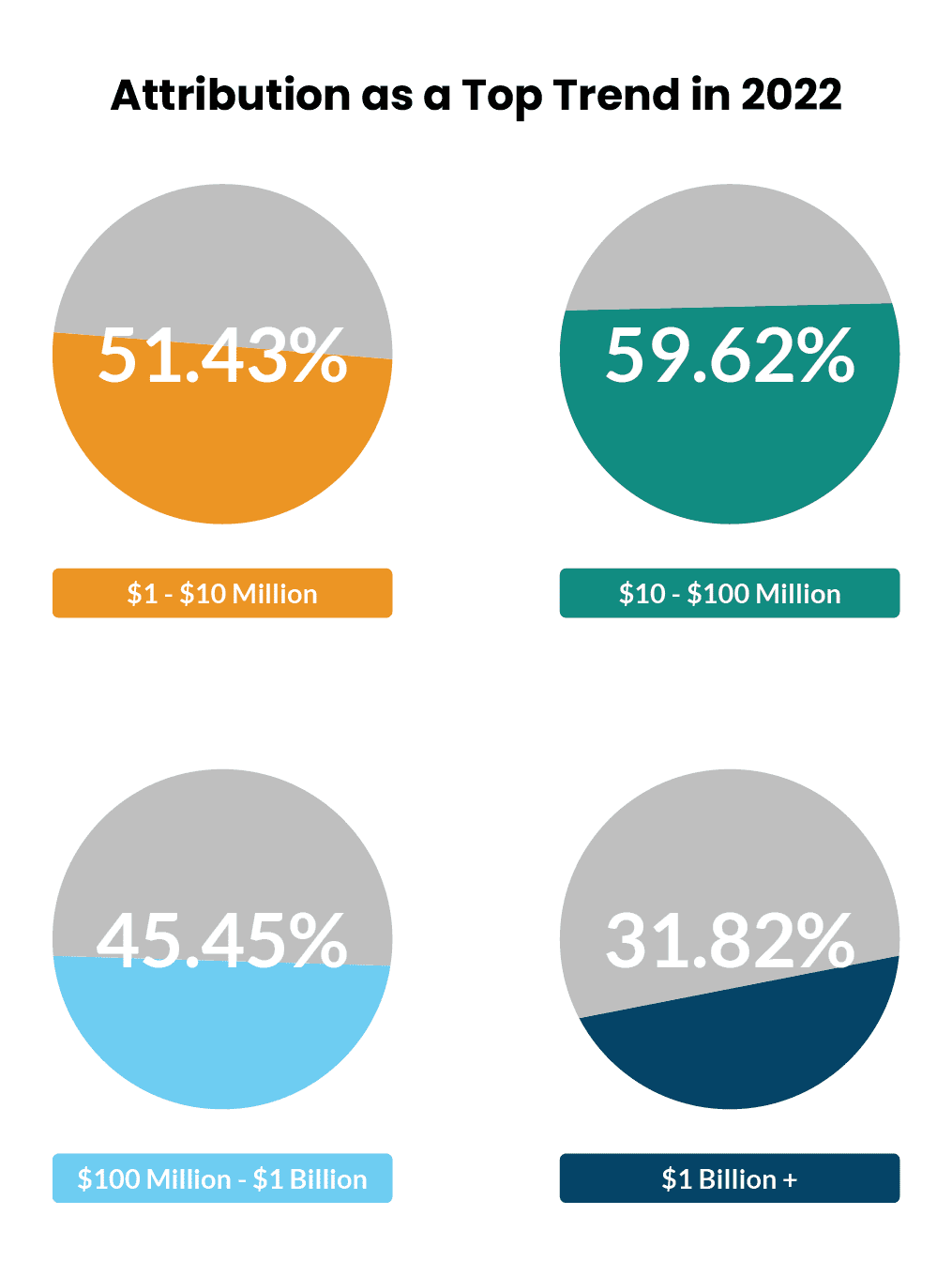 What could be the reason for this? With initiatives like cookieless and consumer privacy on the rise, businesses large and small are being forced to move away from traditional attribution models. Large brands are able to adjust by leveraging more of their valuable internal data – but small brands usually lack that luxury.
On top of that, tracking attribution quickly becomes complicated for big brands that advertise across multiple channels and platforms – which sometimes leads to attribution being neglected. Accurate, data-driven, multi-touch attribution isn't easy to accomplish.
Consumers now shop across more channels and devices than ever. Understanding the path to purchase, where to engage with your target audience, and how to accurately give credit to your ad campaigns is more challenging than ever. Unlocking the secrets of attribution can allow you to quickly and easily funnel your advertising efforts into your most profitable channels.
With growing regulations and concerns over data privacy, advertisers will have more difficulty gaining insight into the customer journey in 2022. Many brands will have to update their key performance indicators (KPIs) to the metrics that are trackable and actionable.
"Gaining visibility into the effectiveness of your digital advertising is difficult due to growing privacy legislation. In 2022, brands need to augment their available consumer data with intelligent modeling to fill in gaps, get a comprehensive picture of advertising's impact, and calculate key KPIs. With an abundance of near real-time performance data and complex ad campaigns, manual optimization is no longer possible. AI, machine learning, and automation are critical in any successful digital marketing activity." – David Austin, VP of Technology, ROI Revolution
PUMA | Social Media Attribution Industry-leading sports brand PUMA turned to the experts at ROI Revolution for attribution clarity on Facebook and Instagram. The result was a 35% increase in conversion value with 13% of purchases attributable through Facebook Attribution. Read the case study to learn more.

Cookieless & Consumer Privacy
A major part of measuring marketing attribution is tracking through third-party cookies – an ability that will disappear next year. In late 2023, Google will deprecate third-party cookies on Chrome, effectively removing your ability to target and track customers using cookies. In other words, the attribution models that your marketing team has spent so long perfecting will likely require a complete strategic overhaul.
Cookieless data is top-of-mind for 35.6% of digital marketers in 2022, including 50% of brands that make more than $1 billion in revenue.
Once cookies go away, over 95% of users will browse the internet anonymously without their own identifier for advertisers. Google is developing a digital attribution solution that stores click events for a campaign in a user's browser if they're on a specific advertiser's domain. If the user converts, the browser notifies a measurement service that an attribution event has occurred.
Without cross-domain identifiers, robust view-through and multi-touch attribution will remain difficult to track. Limitations will be in place to ensure user privacy, including restrictions on how many campaign IDs and conversion events advertisers can track concurrently as well as a lack of ability to track transactions back to specific timestamps.
42.2% of consumers tend to disagree about sharing their cookies when a website asks them. Consumers' feelings about internet cookies vary by age group. Consumers aged 45-54 are the most wary about cookies, with 46.6% saying they typically decline cookie consent. 25-34 year-olds are the least likely to deny cookies (32.5%) and the most likely to accept them (39.6%).
Report | Programmatic Advertising in a Cookieless World Programmatic buyers rate their organizations' readiness for cookie deprecation at only 3.5 on a scale of 1-5. Is your brand prepared? In this report, uncover insights to drive targeted campaigns and navigate profitably in a post-cookie world. Get the report.
Consumer privacy is a key trend for 18.4% of our total respondents, but this trend is more important to doers than managers or decision-makers. A significant 48.2% of doers listed it as a top trend, making consumer privacy the third most important trend to doers in 2022.
That's compared to just 13.5% of decision-makers. For many business executives, these privacy rules can appear as revenue roadblocks. But addressing consumer privacy concerns and government regulations is no longer just an option for companies – it's required.

iOS 14.5 Impacts
Apple released its iOS 14.5 update in April 2021, transforming how brands advertise through social media. With the update, iPhone app users are required to opt in to sharing their unique Identifier for Advertisers (IDFA).
Identifier for Advertisers (IDFA): A random identifier assigned to each iOS user that allows advertisers to deliver personalized ads in addition to providing tracking and attribution capabilities.
Similar to a third-party cookie, a user's IDFA is attached to their mobile device and gives advertisers valuable data for tracking the customer journey, providing relevant ads, measuring campaign performance, and more. Apps are required to display an App Tracking Transparency (ATT) prompt that asks the user to give the app permission to use their IDFA.
Prior to iOS 14.5, approximately 70% of iPhone users shared their IDFA with apps. As of December 2021, 37% of iPhone users have opted in to the ATT prompt.
Many brands have shifted their budget elsewhere – or, at the very least, aren't contributing any additional budget to social media ads. 52% of social media users say protection of privacy data is the top factor that plays into their decision to engage with sponsored ad content.

Tying It All Together
The ability to attribute where your sales come from is a critical component of any marketing strategy. Without properly measuring marketing attribution, you won't understand the success of your advertising campaigns. As consumer privacy concerns grow, attribution will be a key focus in the digital marketing world for the foreseeable future.
If you think your attribution strategy could use an additional set of skilled hands, the proven digital marketing experts at ROI Revolution would be happy to help. With over 20 years of online advertising experience, our teams specialize in paid search and paid social media advertising and can help make clear attribution a breeze for your brand. Get in touch with us today to learn how we can help your brand grow profitably.
Sources