Getting the right product in front of the right person at the right time. It sounds simple, but there's something of an art to it. That art is merchandising strategy.
Visual merchandising, digital merchandising, product merchandising – whatever you call it, the purpose remains the same. Enhance the online experience and drive conversions by strategically displaying products and content on your ecommerce site to align with your overall brand experience.
But it's more than just an aesthetic. Executed well, a product merchandising strategy can directly impact your conversion rate and bottom line. In fact, it can be the difference between a shopper finding exactly what they are looking for, or jumping to a competitor and never coming back.
With several ways an ecommerce site can merchandise, it's hard to know where to start. Lucky for you, we're breaking down some best practices and strategies you can implement in your merchandising strategy now to start selling more.
Automate the Merchandising Process
Let shoppers know what is new, exclusive, a best seller, and more. Boost rules dynamically put these items at the top of pages, while also demoting items based on certain attributes to the bottom of the page.
Are your inventory levels fluctuating? Instead of leaving shoppers frustrated with row after row of out-of-stock items, use global boost rules to remove products from view as they sell out. You can also boost in-stock items to replace them without having to do any manual work. Not only does this make for a better shopping experience and higher customer loyalty, but it will help to alleviate unnecessary friction during the buyer journey.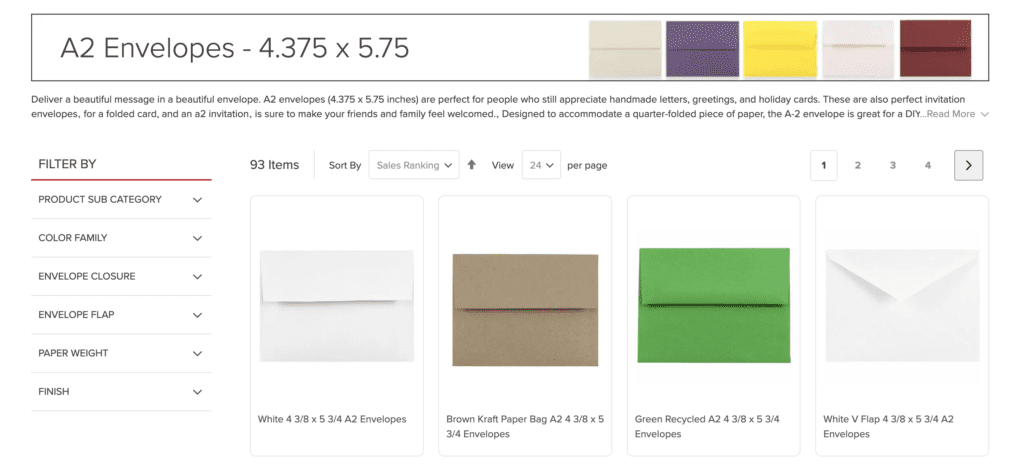 Family-owned paper and office supplies brand JAM Paper & Envelope utilizes global boost rules to automatically push in-stock as well as high-converting items to the top of their pages across the entire site. This lets their shoppers know what's popular and available to order, adding value and urgency during the buyer journey.
Keep Your Shoppers Engaged
From your homepage to product pages, keep your shoppers engaged throughout the entire online journey. Strategically placed in the product grid alongside product results or at the top of a collection page, merchandising banners are a great way to create urgency for new arrivals, sales, or current offers.
They can also grab shoppers' attention, directing them to relevant content like rewards programs, shipping FAQs, or help articles – keeping shoppers on-site longer.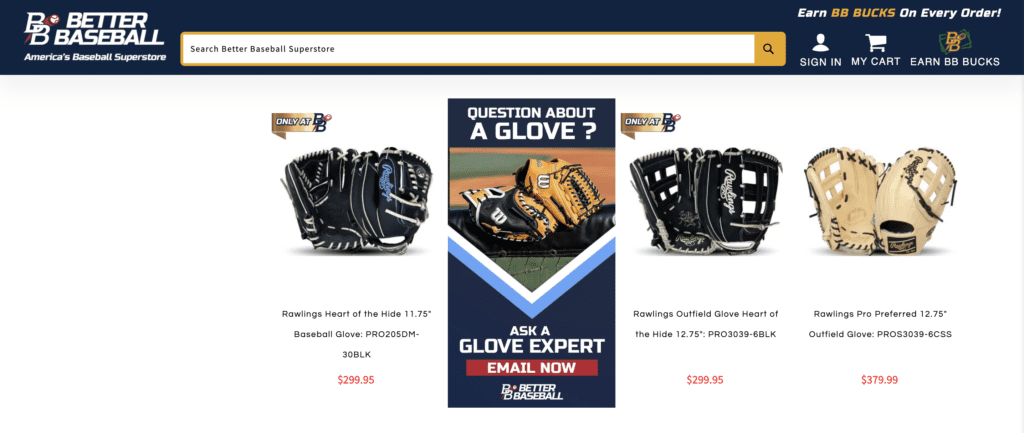 Online retailer Better Baseball uses inline banners to direct customers to chat with an expert if they have questions about a specific product or collection. By positioning the banner content further down the page, Better Baseball ensures that shoppers who are most likely to convert will see that an expert is available to help.
Curate Hyper-Relevant Product Collections
Planning a seasonal sale? Looking to showcase your newest arrivals? Whatever your business goals and objectives are, campaign landing pages offer endless merchandising potential. They also provide shoppers with a relevant destination to navigate to, leading to a better experience by cutting down on time spent searching.
Gone are the days of getting up at 5 AM to manually launch your merchandising campaign. Prepare your landing pages in advance, test them, and schedule them to launch at a time that makes sense for your team and customers. When it's all over, set a specific time to automatically deactivate your campaigns so you don't inadvertently run a sale for longer than intended.

Specialized, a designer and manufacturer of advanced bikes and equipment, was looking to sell through extra stock levels. By curating a custom landing page, they are now able to control the exact order of products by pinning individual items (like best-sellers) at the top. They are also able to direct customers straight to the landing page by including the custom link in email campaigns and social media promotions.
Appeal to Your Individual Shoppers
Whether you sell apparel, outdoor furniture, or sporting goods, your shoppers' preferences vary significantly by their location. This is especially true if you sell in different states, countries, or even hemispheres.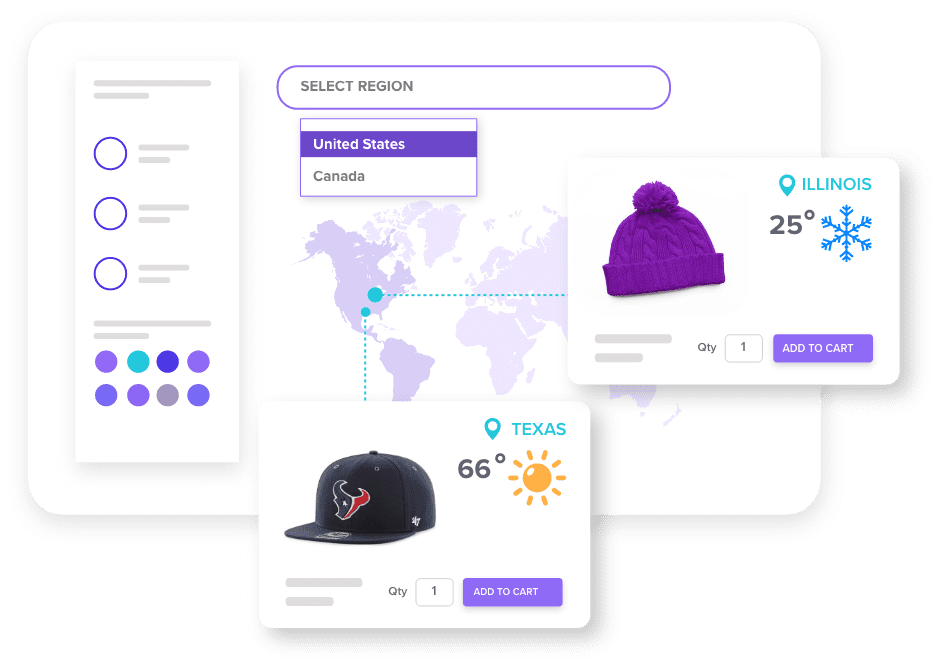 Like global merchandising campaigns, geo-merchandising dynamically adapts site content based on rules – in this case, the shopper's location. With geo-merchandising, you can customize messaging and tailor product displays by region. When a customer visits your site, they'll see seasonally appropriate apparel, merchandise for local sports teams, or home and garden items that reflect their local climate. Not only does this improve product relevancy, but ultimately leads to a quicker conversion.
Tying It All Together: Getting the Most Out of Your Merchandising Strategy
In today's competitive ecommerce landscape, retailers must deliver clear promotions, captivating product displays, and effortless shopper journeys in order to stand out. Merchandising can be an indispensable tool in your conversion optimization kit, giving you a competitive edge.
Get strategic with boost rules, banners, and geo-targeting to ensure you squeeze every last drop of potential from your merchandising campaigns. Focus on small but powerful tactics across your homepage, categories, and landing pages for a great impact. You can also invest in merchandising products that help streamline processes and automate many of these best practices – letting you do more with less while improving the shopper experience.
Searchspring gives you total control over your ecommerce site so shoppers actually enjoy being there. Increase cart size, conversions, and repeat customers with search, merchandising, and personalization solutions that get the right product, in front of the right shopper, at the right time. As a trusted ROI Revolution partner, Searchspring teams up with our experts to empower our clients to achieve their biggest business goals. If you're looking to take control of your ecommerce site and deliver the ultimate shopper experience, send us a message today and we'll get you in touch with our teams.