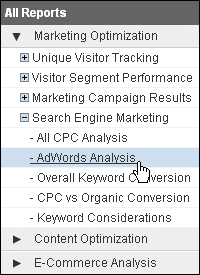 Some very exciting news for Google AdWords customers currently using Google Analytics to monitor CPC performance. Google has added a new report to the Marketing Optimization set that gives a very quick and easy drilldown into all AdWords campaigns, ad groups, and keywords. Behold the brand new, immensely useful AdWords Analysis report.
Impressions, Cost, Clicks, CTR… everything available from within the AdWords Campaign Summary is here, but you also get the great Revenue and Cost-Per-Conversion stats that Google Analytics offers, all in an intuitive, easy-to-use interface.
So try drilling down to the adgroup level, and then cross-segmenting by the Content field to see exactly which version of your ad is driving the most quality traffic. Or see whether your location-targeted keywords are really reaching the right geographical audience. There's a lot of fun stuff in this new report, and plenty to provide you with the information you need to optimize your AdWords campaign to its fullest potential.
Click for a screenshot: