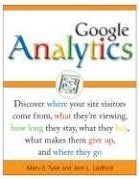 It was only a matter of time, based on the massive adoption of Google Analytics since it became free last November, before someone published the first paperback book on/about it.
Released one week ago, you'll find the book co-authored by Mary E. Tyler (tech journalist and former software/web developer) and Jerri L. Ledford (freelance business tech writer) on Amazon.com.
Here's an excerpt:
You know you need to analyze the success of your Web site, but how? Do you even know what to look for? Is there a tool powerful enough to help you evaluate your marketing efforts, products, and services, but simple enough to use if you're not a propeller-head?

Google Analytics is that tool, and this is the handbook you need to make it work for you. Learn to set up Google Analytics, understand the reports it generates, and use the information to make your Web site a real asset to your business.
I've ordered my copy and will post a book review as soon as I crunch through it.
As an interesting side note, and to highlight how far we still have to go to quench the thirst for understanding of the power of website analytics, 22% of all purchasers of this book from Amazon bought either of two books published by analytics luminary/author Eric Peterson (as of the date of this writing 12% bought "Web Analytics Demystified" and 10% bought "Web Site Measurement Hacks"). Eric has written practically half of all of the books on the subject. You can check out all three of Eric's books directly from his site here.
Hat tip to Daniel Waisberg who posted this on the Web Analytics Forum discussion board (founded by Eric Peterson).
And by the way, as long as I am on an Eric Peterson roll, many of you know he *also* founded Web Analytics Wednesday events (held worldwide on the second Wednesday of every month).
Finally, here's my shout out to anyone in the North Carolina Research Triangle (Raleigh, Durham, Chapel Hill) area who would enjoy getting together on our own area "Web Analytics Wednesday" for a cold beer, some hot wings, and some great chat/networking about all things analytics…if that's you, please contact me and let's plan our first event. First round is on me.