In late 2013, Google started experimenting with a new campaign format for how retailers manage products ads on Google Shopping via AdWords. For those who remember the forced upgrade to a fully paid model of Google Shopping in 2012, this shift should be less painful. Google expects this new campaign format to be a more streamlined version of the legacy Product Listing Ad campaigns that most retailers are currently using.

Even though Google quietly rolled out this new campaign format on a limited basis late last year, in March they made the official announcement of a forced campaign migration to happen by late August. So, by the end of the summer, retailers using Product Listing Ads in their AdWords account should be prepared for the imminent changes to the new Google Shopping campaign format.
So, what's changing?
Ad Groups vs. Product Groups – Perhaps a semantic shift in how we refer to the campaign structure, it's important to acknowledge that with the addition of 'product groups', retailers must now understand how they interact with 'ad groups' in order to minimize future confusion. What we currently call 'ad groups' in a typical search or display network campaign still exist, but will now contain different product targets called 'product groups' in Google Shopping campaigns.

Each ad group will contain a different 'product group'. This way you can sub-divide the products in your feed using the various attribute targeting options available at the 'product group' level. The realignment of ad groups and product groups makes sense from a campaign organizational perspective once you have a clear product targeting strategy.
Additionally, this new campaign format substantially increases the visibility of each of your products in the AdWords interface and it allows you to easily group products on the fly. This will give an extra layer of granularity for more profitable control over product bids.
Rethinking Custom Product Categorization – Traditional grouping and labeling of a retailer's product catalog has been facilitated through the product feed data. These custom labels and attributes are not disappearing from the feed. However, they are now limited and renamed for Google Shopping campaigns. This will force retailers with complex AdWords label taxonomy to simplify their product categorization.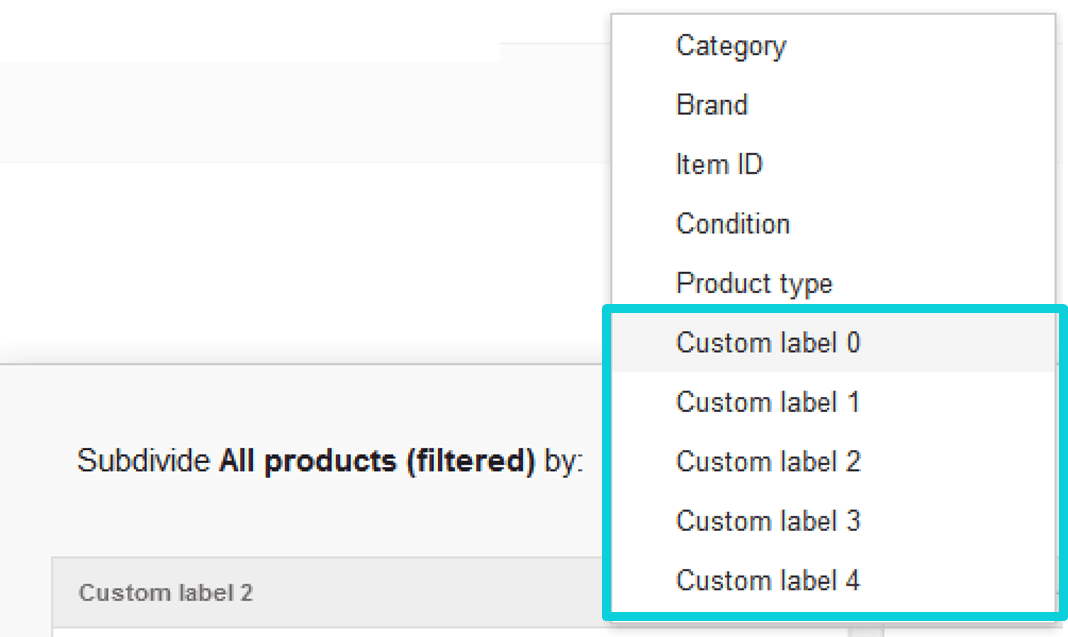 In the new Google Shopping campaign format, retailers will be limited to attribute columns for custom labels 0 – 4, essentially allowing only 5 custom labels per product outside the standard category, brand, and SKU targeting options that are already available. This means retailers who are accustomed to having 6, 7, or even 8 ways to custom label their products will need to consolidate and think more strategically about the 5 most important labels for a given product.
Benchmark Data by Category – With this rollout and forced upgrade, one of the more exciting elements of the new Google Shopping campaign format is the ability to see industry benchmark data by category or SKU right alongside your actual performance metrics. Google is currently providing a benchmark click-through-rate and benchmark max CPC column for retailers to reference to make more competitive bids. These 2 columns of data give great insight to how competitive you need to be within your industry…or at least within your product categories.

For retailers, these changes to Google Shopping can be both exciting and uncomfortable at the same time. While we anticipate tweaks, changes, updates, and new features for this new campaign format, the one thing not changing is the increased importance on quality product feed data to fuel your Google Shopping success.
For now, be proactive. If you have a quality product feed functioning profitably in Product Listing Ads, the best advice is to get into this new campaign format and find the best ways to leverage the changes during this transition time. The forced upgrade will be coming in late August and those who wait will be at a disadvantage.
Download the latest Google Shopping special report: "AdWords Forced Update: Top 3 Strategies Made Possible with the Newly Revised Google Shopping Campaigns".