Social media app usage has soared throughout the pandemic as consumers become more digital-centric. That means a slew of trending social media platforms like TikTok, LinkedIn, and more have been emerging and growing in previously unpredicted ways.
We conducted a survey of over 170 digital marketing professionals from a wide range of industries and business types to help you navigate the constantly changing social media ecommerce landscape. In this article, dive into the data behind the top social media platforms and how your brand can leverage them for profitable growth.
Emerging social media platforms rank third overall in the top digital marketing trends, and are a top trend for 41.6% of marketing decision-makers. They're top-of-mind for small and large brands alike, with 42.9% of brands with $10 million or less in annual revenue and 45.5% of brands with $1 billion or more naming it as a trend for 2022.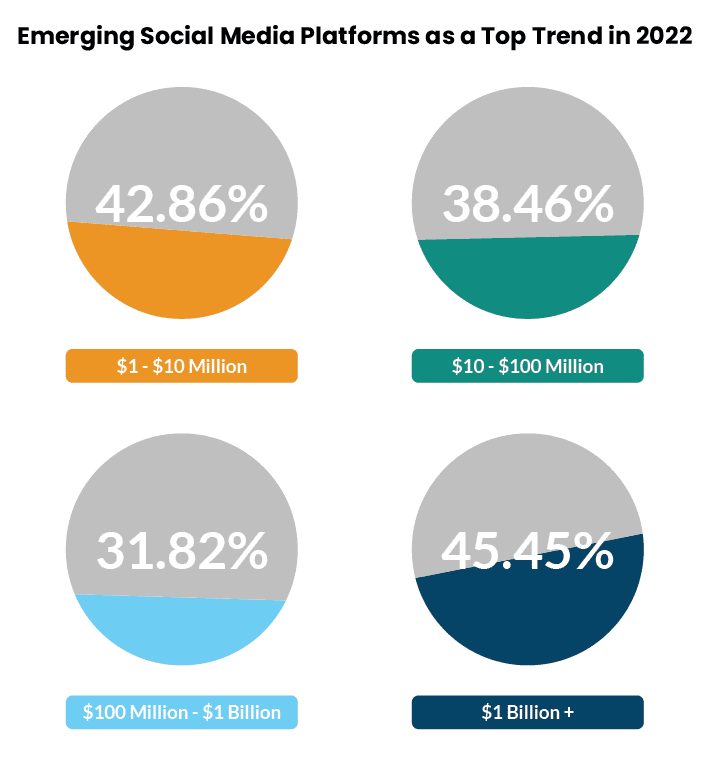 With major platforms like Facebook and Instagram experiencing slowdowns in growth, new social media apps are on the rise. Instagram saw just 3.7% growth in 2021 after growing 6.2% in 2020 and Facebook went from 3.3% growth to just 0.8%.
The social media apps with the most user growth in 2021 were TikTok, Reddit, and LinkedIn.
As Facebook faces serious declines not only related to the iOS 14.5 update but also general user wariness – its total user base declined for the first time ever in Q4 2021 and Meta's stocks dropped 25% in the first week of February 2022 – brands will increasingly look toward emerging and trending social media platforms to build their brand presence and reach new customers.
Telegram, the messaging app that uses end-to-end encryption to protect user privacy and security, introduced a new advertising tool in November 2021 that enables brands to display sponsored messages in public channels related to the topic of the channel. These topics can range from broad to niche, giving brands the opportunity to reach highly engaged and highly targeted audiences right where they are.
Quick stats:
Gen Z is the top age demographic on TikTok, Pinterest, and Reddit
Discord usage has grown 19% since 2020
46% of Twitter users in the US and UK who use Twitter Communities and Topics want their favorite brands to be more engaged there
51% of internet users say they would be interested in participating in the Metaverse

TikTok
TikTok is the fastest growing social media platform. TikTok was the most downloaded app in 2021 by a long shot, coming in at 94 million downloads, with Instagram next at 64 million followed by Snapchat at 56 million. The average TikTok user spends 38 minutes per day on the platform. Facebook comes in at 31 minutes, Snapchat at 30 minutes, and Instagram at 29 minutes.
TikTok is now the third largest social network in the US, second only to Facebook and Instagram. That means TikTok has more users than Snapchat, Twitter, and Pinterest! TikTok's user penetration reached 64.7% last year, up from 51.7% in 2020.
TikTok is also a top social media platform for marketing due to its opportunity for organic brand growth. 67% of TikTok users say they have been inspired by the community to shop even when they weren't looking to do so, and 52% say they intentionally search for products or shop on TikTok.
83% of users go to TikTok for product reviews.
92% of consumers trust organic, user-generated content more than traditional advertising, and a Nielsen study found that users find TikTok to be authentic, genuine, and unfiltered. TikTok is becoming a key place for consumers to find reviews they can trust and brands they can become long-term advocates for. With consumer awareness of fake reviews on sites like Amazon growing, let's face it: It's 2022, and shoppers are better than ever at spotting dishonesty online.
45.7% of US marketers from companies with more than 100 employees will use TikTok for influencer marketing this year, with that number expected to grow to 54.9% by 2025. Influencer marketing was a top initiative for 35.1% of the marketers we surveyed, including 50% of food & beverage brands.
42% of TikTok users say they pay more attention to advertising that incorporates augmented reality. AR and VR are top-of-mind trends for just 6.9% of our respondents – but out of the digital marketers who say augmented or virtual reality are top-of-mind for their brand in 2022, 58.3% also say social media is a major initiative. VR/AR will have 165.6 million monthly users in 2022 compared to just 115.9 million in 2019, an increase of nearly 50 million consumers.

LinkedIn
While LinkedIn is a rising social media platform, it certainly isn't new. The social media app was founded in 2002. Today, LinkedIn is the sixth largest social network in the US, expected to reach 66.8 million users in 2022.
Since 2016, LinkedIn has ranked first among social media platforms for digital trust. In an age when trust in social media has been steadily declining, LinkedIn provides an invaluable opportunity for brands to effectively reach and engage customers. In fact, 54% of consumers say social media websites and apps spread a great deal of misinformation. LinkedIn's trust with users makes it a top social media platform for businesses to reach broad audiences that are more likely to trust brands there than on other social networks.
LinkedIn is a particularly viable opportunity for B2B companies, making up one-third of all US B2B digital display ad revenue. In 2022, US B2B LinkedIn display ad spend is expected to reach nearly $2 billion, up from $1.64 billion in 2021 and just $650 million in 2018.
Pinterest
Pinterest has also seen gains over the past several years. After ranking third among social media apps in 2020 with 7.8% user growth, Pinterest grew 3.1% in 2021 – more than Snapchat but less than Instagram.
Pinterest's biggest gains since the onset of the pandemic have been in the form of revenue. After generating $1.4 billion in revenue in 2019, Pinterest's revenue increased 14.4% to $1.7 billion in 2020 before surging 52.3% to $2.6 billion in 2021.
Reddit
As a trending social media platform, Reddit was the second fastest growing social network in 2021, with user count increasing by 14.4% after rising 25.9% in 2020. As Reddit makes moves to be more appealing to advertisers and take advantage of the revenue opportunity from more shoppers being online, the platform's ad revenue has also been steadily increasing.
In 2019, Reddit's annual ad revenue was $94 million. In 2022, it's expected to reach $423.8 million – and in 2023, it's projected to hit $522.4 million.
In February 2022, Reddit updated its app to include an algorithm-driven Discover tab that looks similar to Instagram's Explore tab or Pinterest's home feed. The update is part of "ushering a new era of discovery on Reddit, with images and video top of mind." The social channel is also making efforts to ensure brand safety for advertisers, improve audience ad targeting, and more to become a more viable platform for advertising.

Tying It All Together
Social media is one of the most unpredictable landscapes in digital marketing. Significant transformations have taken place since the onset of the COVID-19 pandemic that weren't previously expected, from the growth of TikTok and short-form videos to new consumer privacy regulations and more. To succeed on social media in 2022 and beyond, don't be afraid to test new strategies and try out some of the rising social media platforms that your brand may not have considered before.
But all of the changes can be overwhelming for even the most seasoned marketer. Do you want to make sure you're on the path to profitable growth and spending your social media budget wisely? The experts at ROI Revolution can help. Our social media advertising teams grow revenue by 471% on average within the first year a client is with us. Get in touch with an expert today to see how we can create scalable social advertising strategies to amplify your brand and turn more of your browsers into buyers.\
Sources