Amazon Could Revolutionize Television Advertising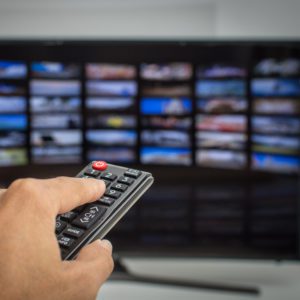 Amazon started out selling only books – and went on to sell pretty much anything under the sun that you may ever need. They then branched out into the world of smart speakers with the Amazon Echo. Then, they entered the world of streaming television with the Amazon Fire TV and Fire TV Stick.
Clearly, Amazon's MO is entering any area where they can satisfy customers and discover untapped growth & profitable success. The ecommerce giant's steady ascent into the world of TV advertising should then come as no surprise.
With Amazon collecting a hefty amount of consumer data, the possibilities and opportunities that could be realized with Amazon television advertising are endless.
Last year, Amazon acquired rights to broadcast some NFL and UK Premier League games. At the beginning of this year, Amazon launched an ad-supported content stream under Freedive (IMDb's streaming service). Fire TV could also be used as an OTT (over-the-top) media service (other examples of this would be Apple TV, Chromecast, or Roku).
Imagine the layers of advertising Amazon could tap into to transform television advertising – like interactive shopping ads with the appeal of next-day delivery or personalized advertising based on previously purchased products.
The reality is that Amazon advertising is rapidly growing (it's expected to grow 30% YOY in 2019). And we can always expect Amazon to explore any and all untapped opportunities. Reaching Americans while they're watching television – one of their favorite activities – could open up new audiences and transform television commercials and advertising as we know it.
Brand Awareness Campaigns Increase on Amazon
It's easy for marketers to understand the importance of brand awareness as the most top-of-funnel point for consumers to know your brand exists in the first place.
Advertisers on Amazon are starting to take this into consideration more and more as well, with campaigns targeted at driving increases in brand awareness & consideration accounting for 42% of brands' Amazon DSP advertising spend in Q3 2019 compared to 16% just two quarters before. This is a smart move on brands' part, with performance being the catalyst for brand awareness budget approval.
In addition to the increase in brand awareness campaigns on Amazon's DSP, we've also seen an overall increase in investments in Amazon DSP as a whole. Advertisers increased investments in Amazon DSP by 30% in Q3 2019 vs. Q2 2019, and CPMs rose 15%. Additionally, 70% of purchases attributed to Amazon DSP's ads are new-to-brand.
As brands become increasingly familiar with Amazon DSP's capabilities, we can expect this spend to continue to grow. Leveraging Amazon DSP will be especially necessary for brands that are looking to drive awareness on the ecommerce giant's platform and reach potential new customers.
To view our previous editions of the Bezos Bulletin, click here!