After months of preparation, weeks of teasing pictures and videos, ROI Revolution's brand new corporate headquarters is finally getting the unveiling it deserves!
One week from today (Thursday, July 20th), friends, family, and ROI staff are invited to the official Open House for our new office – and it's an event you won't want to miss!
Starting at 5:00PM, the Open House will feature everything from Chick-Fil-A and caricatures to ladder-ball and Plinko!
Not only does it promise to be a circus of fun, but it's an incredible chance to see just what makes the ROI community so special.
Here's a step-by-step breakdown, as well as some tips to make sure you don't miss out on everything the evening has to offer.
---
5:00
Friends and family will be welcomed into our offices with refreshments and games! Chick-Fil-A and Ice Cream will be in steady supply around our office Great Room, where everyone is invited to mingle and relax.
5:15
We'll be starting up some speaker presentations right at 5:15 (yes, there will be speakers), which will be running throughout the event.
The first speaker will be our very own Ryan Hilliard, who will give a brief talk about what exactly paid search is and how ROI helps clients optimize their paid search accounts.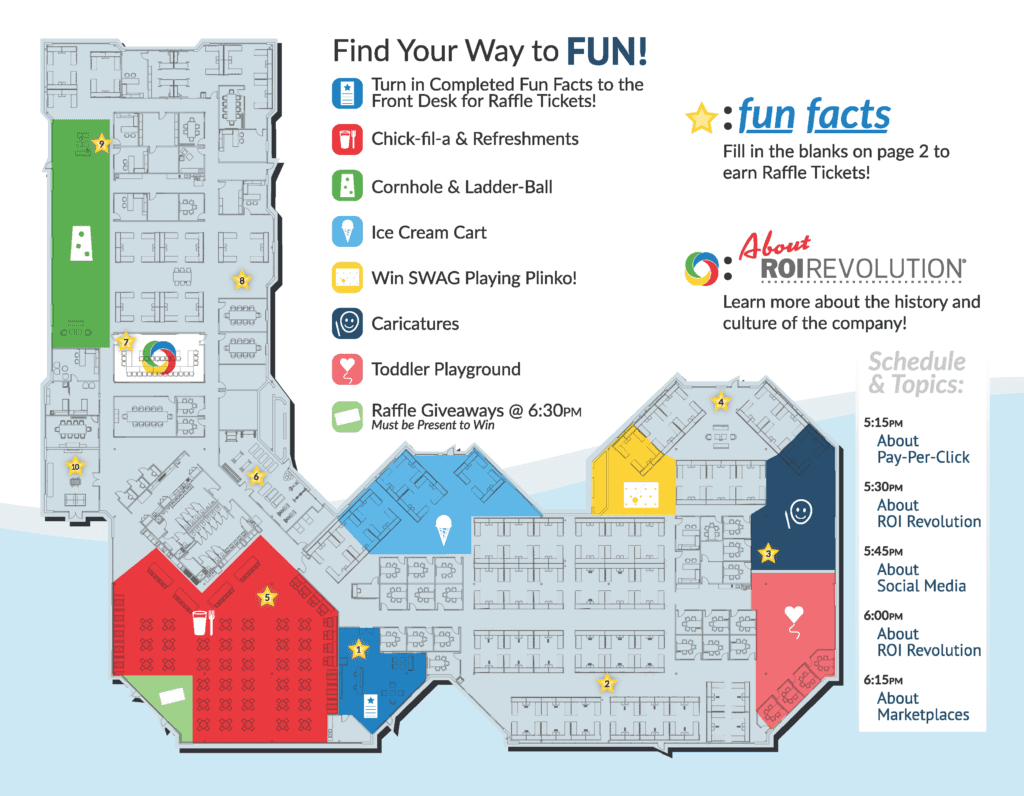 These presentations are meant to serve as an overview for all in attendance, just giving a little more background and depth about what it is we do at ROI.
5:30
The first of two presentations by Kaitlyn Thomas is next, with the other running at 6:00 pm. Both of these presentations will be on the history of ROI Revolution, and how our CEO and founder, Timothy Seward, grew the company from a spare bedroom into what it is today!
During these presentations, guests are invited to mingle and explore the building's layout. Make sure you swing by the East wing to get a caricature done, or check out our ongoing Plinko competition where you can win ROI related swag!
5:45
The next speaker up is Erin Ewasyshyn, our Social Media Team Lead. Her presentation will cover SMA, or Social Media Advertising, and many of the exciting strides our service is making this year.
Guests are also encouraged to explore the building's west wing, where there will be fierce cornhole and ladder-ball competitions. ROI-ers can get pretty competitive, so we're expecting to see some exciting matches!
6:15
The final presentation of the event will be given by Mike Ewasyshyn, our Marketplaces Product Manager. His presentation will focus on online shopping and the Amazon Buy Box, specifically relating to how we all shop and what ROI is able to do for retailers looking to sell.
All throughout the evening, guests will be prompted to canvas the office for a dynamic 'fun fact' search that will be laid out in full on their evening brochures.
Each correct answer will net an additional ticket, which guests can then turn in to the front desk to enter in the event-wide raffle giveaway!
6:30
After everyone's gotten situated and had time to explore, the raffle giveaway will commence in the great room, featuring numerous prizes that everyone (well, other than ROI staff) are eligible for!
Make sure your friends and family explore thoroughly and grab some extra tickets for a better shot. Trust us, you don't want to miss out!
---
The event will last until around seven, and take place at our new office location – 4401 Atlantic Avenue, Raleigh NC 27604.
The invitation to join the event is open to all, but please contact events@roirevolution.com and RSVP if you plan on attending.
We hope to see you and your family's smiling faces as we celebrate over fifteen years of ROI Revolution history and the bright future ahead.